Xiang Ge Li La 湘阁里辣 – Hunan Cuisine on Moulmien Road, Pulau Tikus, Penang
Xiang Ge Li La – Hunan Cuisine on Moulmien Road, Pulau Tikus, Penang
Hunanese-owned restaurants are showing up around Penang, and establishing a foothold is Xiang Ge Li La  湘阁里辣(正宗湖南菜馆). The restaurant opened in late 2016 on Moulmein Road in Pulau Tikus serves China's Hunan cuisine, also known as Xiang cuisine.
Steps away from the Moulmein Rise and Pulau Tikus Market, this restaurant with a simple interior gives that China vibe with the wall space adorned with posters of the Cultural Revolution.
Hunan dishes are renowned for its tongue-numbing dishes with spicy flavors, fresh aromas and striking colors.
On two separate visits, we ordered a good selection of dishes for trying. Some are mild while others have piquant, hot, and peppery taste spiced with peppercorns, chili peppers, shallots and garlic.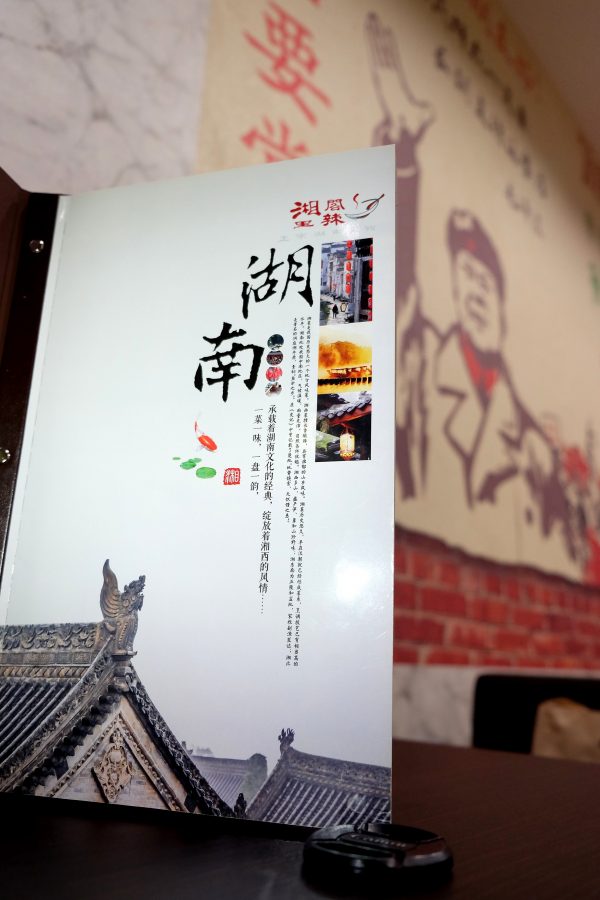 Before the rich, numbing savoury mains, we start off with appetizer and soup. The Black Fungus with Sauce is a cold appetizer of crunchy black fungus with light soy sauce, oil and hint of vinegar.
Black Fungus with Sauce 凉拌木耳 RM12
Soup dishes are available to warm up the body. The Family Portraits Soup is a clear soup that incorporates chicken, Chinese bacon, homemade meatballs, minced meat and black fungus. The smokiness of the cured Chinese bacon added a deep complex touch to this simple comforting soup.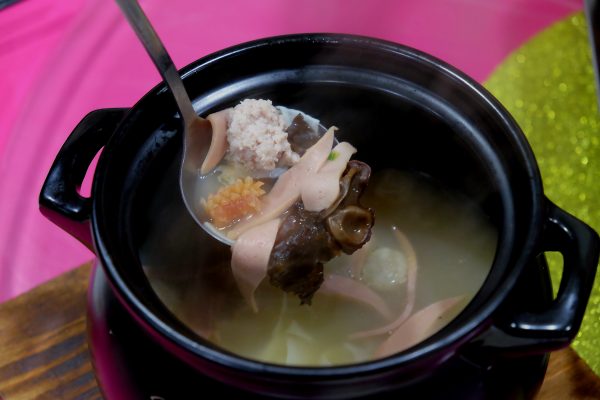 Family Portraits Soup RM28
Then comes the Duojiao Fish Head made with pleasing spiciness of minced chilli-garlic-pepper. The steamed whole fish is fresh and delicious with the accompanying delicate glass noodle. The dish is sold out early, so it's best to make a reservation.

Duojiao Fish Head 剁椒鱼头 RM48

Another fish dish is the classic Roast Fish, deep-fried and served with silky pieces of tofu and bean sprout in herbal garlicky broth on a burner. Prepared with manageable spiciness, hint of vinegar and sting of numbness, the dish is literally addictive. Diners have been known to order a serving of rice noodles to go with the dish. 
Roast Fish 烤鱼RM68
From seafood, we moved on to poultry and meat dishes. One good pot is the Beer Duck. Lightly spiced and braised with dried chilies, chili oil, onions, garlic, peppercorns and beer, the duck meat was tender All the spices added a nice little numbing punch with a faint peppery whiff.
Beer Duck 啤酒鴨 RM38 (small)

Other Hunan standards include the Braised Beef in hot and red broth. The fiery chunks of meat in spicy broth has numbing sensation builds with each bite. The dish leaves some teary-eyed.
Braised Beef in Hot Red Broth
A quick stir-fried dish of Sour and Spicy Chicken Giblets comprised red and green chilies, carrot, onions and spring onions. The dish set the palate ablaze but the giblets was a bit tough.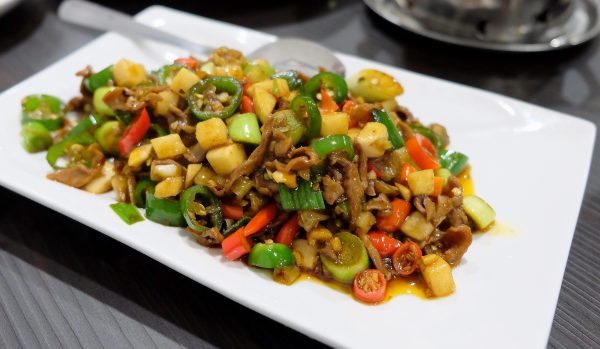 Sour and Spicy Chicken Giblets 酸辣鸡杂 RM18
For those who don't eat duck or beef, the restaurant also serves pork. One of the stars is the chef's special Braised Pig Tail in bright orange chili oil. We nibbled through the gelatinous soft pig tail. The soft texture and spicy, salty flavors are all about seasoning with right balance of spices and long braising time.
Braised Pig Tail 红烧猪尾 RM58
The menu also includes tofu dishes and one interesting offering is the Guoqiao Tofu. This mild dish soothes the mouth with slices of white silky tofu steamed in soy sauce with egg, minced vegetables and meat.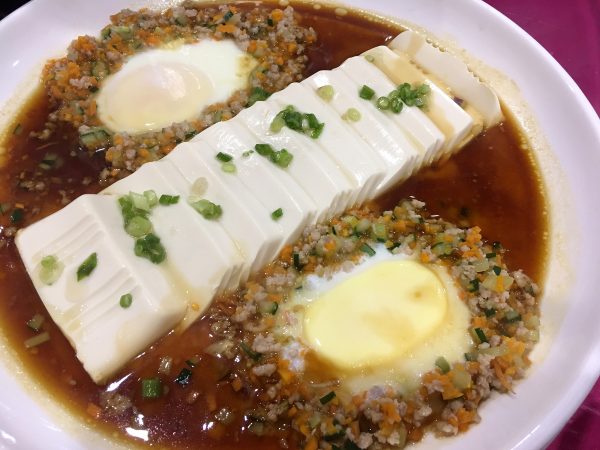 Guoqiao Tofu 过桥豆腐 RM22
When it comes to beverage, tea is a better choice as it helps clean the palate. We paired the dishes with buckwheat tea 荞麦茶 – a calming choice with toasty flavor.
There will always be a visit to Xiang Ge Li La 湘阁里辣 when we need a Hunan fix of tongue-numbing dishes. The restaurant provides daily business hours from 11am till 11pm.
Xiang Ge Li La 湘阁里辣
64 Jalan Moulmein
Pulau Tikus
Penang
Tel: 016-458 5588