385 Prawning & Thai Fishing Restaurant, Dato Kramat Road, Penang
385 Prawning & Thai Fishing Restaurant which started operating on Dato Kramat Road in Penang is an entertainment park. Set in the side lane next to Convent Dato Kramat, the outlet is not limited to offering a collection of prawning and fishing activities with huge seawater and freshwater ponds.
The outlet operated by Raymond Lee and his wife Jenny Goh, also includes a Thai restaurant for customers to enjoy Thai cuisine. The dishes ranging from traditional to popular street food are prepared with fresh seafood, poultry and meat.
For prawning enthusiasts, there is the option to choose from various sessions like one, two or three hours which combines a fishing rod and free flow of bait (here they provide chicken hearts). As expected, it's a bargain to get the three hours session which is priced at only RM50.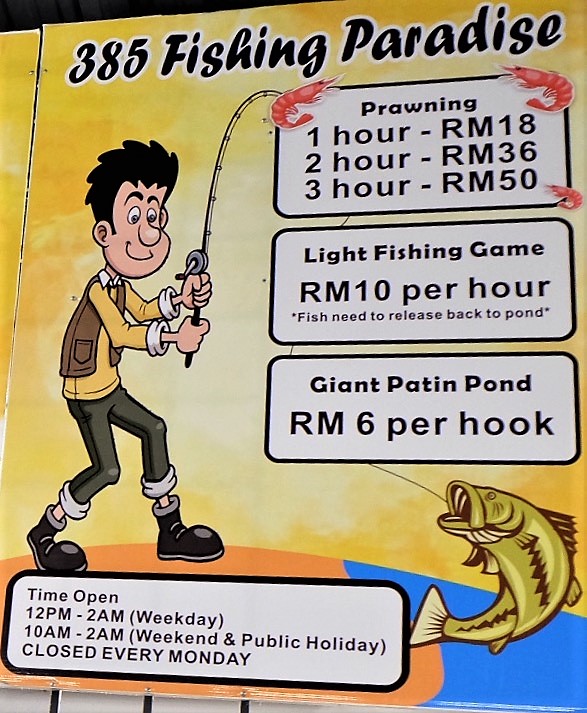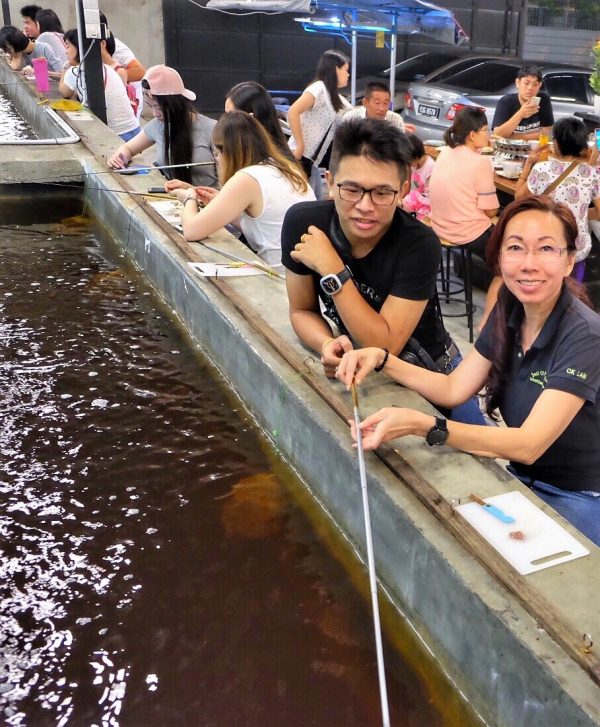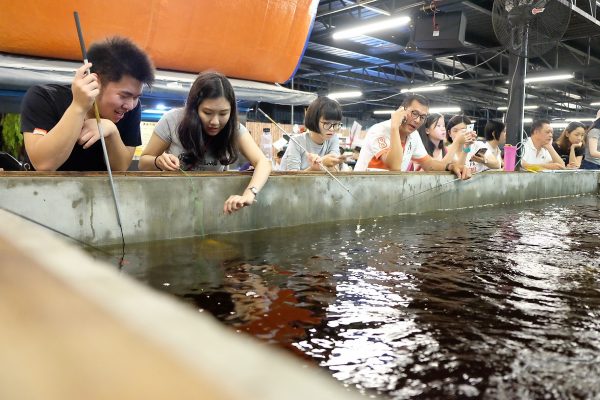 If you should find yourself lucky with your catch, you can send them to the staff and they will prepare the seafood according to your choice of cooking.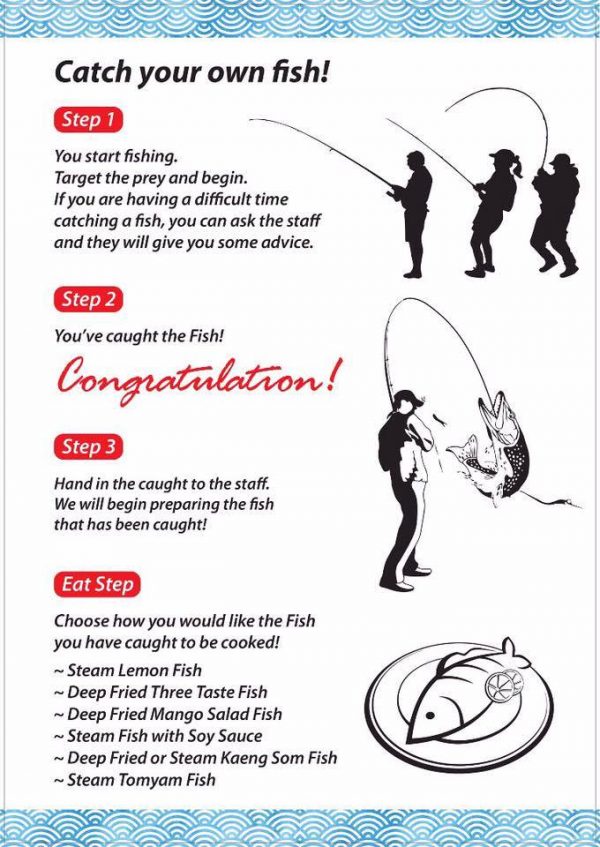 The restaurant has its selection of Thai food prepared by their Thai lady chef. Appetizers ranges from Miang Kam to salads prepared with chicken feet, mango and papaya.
Mango Salad RM13
There's a selection of soup, with choices like red tomyam, white tomyam, kaeng som and beancurd soup. The slightly creamy Red Tomyam is rich in lemongrass and kafir lime leaves flavors, and arrived in a heated pot packed with fish, sotong, prawns and abalone mushrooms. Spiciness and sourness is kept to a nice level, enough to have you craving for more.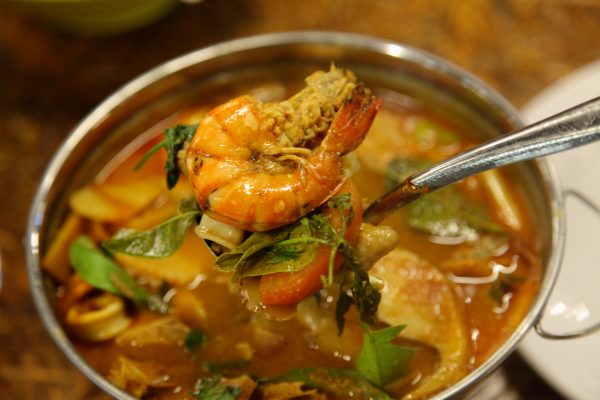 Red Tomyam RM30
The Green Curry Chicken is a mild curry dish with hint of sweetness and a creamy mouthfeel. Cooked with green curry paste and plentiful soft chunks of brinjal, long beans, tiny pea eggplant and fresh basil, the dish is very rich and packs a punch of flavors.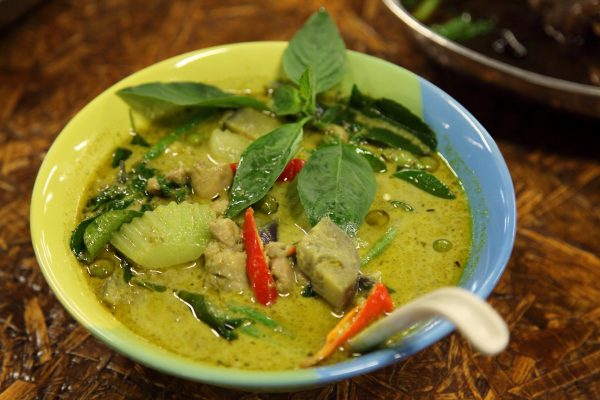 Green Curry Chicken RM20
The Tiger Prawn Glass Noodles is a rendition of three succulent large prawns with glass noodles. Seasoned with spices and ginger, its taste leans towards the sweeter side.
Another seafood dish to try is the Lemon Kapar. Steamed with plenty of chopped garlic, chilies and a kick of lemon, the dish with flavorful citrus and  spiciness definitely made the tummy happy.
Tiger Prawn Glass Noodles RM20
Steam Lemon Kapar
For the fish dish, you can choose to have it deep-fried with a crispy skin or steam. The Deep-Fried Mango Salad Fish may sounds common but tastes wonderful together with the fruity salad tossed with roasted peanuts in a savory fish sauce dressing.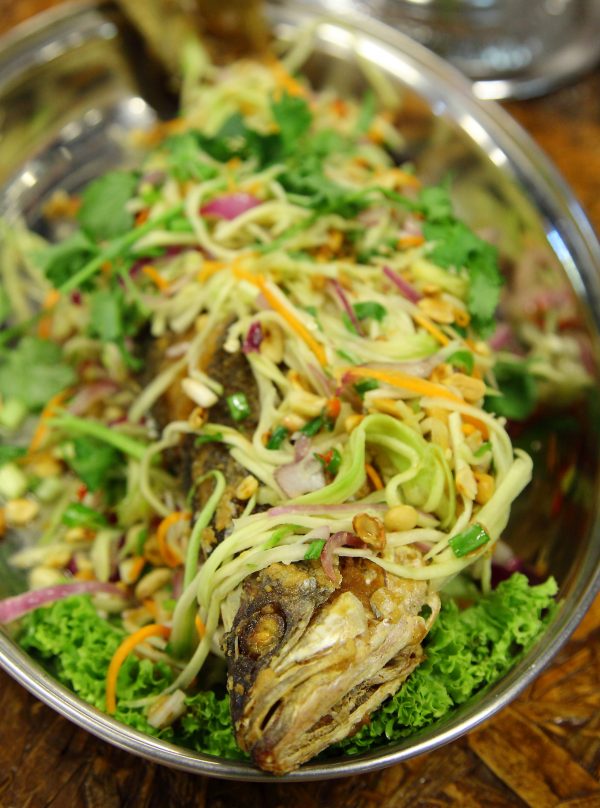 Deep-Fried Mango Salad Fish RM65
The pork leg comes in two versions – deep-fried or stew. Recommended is the classic Pork Leg Soup, a stew prepared with spice mix, soy sauce and Chinese black mushrooms. The broth itself is pungent, and the meat tender with the touch of a fork.
For fried rice dishes, the kitchen cranks out staples like pineapple, salty fish, belacan as well as Thai-style fried rice.
Pork Leg Soup RM35
The owners maintained the mango sticky rice and tub thimkrob on the dessert menu while the drink list has beer, can drinks, fresh juices and Thailand ice tea.
Tub Thimkrob RM4
385 Prawning & Thai Fishing Restaurant offers an unique opportunity – a lot to do and eat. Business hours are from 12noon till 2am, from Tuesday till Friday. On Saturday, Sunday and public holidays, the outlet is open from early 10am till late night 2am. On Mondays, the outlet is closed.
385 Prawning & Thai Fishing Restaurant
385 Jalan Dato Kramat
10150 Penang
Tel: 016 – 422 5529