Bean Sprout Cafe, Jalan Masjid Kapitan Keling (Pitt Street), Penang
Bean Sprout Cafe, Jalan Masjid Kapitan Keling (Pitt Street), Penang
Jalan Masjid Kapitan Keling (Pitt Street) in Penang is one of the most celebrated cultural districts of Penang. It is also here in the heart of George Town where one would find the mushrooming trend of cafes.
For one – the Bean Sprout Cafe located in a two-storey heritage building opposite the Kuan Yin Temple has grown into a popular place. The cafe catches the eye from the street with its black colored blinds with big white wordings.
The cafe has a great mix of customers, with locals and crowd of visitors dropping in for its all-day breakfast dishes, light meals, and selection of coffee and teas.
Piccolo latte RM10
Together with a friend, we chose to catch up at this cafe. Coffee eases the palate into the meal and we had a beautifully poured Latte and Piccolo Latte.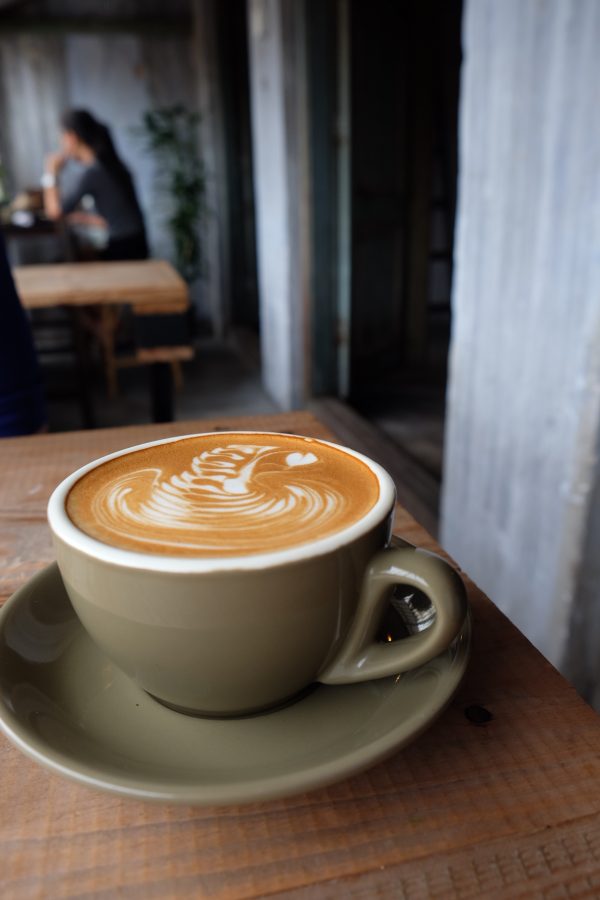 Latte RM10
A Hojicha Latte was ordered on a visit a few days later, and it is a perfect drink for matcha lovers. The concentrate oven roasted Japanese green tea blend with frothy milk offers an earthy taste and seaweed flavor.
This drink is available hot or cold – for the more adventurous, do get the barista to add on a shot of espresso! The Hojicha Latte blends particularly well with the dark roastiness of the espresso.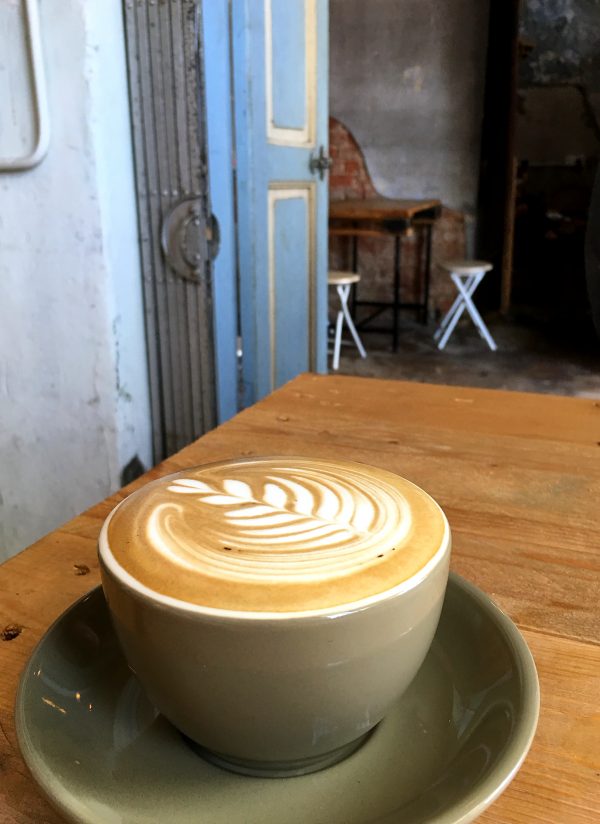 Hojicha Latte with espresso RM15
A good dish to start the day is The Big Breakfast which offers the likes of set A (German pork sausages) and set B (with a jumbo chicken sausage).
We gave the latter a miss and go for set A which comes with German pork sausages, bacon, scrambled eggs, baked beans, salad and slices of crusty bread with avocado spread. The heap of greens helps to balance the rich flavors of the dish.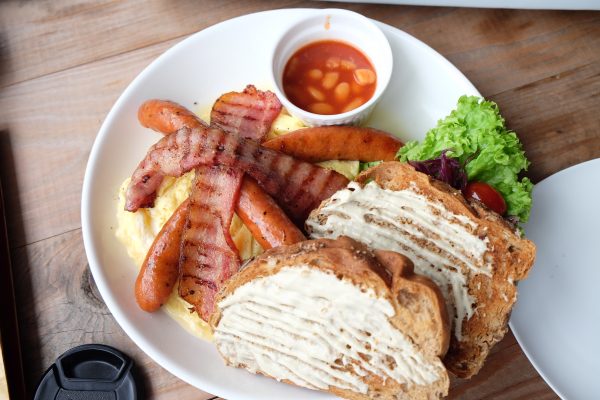 Big Breakfast (A) RM27.50
Then there's the Avocado Toast 3 Ways, and many diners swooned over this dish with toast served with three different toppings – egg & bacon, smoked salmon, and guacamole (avocado and tomatoes).
Avocado Toast 3 Ways RM18.50
An ideal plate for sharing is the Baked Nachos, piled with olives, black beans, cherry tomatoes, green chilies and guacamole. We nibbled away piece after piece of nachos with compelling contrast of flavors and textures, and just enough of melted mozzarella & cheddar cheese coupled with lemon juice.
Baked Nachos RM19.90
Pancakes are the sweet treats on the menu and there are two choices. A light choice would be the Vanilla Ice Cream Pancake (RM12), which is served alongside vanilla ice cream drizzled with Hershey's strawberry syrup.
The heavier of tummy can indulge in the Bean Sprout Signature Pancake (RM15). With raisins, sesame seeds, kiwi fruit, banana, walnuts and a huge scoop of ice cream with Hershey's strawberry syrup, the signature pancake really hits the spot.
Bean Sprout Signature Pancake
Bean Sprout Cafe after undergoing minor refurbishment and together with modern amenities and flavor, makes it a contemporary cozy relaxing place for diners.
Those looking for a view of the buzzing Pitt Street will be pleased with the first floor dining area. The seats along the balcony allow one to relive in the beauty of the surroundings.
If you yearn for a cooler place, their downstairs air-conditioned dining area is the place to be.
The cafe is open daily except Tuesdays, from 9.30am till 7pm.

Bean Sprout Cafe
35 Jalan Masjid Kapitan Keling (Pitt Street)
10200 George Town
Penang
Tel: 04-261 9798