Swallow @The Saw Emporium, Gat Lebuh Macallum, Penang
Swallow @The Saw Emporium, Gat Lebuh Macallum, Penang
The Saw Emporium located in Gat Lebuh Macallum, Penang is the city's newest food businesses destination. The former sawmill built in 1950, within the heritage enclave of 7 Streets Precinct (known as chit tiau lor) recently celebrated its first multi-concept dining event – Opening of Swallow – A Pecking Paradise!
Swallow is a project founded by Tharin Tan, the 4th generation owner who had the interior space of the sawmill restored and makeover with minimalist set-up.
At the multi-concept food pop up event, we were taken on a tour through the former sawmill, followed by a tasting session at the food and beverage outlets. The establishments that are currently participating in "Swallow" are Embers, SOi 55, Teppei Syokudo, TAPS Beer Bar and Qwenchers.
Photo by The Saw Emporium
Teppei Syokudo (one of Singapore's best Japanese restaurants) had some house specials prepared by Chef Yamashita Teppei himself. The small menu has savory delights such as Ten Don, Japanese Curry, Chicken Nanban and Salmon Teriyaki.
The Ten Don with fresh tiger prawn tempura, an assortment of meats and vegetable served with rice certainly is a comfort and tasty choice.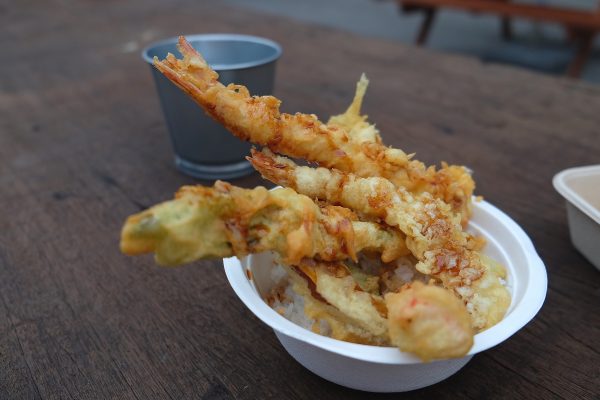 Ten Don RM28 nett
Modern Thai Restaurant, Soi 55, brings the joy of traditional-contemporary Thai dishes to diners. The menu includes Crispy Thai Mango Salad, Roasted Pork with Fish Sauce Caramel, Garlic-Scented Fried Chicken Wings and Sesame Prawn Toast which comes with Kaffir Lime Mayo.
Sesame Prawn Toast with Kaffir Lime Mayo RM15.50 nett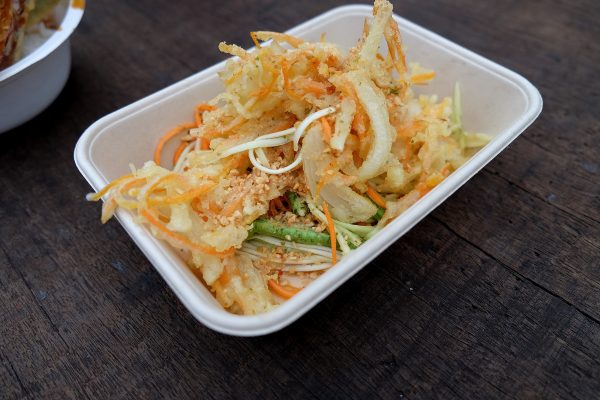 Crispy Thai Mango Salad RM15.50 nett
Embers is known for its barbecue delights prepared with a touch of Asian flavors. The outlet has meats marinated with choices of herbs (typically found in Asian kitchens), and fired-up with glowing coal. For beef lovers, there is the creation like Grilled Australian Beef Bavette, prepared with a confit of ginger, spring onion and aged soy dressing.
The Slow Braised Pork Belly has soy-glazed meat paired with roasted peanuts and cilantro salad.
Charred Prawns with Blacken Lemon & Kimchi Butter RM28 nett
Slow Braised Pork Belly RM21nett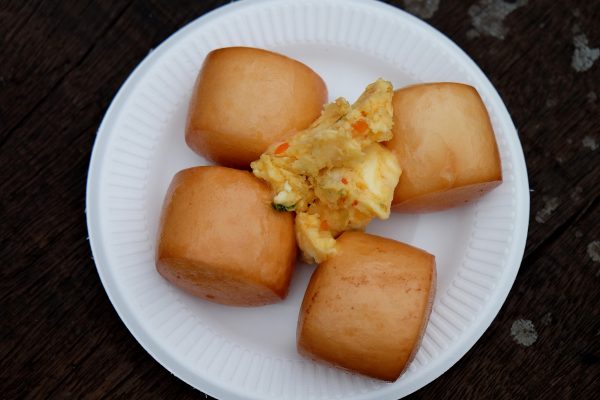 Crispy Mantou RM6

On the beverage front there are offerings from TAPS Beer Bar and Qwenchers. Taps Beer Bar is a pure craft beer bar and offers a comprehensive selection of craft beers (almost 50 options), from Hitachino Nest Beer to Mikkeller and Harviestou. One popular choice is the Oregon's Rogue Ales & Spirits Hazelnut Brown Nectar.
At Qwenchers, the multi-beverage concept bar is the ideal stop for juices besides milkshakes and sodas to quench your thirst. 
Hitachino Nest Beer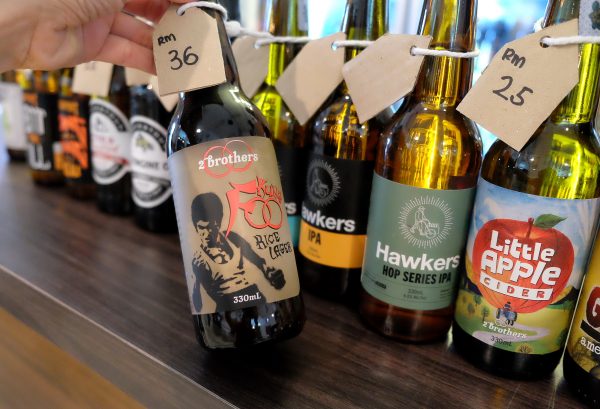 Oregon's Rogue Ales & Spirits Hazelnut Brown Nectar RM30 nett

Refreshing lively Scottish beer from Harviestoun Brewery
Beverages made with natural ingredients and homemade recipes 
Another pop-up stall for the weekend is Utterly Ice Cream Malaysia, where sweet-toothed can go to satisfy their craving for handcrafted ice cream and cakes. Absolutely adorable is the durian ice cream topped with D24 durian.
Before you leave, walk through the outdoor area and you will find a 'showplace' which displays specially curated designer furniture by Kian Furniture. The company focuses on contemporary furniture for the hospitality, outdoor, hotel, home and education sectors.
Swallow @ The Saw Emporium will run until Quarter 1 of 2018 and opens from Thursdays to Sundays, from 11am till late. Qwenchers will be churning out beverages at 11am, TAPS Beer Bar Penang opens at 4pm, while food will only be served for lunch and dinner.
As for parking spaces, nobody is complaining as there is a big area located right beside the building – allocated for 40 cars.
Outdoor dining area
Swallow @ The Saw Emporium
1 Gat Lebuh Macallum
10300 George Town
Penang
* Many thanks to Jasmine Chung for extending this invitation.