Chinese New Year Course Menu & Steamboat @Olive Tree Hotel, Penang
Chinese New Year Course Menu & Steamboat @Olive Tree Hotel, Penang
With the Lunar New Year upon us, nothing could be timeliness than planning the reunion dinner. If you are planning to check out what's happening at Olive Tree Hotel, Penang, you have an option of ushering in the Chinese New Year with steamboat or Chinese set menus.
For both menus, diners can enjoy the joyous feasts at the Olive function rooms which promises entertainment with traditional live performances.
Steamboat is an absolute comfort treat for a reunion dinner with the family. You will find two sets on the menu: steamboat combo set priced at RM555 nett and steamboat combo set with abalone at RM688 nett. Each set (serves 10 persons) comes with a serving of Olive Tree yee sang, chicken & mushroom claypot rice and dessert.
Olive Tree yee sang is a combo of fresh fruits, vegetables, traditional ingredients, seasonings and fresh salmon. The quintessential delicacy is also available for take away at RM108 nett per set.
Olive Tree yee sang
The steamboat offers fish broth and spicy Sichuan soup with a spread of fresh greens, noodles, prawns, dumplings, fish fillet, chicken meat, mushrooms, fishballs and many more ingredients. Prepared using just enough red chili peppers, herbs and spices, the bubbling Sichuan soup with flavors from the morsels added in attract with spicy excitement.
Condiment offerings ranging from sourish based sauce to savory spicy sauce are guaranteed to awaken the taste buds.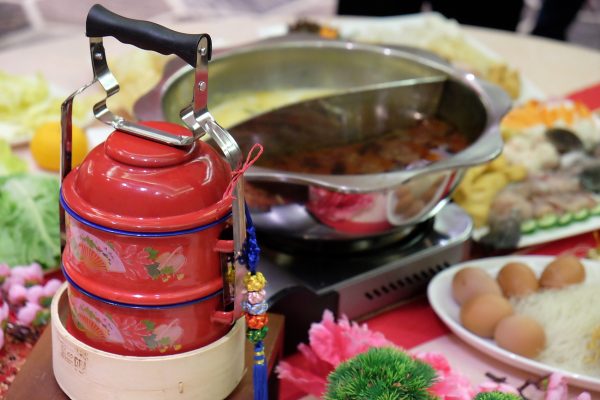 Steamboat combo set with abalone (RM688 nett)
Alternatively, go for the hotel's Chinese New Year 8-Course sets, priced at RM888 nett per table and RM999 nett per table (surcharge applies for two tables and below). The hotel will serve both the menus of 10 persons from 8th January to 4th March 2018.
The RM888 set offers guests a delectable treat of eight dishes starting with the Olive Tree yee sang. The choice of soup is the winter melon seafood chowder with crab meat.
Other offerings include crispy boneless chicken with Mongolian sauce, steamed red snapper with Thai green curry sauce, braised assorted mushrooms, wok-fried butter prawns, smoked duck rice wrapped in lotus leaf, and double-boiled soya bean with dumplings.
The wok-fried butter prawns are finger-licking good and another highlight is the smoked duck rice wrapped in lotus leaf. Done with a tasty twist using smoked duck and yam cubes, the rice dish is not common with most Chinese restaurants around Penang.
Olive Tree yee sang
Double-boiled fresh ginseng and dried seafood soup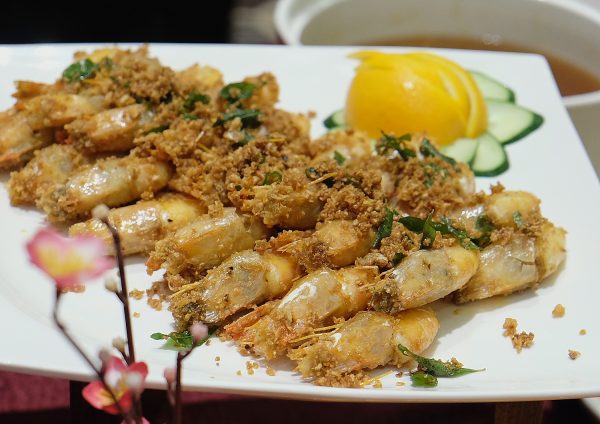 Wok-fried butter prawn
Smoked duck rice wrapped in lotus leaf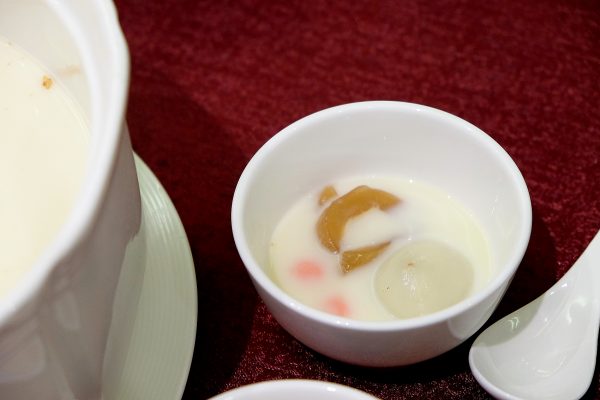 Double-boiled soya bean with dumplings
Diners can also opt for the buffet lunch menu for the first and second day of Chinese New Year at the Sukkah Coffee House, available from 12pm till 3pm. Priced at RM118 nett for adults, RM47 nett for kids, and RM59 nett for senior citizens, the menu emphasises on a mix of Chinese and International delights.
During the festive 16th February 2018, the hotel will usher in the year of the dog with a grand acrobatic lion dance performance at the main entrance.

For more details of their dining promos and to make bookings, call: 04-6377777.
Olive Tree Hotel
76 Jalan Mahsuri
11950 Bayan Lepas
Penang
* Many thanks to Olive Tree Hotel for extending this invitation.