Won Indulgence @Enfin by James Won, Kuala Lumpur
Won Indulgence @Enfin by James Won, Kuala Lumpur
For those looking to relish the finer side of life, the Enfin by James Won is the restaurant to be pampered in. Located on Level 2 of Menara Hap Seng in Kuala Lumpur, expect to find a menu with elegantly plated French cuisine featuring quality artisan products (Asian ingredients) combined with the freshness of locally grown produce from their organic farm in Cameron Highlands.
All the dishes are given the Enfin treatment, with owner and chef James Won weaving in his creative touches to the cuisine. From the list of dishes, diners get to craft their own three, five or seven courses degustation menu. The menu offers alcohol pairing recommended by Chef Won who is a Hennessy and Krug ambassador.
Enfin pleases with its enviable collection Krug Champagnes, from Krug Grande Cuvée to the sublime crème de la crème of Champagne: Krug Clos d'Ambonnay.
Wine connoisseurs can also select from a comprehensive listing of fine French, European and New World wines, sake and cognac. The restaurant stocks special limited editions of Hennessy Cognacs, besides the unique and emblematic Hennessy 250 and the rare and precious Richard Hennessy.
I experienced the five-course degustation menu (RM438) here during my recent Kuala Lumpur trip. Dinner featured well-crafted dishes offering a flurry of  flavour, texture and aroma.
First, I was served with artisan bread made from their own levains. The bread with slightly burnt crust and chewy bite was presented with Au Bon Beurre  butter. The salted silky French butter has found its way onto the tables in Enfin just recently and am glad to have it with my bread.
At Enfin, diners will love the fact that the amuse bouche is complimentary with set courses dining selection. It was total excitement when the "forest" amuse bouche was placed on the table. The plate of whimsical edibles, with twigs, mushroom, boulder, bird, butterfly and soil offers sweet and savory bites besides a range of texture – almost too pretty to eat!
Chef Won took time to give a detailed explanation on what goes into the dish. "The baby baguette stick is smeared with (sambal olek a la enfin) fermented wild chili, apple sorrel, and petals. The small mario foie gras mushroom with colorful red cap made with black cherry glaze is topped with dots of white chocolate. The little boulder is the Enfin's version of the 'woo kok' (yam puff), and is filled with petit pois (baby peas) and ikura (salmon roll). All the edibles are served on a soil made of bamboo charcoal and truffle paste," he explained.
The colorful amuse bouche comes with instructions to use the fingers. It is fun, feel to nature foraging on the "forest".  It is an enjoyable dish to savor.
 Amuse Bouche
The amuse bouche set the tone for entrées to follow. The mushroom tartare takes on the classic beef tartare dish and it comes as a fairly simple presentation. It's a comforting mix of condiments – mushroom distillate gelée, toasted quinoa, black and white sesame, egg white, pickled shallots, cornichons and chives, topped with a runny egg yolk cooked with black truffle. The flavors of this dish are balanced by the most unexpected dehydrated wood ear chips, made using cooked 'mook yue' (wood ear fungus), a twist which I liked.
I am fond of the contrasts of this dish – crunchiness of toasted quinoa and wood ear chips, wobbly mushroom gelee, fragrance of truffle, tartness of cornichons, and nutty flavors of sesame seeds. Not forgetting the truffled egg yolk which becomes a kind of rich creamy sauce that binds everything together.
This vegetarian dish with crunchy mouthfeel promise delightful pairing with the bold citrus fruit notes of the Krug Grande Cuvée.
Another entrée is a dish of extreme simplicity, topped with a luxury item. The entrée takes on only a number of ingredients: white sturgeon caviar, egg whites, chives, chive flowers and rye bread crust.
Crafted with underlying technique, it seduces with light fluffy egg white texture as much as flavors: the burst of salty tones from the pearls of white sturgeon caviar, and the touch of pungent chive. Paired with the rye bread crust, the dish finds its perfect accompaniment with the Krug Grand Cuvée, Reims, France (M.V). 
Caviar, egg white, chives, chive flowers and rye bread crust
Next is the dish that delights seafood lovers. The dish is all about sweetness: with fresh white abalone and pacific oyster served in a charred onion and chicken broth perfumed with fruity and floral notes of chrysanthemum and osmanthus. Enhancing the slightly seared tender abalone and juicy oyster include ingredients such as fennel flowers, mushrooms, verjus lily bulb (pak hup) and chervil oil.
The palate cleanser in the form of a cape berry is a great way to show its fruity characteristic and refreshing notes. The chef had the actual fruit removed and replaced with a yellow orange sorbet made up of yogurt, olive oil ice cream, wasabi and kumquat fruit. The sorbet melts in the mouth and it was tasty, with citrus kumquat and wasabi sharpness. Certainly tiny but with a huge impact!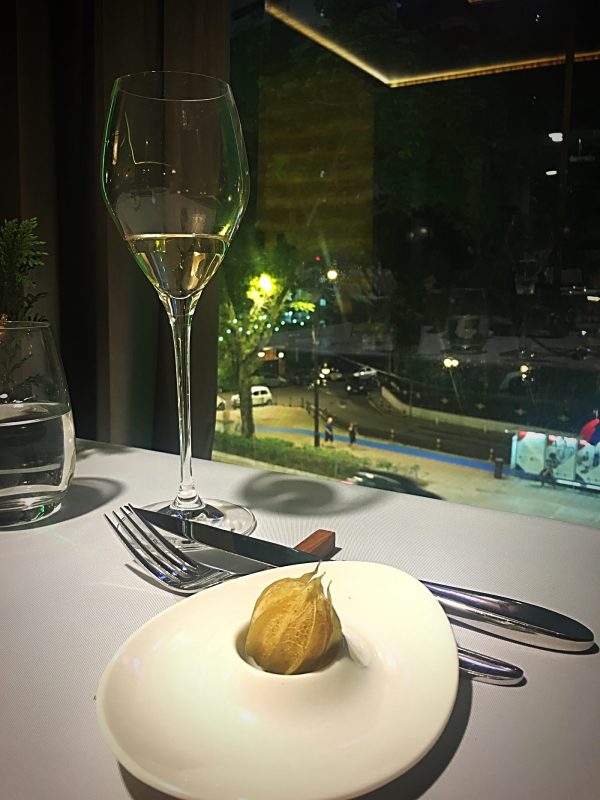 Palate cleanser
On the main course is the poached halibut served in a beurre blanc sauce made with their own house fermented rice wine. Other components of the dish include poached and dehydrated carrot, grated fresh almond, crispy fish skin, carrot tops along with aromatic Szechuan and Sarawak peppercorn.
The delicate flavor of the gently poached fish, crunch of the fish's skin, and natural sweetness of carrot made for a refreshing contrast.  The deep-sea fish is springy to the touch and its soft texture just melts in the mouth.
A salad composed with vegetables fresh from their own farm comes complimentary with the fish main course. A medley of cauliflower, broccoli, carrots and beetroots, pea puree, roasted leeks sits on half a spring onion carpet and parsley cholorophyll and half a charcoal bamboo soil infused with truffle pate. Chef Won shares that the greens delivered directly after being harvested at the peak contain fresh vibrant sweetness and crunchiness.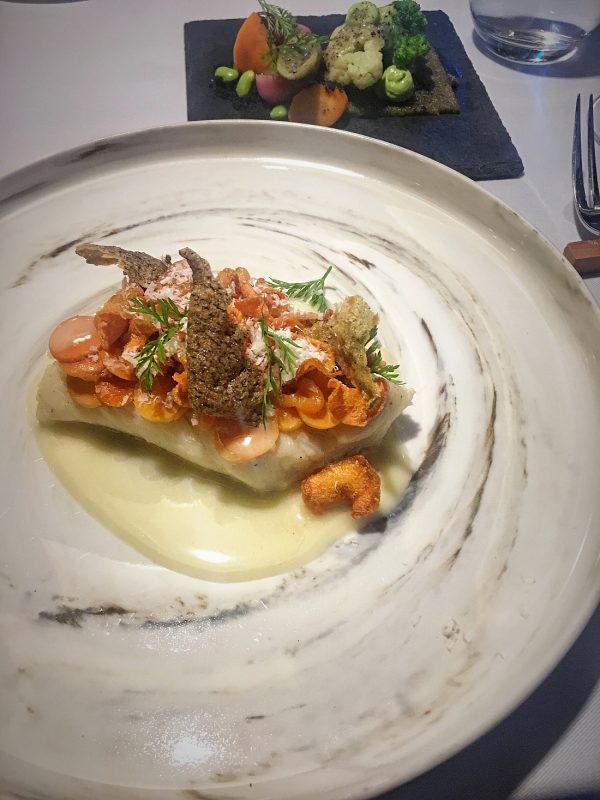 Poached halibut
Enfin hits all the right notes from the start to the main course. For the dessert course, one could find specially prepared treats – whether light or elaborate. The mango and cape berry soufflé prepared with a Malaysian twist using Sarawak peppercorn, served with a pandanus coconut sorbet is one to look forward to.
My visit to Enfin by James Won is all about the bespoke experience and it was not only memorable but educational too. With quality products cooked brilliantly, blended with great wines, touch of hospitality and warm relaxing atmosphere, the French restaurant certainly adds glamour and flair to Kuala Lumpur's culinary scene.
Krug Room located on the mezzanine floor
With its two private dining rooms, Hennessy Salon and Krug Chef's Table, Enfin offers the perfect settings for intimate dining, private parties and business entertaining. The restaurant is open daily from 11am to 3pm and 5.30pm till late except Sunday.
For more information, visit https://www.enfinrestaurants.com/
Enfin by James Won
Lot 2.05, Level 2
Menara Hap Seng 1
Jalan P.Ramlee
50250 Kuala Lumpur
Wilayah Persekutuan
Kuala Lumpur
Tel: +60 10 288 7920
Photo credits to Facebook: @enfinbyjameswon