Dim Sum Station 点心栈 @Promenade, Bayan Lepas Penang
Dim Sum Station 点心栈 @Promenade, Bayan Lepas Penang
Penang is home to an ever-increasing number of cafes, bakeries, and eateries with the opening of new commercial projects in Bayan Baru and Bayan Lepas.
The newly opened Promenade at the Bayan Lepas area, located nearby D' Piazza Mall and Elite Avenue, houses many outlets such as Dim Sum Station, 15 Grams Coffee Bar, BreadKing, Yin's Sourdough Bakery and Hive.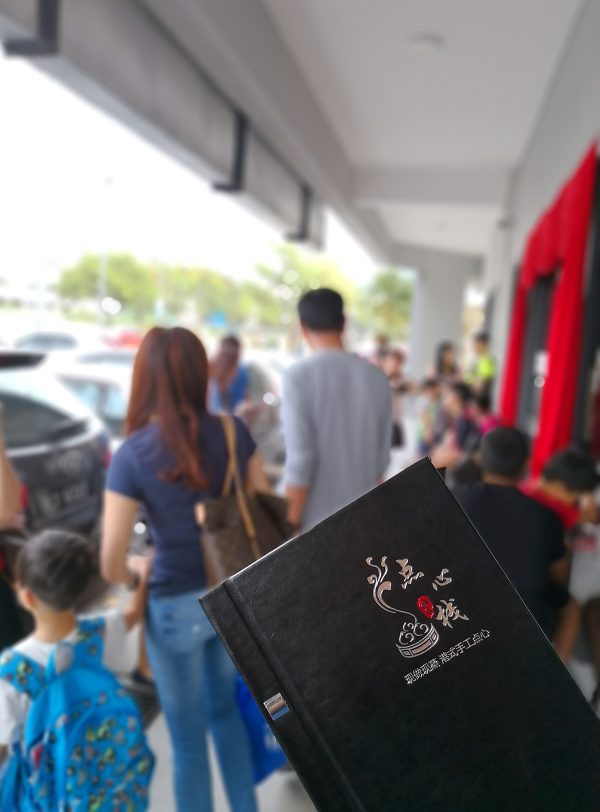 Come early to avoid the long queue
For a weekend breakfast meal, we sampled the little dim sum dishes at Dim Sum Station. Open since late 2017, the restaurant not only adopts the cook-to-order concept but also has the food warmed up in the custom-designed steamer that's built into the table.  This is indeed a nice touch, particularly when it comes to dim sum.
The menu has seafood, meat, noodles, and rice in a variety of dishes. With a hot pot of chrysanthemum tea, we feasted on a variety of fried and steamed items.
There is a variety of steamed dumplings served in steamer baskets made of bamboo. Besides the basic har kow and siew mai dumplings, the dried scallop dumplings, and the prawn & spinach dumplings also come in generous sized portions.
Dried scallop dumpling RM8.50nett

Prawn & spinach dumpling RM9.50nett
Baskets of dim sum warmed up in the steamer built into the table
Pao (steamed bun) lovers will have to make do with its small selection of sweet ling yong pao, and lau sa pao, besides the savory char siew pao. The latter encasing moist barbecued pork is a popular favorite.
Char siew pao RM7.90nett
One of my favorite dishes is the steamed glutinous rice 糯米饭. It is certainly not a dish I expected to find in a restaurant. Unlike the more common lor mai kai, this humble dish of lor mai fan is served with only dried shrimps, roasted peanuts, and spring onions. The sticky rice turned out well with firm chewy texture.
Steamed glutinous rice RM7.50nett
Diners can also tuck into steamed chee cheong fun with fillings of prawns or char siew. Soy sauce and pretty good sambal served on the side lends a combination of umami and spiciness to the simple rice noodle rolls.
Prawn chee cheong fun RM7nett
Deep-fried items include radish cake, glutinous ball with sesame seed paste, beancurd skin with prawns, and yam puffs. I enjoyed the yam puff, offering a light flaky coating. Embracing creamy yam paste and savory filling, it is a fragrant and delicious choice.
Crispy Yam Puff RM8.50nett
Beancurd skin with prawns RM8.50nett
The rest of the meal is a matter of picking heavier dishes like fried noodles, fried rice and sweet desserts. For desserts, there are only two – osmanthus jelly or mango pudding.
The small menu with dishes made with fresh ingredients certainly makes dining here a pleasure. This simple place serves dim sum fare for breakfast and lunch only, with daily business hours from 7.30am till 3pm.
Dim Sum Station 港式點心餐廳
5-G-2 & 3 Promenade
Persiaran Mahsuri
Bandar Bayan Baru
11950 Bayan Lepas
Penang
Tel: 011 – 2232 8888