Hotel Jen Penang – Creative Twist on Classic Food & Cocktails
Hotel Jen Penang – Creative Twist on Classic Food & Cocktails
Leave boredom behind for the new Get Set Eat Campaign at Café Jen in Hotel Jen Penang. The cafe offering a combination of Asian cuisines and international flavors has launched a menu with creative twists on classic cocktails and unexpected Asian flavor fusions.
The promotion is running concurrently until 30 April 2018 at all Hotel Jen properties, each one offering dining opportunities using Golden Circle (GC) award points besides cash.
The menu sees three dishes and four playful alcoholic and non-alcoholic cocktail concoctions. If you have a  penchant for alcoholic drinks, you will definitely want to check out the China Lady and Beer Milkshake.
The China Lady presented in an attractive ceramic cheongsam bottle is a popular option made from sochu, plum wine, lemon juice, maple syrup, pasteurized egg white, and cucumber juice.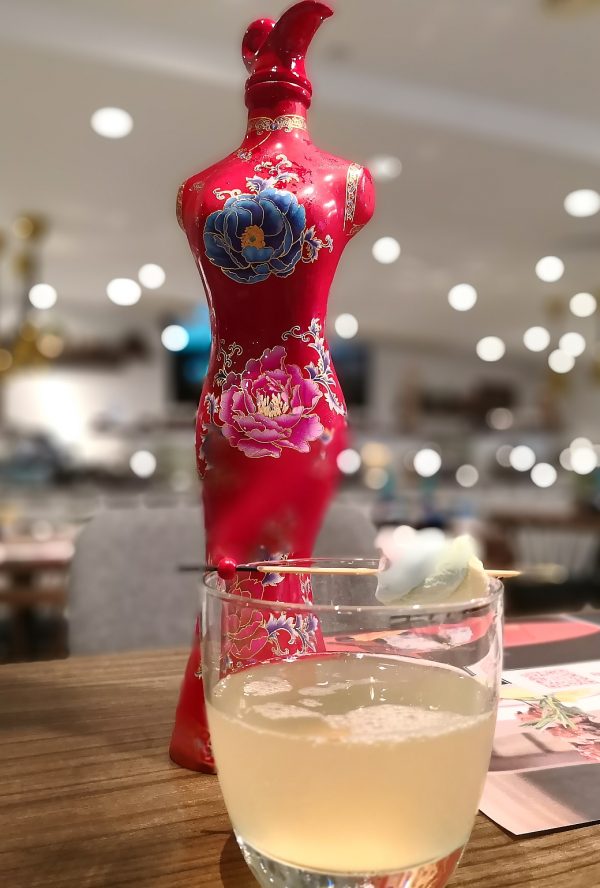 China Lady  (RM68 or 170 GC points)
The Beer Milkshake prepared in a blender, accentuates the flavor of chocolate ice cream, Guinness stout, and milk. The smooth and luxuriantly milky drink with subtle hint of alcoholic bitterness brightens up with whipped cream, oreo cookies, and chocolate sauce.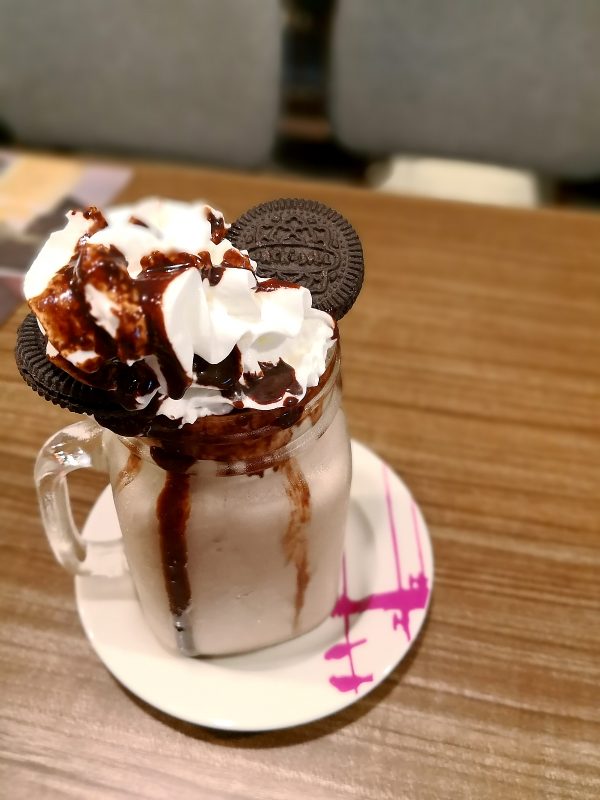 Beer Milkshake (RM30 or 75 GC points)
For non-alcoholic drinks, why not try the Tea Time in Tanglin, or the Pina Kale-Ada served in a coconut. The latter which is a twist of the piña colada is a refreshing number made with a concoction of coconut water, banana, green apple, kale juice, and cucumber. Priced at RM30, it is certainly worth a try.
The Tea Time In Tanglin presented in a hawker-style transparent plastic bag tied with a raffia string, was certainly eye catching. Infused with rosemary & peppermint tea beside tanginess of lemon juice and pineapple juice, the concoction is definitely an acquired taste.
Tea Time in Tanglin (RM30 or 75 GC points)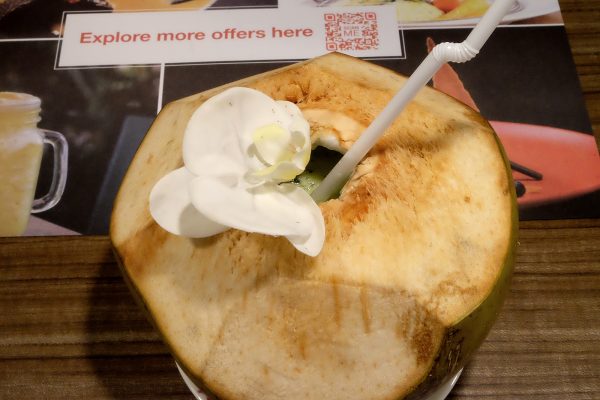 Pina Kale-Ada served in a coconut (RM30 or 75 GC points)
There are two savory signature creations to sample – Double Crispy Chicken Parmigiana Burger and Nextgen Char Spaghetti.
The Double Crispy Chicken Parmigiana Burger is a new take on the classic breaded chicken dish. Topped with melted molten cheese and served on a hot sesame bun with a side of tomato coulis, it is a delicious way to enjoy the flavors of chicken parmigiana burger-style.
Double Crispy Chicken Parmigiana Burger (RM28 or 70 GC points)
The Nextgen Char Spaghetti is an inventive of the char kway teow – a very popular Penang street food. The dish is given a "east meets west" spin with the flat rice noodles swapped up for spaghetti instead. Accompanying prawns, fishcake, squid, cabbage, bok choy, and egg added texture to the dish. For those who prefer the dish with a spicy kick, make sure to inform in advance when making your order.
Nextgen Char Spaghetti (RM28 or 70 GC points)
As for dessert, the kitchen serves the Cheese & Berries in a fresh Jen's way. Dig deep into the jar and eat a combination of cheesecake, crumble and toppings of blueberry sauce and fresh blueberries. With a combination of fresh strawberries and gooseberries, the dessert is a delicious combination.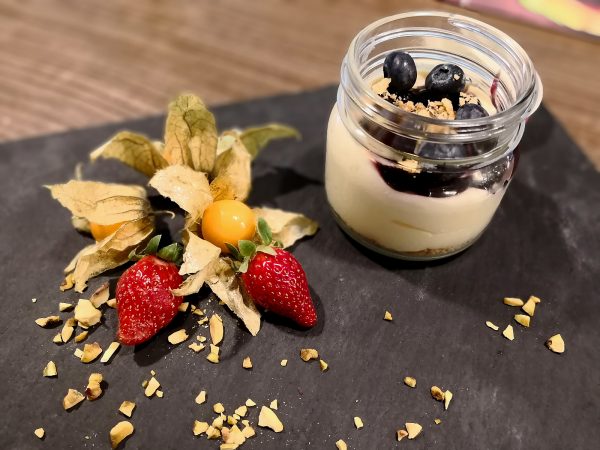 Cheese & Berries (RM15 or 40 GC points)
Besides the signature food and cocktail menu, Café Jen also rolls out a slew of buffets at a great price – from the daily International Buffet Lunch to themed Buffet Dinner (Friday and Saturday). For early birds, the cafe offers a free voucher for every 10 vouchers purchased from now till  30 April 2018.
Hotel Jen Penang
Magazine Road
George Town
10300 Penang
Tel: 04 2622622
* Many thanks to Hotel Jen Penang for extending this invitation.