Two Frenchies Cafe Bistro @Bishop Street, Penang
Two Frenchies Cafe Bistro @Bishop Street, Penang
Two Frenchies located at Bishop Street (Lebuh Bishop), in Penang. is establishing itself as one of the best spots to go whenever you are craving for casual French cafe experience.
Its relaxing laid back atmosphere, friendly cheerful service and a menu with a selection of food, desserts, coffee, and wines had me slowly feasting for hours on my visit with friends.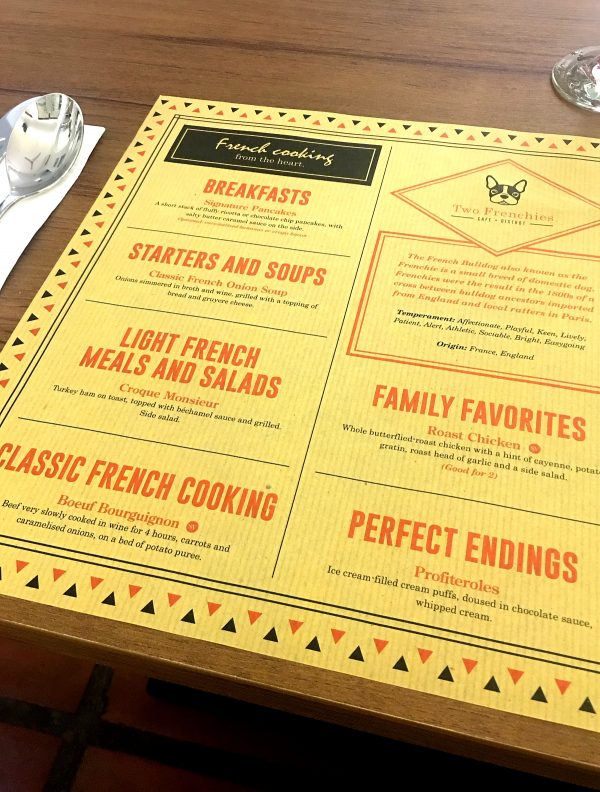 Deakin Estate Chardonnay Pinot Grigio RM149
There is the crowd-pleasing Two Frenchies Sharing Platter. We tried the platter for 2, with enough delights – country terrine and meats, cheeses, bread, vegetable dips and quiches. Every bite offers different texture and nuance, making it a nice nibble with a refreshing glass of Deakin Estate Chardonnay Pinot Grigio.
Two Frenchies Sharing Platter (for 2) RM40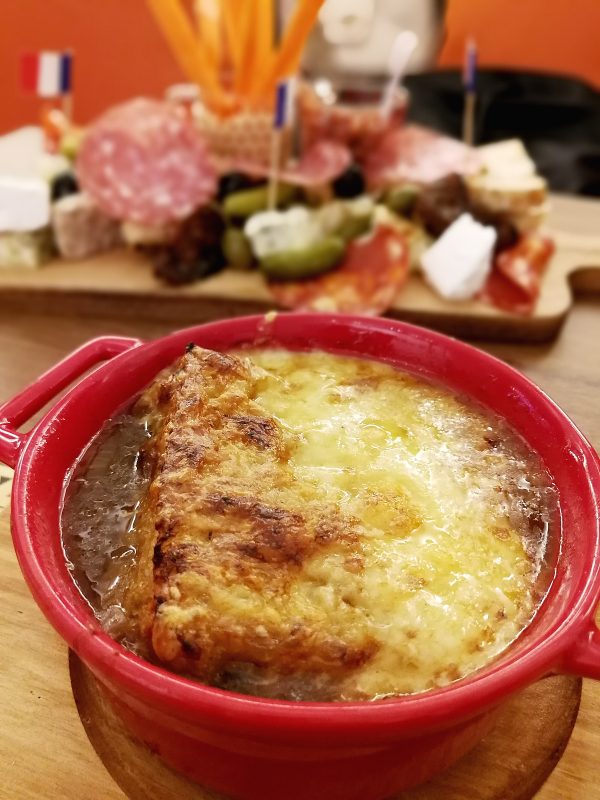 Classic French Onion Soup RM14.50
For a light healthy option, go for the Quinoa Bowl. The bowl features quinoa, sundried tomatoes, and olives, topped with avocado, rocket, and sprinkling of sunflower seeds. At a different visit, the avocado has been replaced by a banana. Overall, I enjoyed the avocado version more.
Quinoa Bowl RM25
Besides the light options, there are also the heavy choices of Duck Confit and Roast Chicken, Blanquette de Saumon, Boeuf Bourguignon, Two Frenchies Signature Burger and pasta dishes.
For those craving Boeuf Bourguignon, the dish has comforting slow cooked beef infused in wine with carrots and caramelilsed onions, finished with potato puree (RM48).
The menu also highlights Two Frenchies Signature Burger, which arrived with a side of French fries.  Thankfully, the kitchen crew takes care to cooked the meat at our medium-rare request. The 150g beef patty remains tender and juicy, and comes with layers of other savory goodness – melted gruyere cheese, bacon strips, grilled tomato, and onion confits.
Two Frenchies Signature Burger RM29.90
Sweet tooth will be tempted by the offerings of creme brulee, mousse au chocolat, vacherin, and profiteroles. Almost too full, we still sweeten things up with the profiteroles, which has ice cream filled cream puffs served with chocolate sauce, whipped cream and almond flakes. It is a lovely sweet end to a nice meal.
Two Frenchies's espresso is well prepared and we had it with the profiteroles. The cafe also offers tea selection from Harney's & Son, and beer.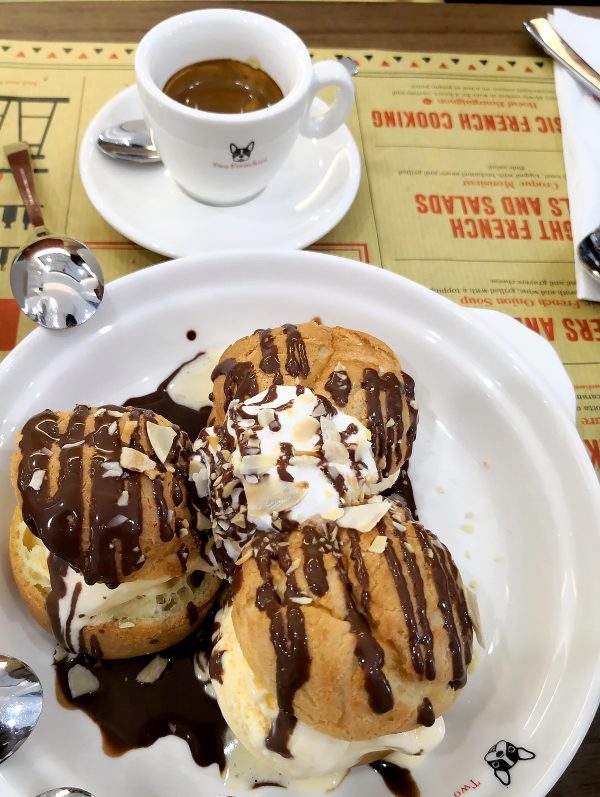 Profiteroles RM13.50 with espresso RM5.90
Two Frenchies Cafe Bistro is a welcoming space for early birds too. Breakfast come with healthy option of yoghurt and fresh fruit bowl, pancakes, omelette, or the Big Breakfast.
Overall, Two Frenchies Cafe Bistro delivered meals where I enjoyed with family and friends. With its many choices of French classics,  the cafe is definitely a welcome addition to the culinary scene in Penang.
Two Frenchies Cafe Bistro
36 Bishop Street
10200 George Town
Penang
Tel: 04 – 2612000
Business Hours: 11.30am -10.30pm
Closed on Monday