Aboo Backer Nasi Kandar Restaurant on Beach Street, Penang
Aboo Backer Nasi Kandar Restaurant on Beach Street, Penang opened recently with a menu revolving around favorite Malaysian delicacies. The tiny Indian Mamak nasi kandar restaurant with an atmosphere of just a few tables offers roti bakar and roti canai for breakfast besides nasi kandar with a small variety of dishes.
Aboo Backer Restaurant is related to Hameediyah (century old Nasi Kandar eating house). According to the proprietor, Aboo Backer Restaurant is managed by its seven generation family members.
Member of the outlet spotted wearing a sarong and songkok
Roti canai (fluffy bread) made freshly upon orders is enjoyed with complimentary simple dhall or with a variety of savory dishes that are ordered separately. Pairing the roti canai with steaming hot or icy cold teh tarik makes a comfort satisfying breakfast or even as a tea-time snack.
Aside from roti canai, other light food to go with include roti bakar (toasts) topped with telur goyang (soft-boiled egg).
Soft fluffy roti canai paired with dhall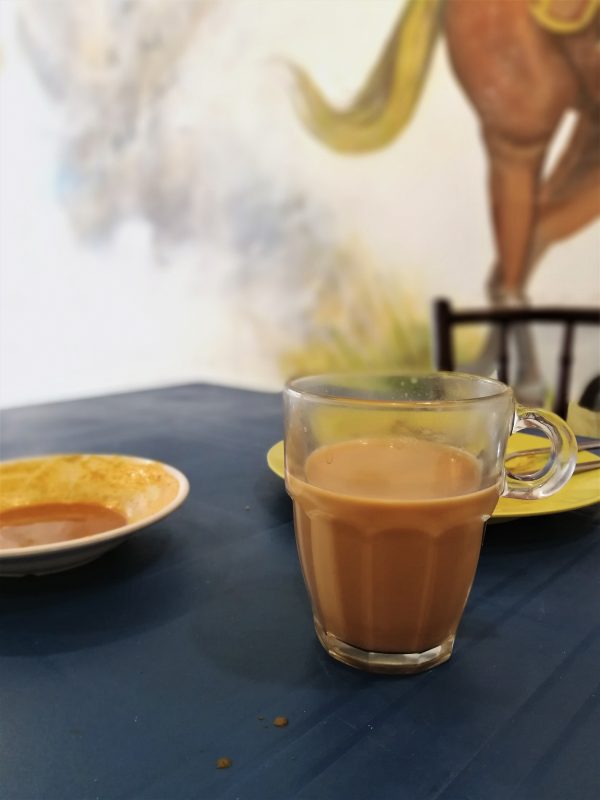 Glass of hot teh tarik
If your tastes run to a full meal of nasi kandar, there is a delicious selection of dishes with intricate flavors to go with rice. Just pick the kind of dishes you want. The simple menu focuses on freshness prepared with the use of spices.
The chicken dish is the one popular option. The outlet serves the poultry several ways: ayam goreng (deep-fried), ayam masala, ayam kurma, ayam bawang or ayam ros in dark sauce with intense savory flavors.
There are also several veggie dishes which are nice options to go with the meal. Most customers will have their plate of rice topped with meat, vegetable, drenched in a mixture of curry sauce.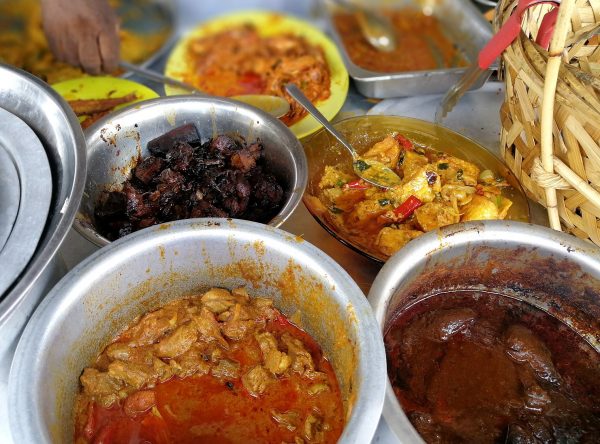 Curry ikan (fish curry)
Due to the full occupancy of the space, it is sometimes tough to secure a table during peak lunchtime hours when the crowds are big. This is when you see many customers having their meal take away.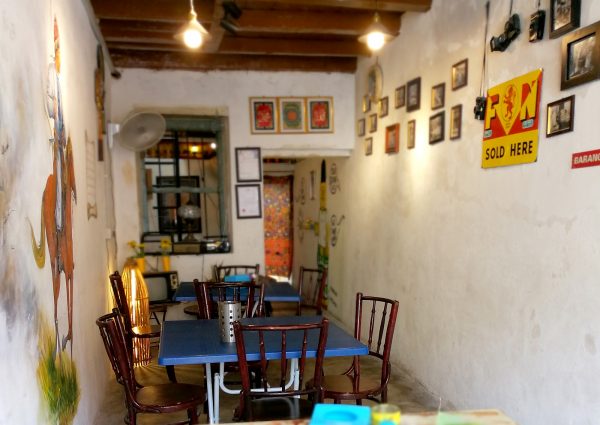 The outlet is open daily for breakfast, lunch, and teatime from 8am to 4pm except Sundays. However, it is closed from 1pm to 3.30pm on Fridays for prayers.
Kampung-style stall
Aboo Backer Restaurant
516 Beach Street
10300 George Town
Penang
Tel: 016 – 4470194