Feng Yi Dumplings @Weld Quay, George Town, Penang
Feng Yi Dumplings @Weld Quay, George Town, Penang
Feng Yi Dumplings 凤姨粽子 located at Taman Harbour View in Weld Quay is one of the oldest glutinous rice dumpling establishments in Penang. With 40 over years in the dumpling industry, the owner, Feng Yi, has been churning out various types of dumplings for her customers.
Using handed down family recipe, laborious steps are taken by the second generation in making the Chinese rice dumplings. Also known as bak chang, the pyramid shaped dumplings wrapped in bamboo leaves go beyond savory and sweet. Among the varied selection to be served include Feng Yi Dumpling (bak chang), Nyonya Dumpling, and Crystal Dumpling,
The dumplings are sold throughout the year and are available for take-away and dine-in. The Feng Yi Dumpling (bak chang) in dark soy sauce is loaded with soft glutinous rice and morsels of meat, salted egg yolk, Chinese black mushroom, and chestnut. Some come with dried scallop. This hearty savory parcel is served with sweet chili sauce but is best eaten on its own.
Feng Yi Dumpling (bak chang)
On the other hand, the flavors of the Nyonya Glutinous Dumpling is unique and comforting in its own way. Its filling of chopped peanuts and winter melon impart sweetness, earthy and nutty flavors.
The outlet also caters to those with a sweet tooth with its Crystal Glutinous Rice Dumpling. Made with alkaline water, the dumpling with distinctive yellow color and springy texture comes with thick, sweet brown sugar syrup.
  娘惹粽 Nyonya Glutinous Dumpling
There are also light bites on the menu for diners to look forward to – Steamed Yam Cake, Steamed Chai Kuih, Crispy Wancake and Wonder Wealth Roll.
Aside from that, diners can also savor the Golden Chicken rice, Nanyang Koay Teow and the Prosperous Noodle (Lam Mee). Accompanied with a zesty pungent sambal belacan, the Prosperous Noodle in a meat broth is served with bean sprouts, egg omelette, deep-fried shallots, meat, and ku chai.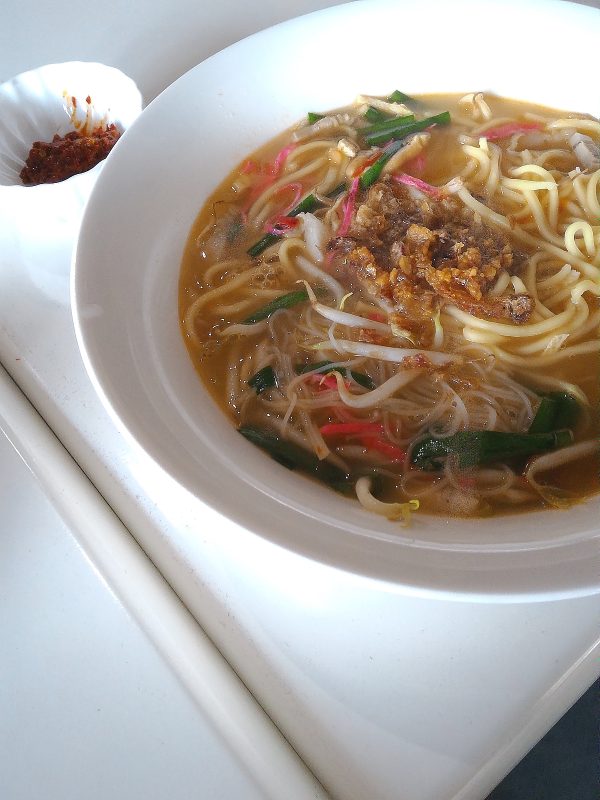 Prosperous Noodle (Lam Mee)
To complete the meal is a selection of Malaysian sweet desserts. The warm Golden Bean (tau suan) prepared with mung beans and gingko nuts definitely leaves an impression.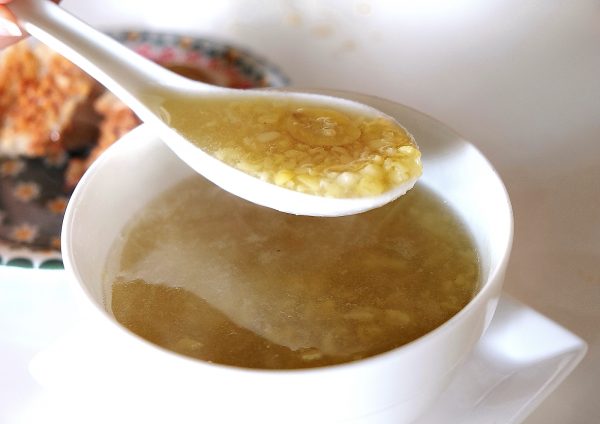 There are a few tables for dining in for breakfast, lunch, teatime and early dinner. The air-conditioned outlet is open daily except Wednesday, with business hours from 8am till 8pm.  
Feng Yi Dumplings 凤姨粽子
Wisma KGN
123-G-04 Taman Harbour View
Pengkalan Weld
10300 Penang
Tel: 04-2622506 / 012- 4823506