Gravity, The Rooftop Bar @G Hotel Kelawai, Penang
Gravity, The Rooftop Bar @G Hotel Kelawai, Penang
Gravity Bar located on the 24th floor of G Hotel Kelawei in Penang is an oasis of nightlife, offering an entertaining venue with a panoramic view of the island for local and international guest.
This reputable alfresco rooftop bar offers a wide selection of spirits and wines, and innovative cocktails paired with bites and light snacks in a comfortable setting complete with low lights and trendy music.
For the months of July until September 2018, Gravity welcome guests with its new drink promotions. Start out with the Jameson Jug, a bubbly malt blend of Jameson Irish whisky and ginger ale, spruced with fresh lime and ice cubes. Priced at RM80 per jug, grab the buy 2 free 1 promotion to quench away the thirst with your fellow friends.

Jazz up the evening and let your hair down with the Rainbow Margarita (RM38 for a set of 5). Consisting of a blend of tequila, triple sec, lime juice, pre-mixed margarita, blue curacao, orange juice and grenadine syrup; each shot brings out different hues and flavors to the table.
 Rainbow Margarita RM38 nett for 5 shots
Guests will be delighted with the Smirnoff Vodka Tube, a riot of colour tubes which is blended with cranberry, orange, blue curacao mix with 7-Up and lime. Definitely Insta-worthy and share-worthy, with a set of 12 tubes at RM55. These light-hearted additions to the drinks menu are definitely a highlight for a bunch of people.
On top of that, a must-try cocktail on the drinks menu is the refreshing Pomegranate Mojito. This mint-and-lime classic takes a cheeky spin with the addition of pomegranate syrup, spice rum and soda water. 
For those looking to celebrate birthdays here, a recommended drink to surprise the birthday guest is the Flaming Lamborghini, blended with Kahlua, Sambuca, Blue Curacao Liqueur and Bailey.
In terms of food offerings, Gravity dishes up a selection of bar bites, with burgers, pizzas, croquette, dumplings and charcuterie plate. There portions are excellent for sharing and make an excellent accompaniment to the drinks. For a satisfying bite, do try their Korean style chicken drumlets or the Tuna Croquette.
Korean Style Chicken Drumlet RM28
Tuna Croquette RM28
Pizza lovers can can tuck into the Meat Fantasy Pizza, served with pepperoni, chicken slices, beef slices with mozzarella cheese or the Smoked Cheesy Sausage Pizza topped with special made pizza sauce, Mozzarella cheese and arugula salad.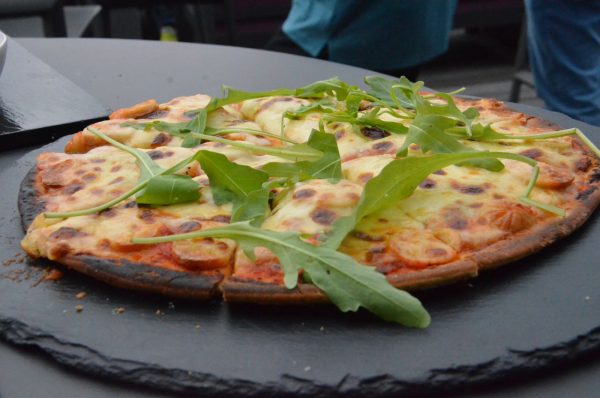 Smoked Cheesy Sausage Pizza RM28
Besides, the menu also offers the Gravity Charcuterie, with chef's selection of foie gras pate, jumbo sausage, smoked duck breast, chicken roulade and pickles. On the other hand, if you're craving for some fried snacks, you can opt for the Prawn On Toast or the Spiced Lamb Filo.
 Gravity Charcuterie RM68
   Prawn on Toast RM28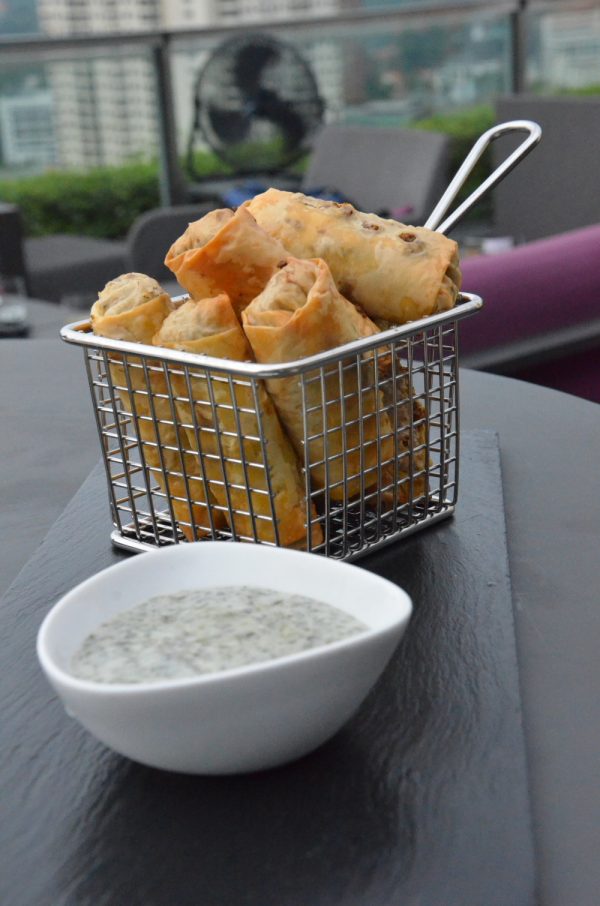 Spiced Lamb Filo RM28
For those who like burger, tuck into the Gravity Burger and the  Ham-Dan" Chicken Slider; the latter comes with juicy chicken patties, molten salted egg yolk and coleslaw.  The Gravity Burger is their signature dish, with beef or chicken patty sandwiched between brioche, with egg, grilled spicy pineapple and a side of coleslaw.
 "Ham-Dan" Chicken Slider RM28
Lastly, for dishes with a Thai touch, try the Chiang Mai Sausage paired with rose apple salad and spicy "Nam Prik" chilli dip, or the Chili Soft Shell Crab with Thai "Kerabu" salad.
Chili Soft Shell Crab with Thai Kerabu salad
Happy hour is from 7pm till 9pm whereby everyone can enjoy a buy-one-free-one promotion on all house pours. On the other hand if you're craving a spot of wine, you can opt for the Wine O'Clock promotion at only RM75nett per person per hour for free flow of red and white wines.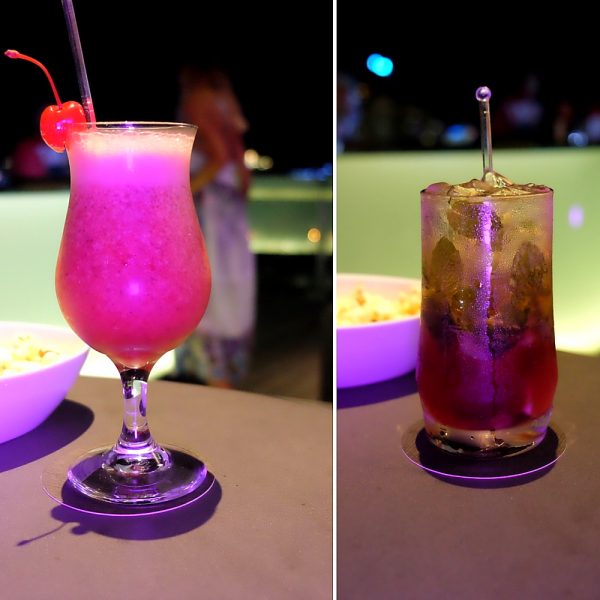 Gravity makes for a great meet-up spot for a business chat or to mingle and relax with friends. The outlet not only offers alfresco seating for sun set view and stars glistening but also comfortable air-conditioned area.
Gravity is open daily, with bar services beginning at 5pm till about 1am.
Gravity
G Hotel Kelawai
2 Persiaran Maktab
10250 Penang
Tel: 04-2190000
*Photos credit to G Hotel Kelawei