Carrot Fish Cafe @ New World Park, Burma Road, Penang
If you are looking for a spot of healthy eating, you could make a visit to Carrot Fish Cafe, which occupies a space with casual setting in New World Park, Burma Road, Penang. Appointed with floor to ceiling glass panels, the cafe with its tagline "Taste True Wellness" is one of those places to get healthy and balanced food.
All meals are prepared on site and guests can order their food at the counter.
The cafe offers guests indoor seating, along with a lengthy breakfast, lunch and dinner menu of cold pressed juices, smoothies, acai bowl, along with soup, snacks, mains, and a handful of desserts.
Don't miss the most important meal to begin the day – breakfast! Order the Big Breakfast for RM22. With the generous portion size of the dish, it is recommended to go for the sharing-style-eating. The dish combines broccoli hash brown, fried egg, chicken patties, grilled mushrooms, avocado and tomato with pieces of sourdough. For spice, sprinkle in some crushed black pepper.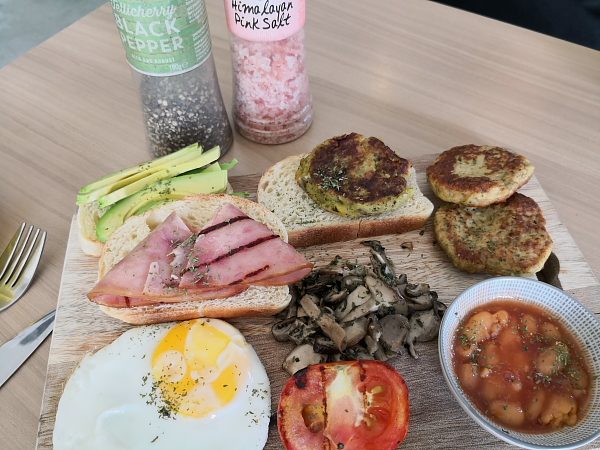 Big Breakfast RM22
The Vege Delight offers a simple meal with sourdough bread. This dish incorporates tomato soup, grilled mushroom, steamed broccoli, tomatoes, and egg. Chopped herbs topped the dish lending it freshness, and together with added heat of crushed black pepper, the dish is an inviting warm choice.

Vege Delight RM15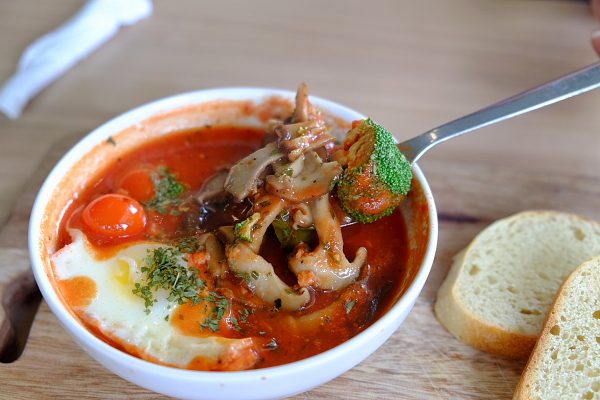 Soak up the soup with the sourdough bread
Check out the Seafood Barley Rice when craving for a wholesome hearty meal. The dish with an exciting mix of Chinese barley, and king prawns and squid, cooked with homemade Thai sweet and sour sauce stimulates the appetite with freshness of seafood. Great as a dish for lunch or dinner especially for health conscious eaters.
Pizza is also prominent on the menu and it comes with healthy broccoli crust or cauli crust. It's a menu of Hawaiian Chicken, Tuna with Mushroom and Greek Yogurt, and Smoked Salmon with Dill and Greek Yogurt.
   Seafood Barley RM28
For beverages, kick things off with choices like kefir soda, cold-pressed juices, brewed coffee or smoothies prepared with health-boosting ingredients. For its coffee selection, Carrot Fish Cafe serves a variety of hot and iced beverages prepared using coffee beans from Macallum Connoisseurs.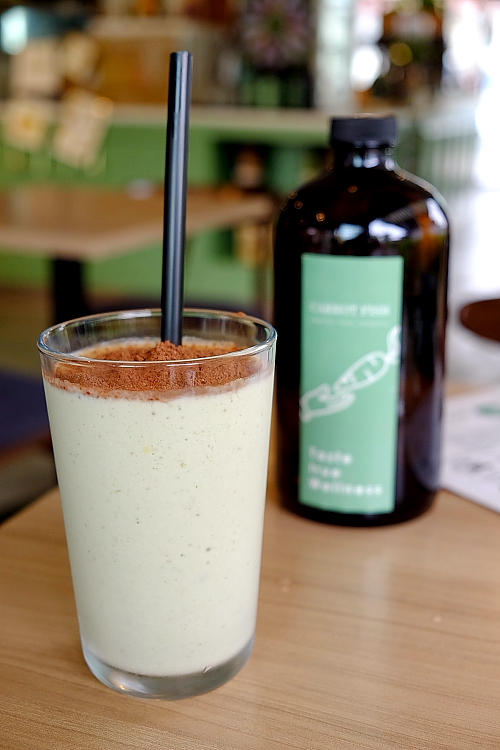 Avocado Parsley RM15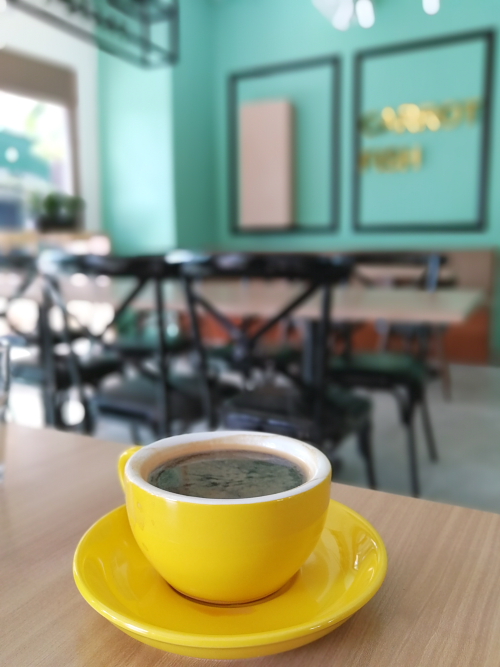 Long Black RM9
For foodies who are health conscious eaters, Carrot Fish Cafe is the place to be. In addition to the food and beverage menus, the cafe also provides meal prep service to those who want to eat healthy but are too busy to prepare their own meals.
For the moment, the cafe operates daily from 8am till 10pm.
Carrot Fish Cafe
102-D-6 New World Park
10050 Burma Road
George Town
Penang
Tel: 04 – 2288028