Weng Kei Roasted Meat 荣记烧腊 @ Carnavon Street, George Town, Penang
Carnavon Street in George Town, Penang, is a fascinating place to explore. For those who are not yet familiar with the street, it is packed with eateries and cafes famed for local and Western delights.
One eatery that is worth going to is Weng Kei Roasted Meat 荣记烧腊, a destination to try out a medley of roasted delights.
Barbeque Pork & Roasted Pork
Weng Kei Roasted Meat is stacked up with meaty options. Among the highlights are the roasted duck, roasted pork, roasted chicken, barbeque pork and poached white chicken.
There are ways to enjoy the roasted meat, with white rice or noodles. For those tempted with noodles, there is a selection of springy noodles enriched with chicken egg and duck egg. The latter which is richer in taste is easy to get hooked on.
Prices are reasonable with roasted duck with rice/noodle priced at RM7 (s) and RM8 (b), roasted pork with rice/noodle at RM5 (s) and RM6 (b), and the barbeque pork with rice/noodle at RM5 (s) and RM6 (b).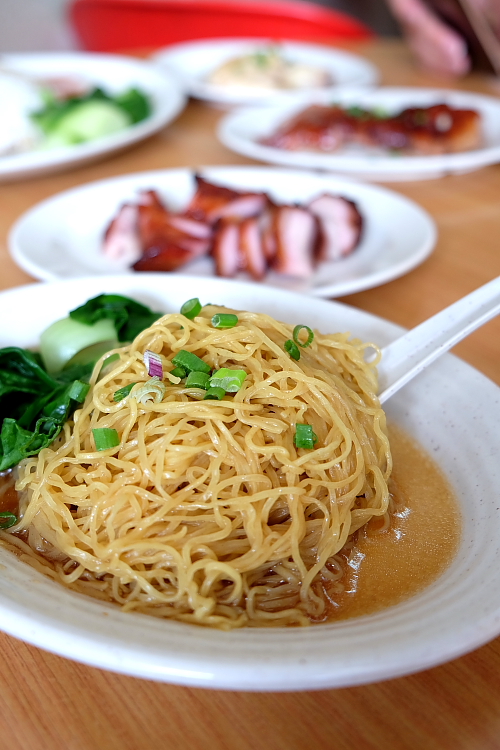 The plate of barbeque pork and roasted pork is a sight to behold. The slices of meat are cut into a good bite size, thick enough to taste.
The nicely caramelised barbeque pork imbued with flavors and aromas is apparently big hits with diners. The Chinese wine and many types of marinating spices provided an interesting play of taste and flavors to the tender and tasty meat.
For those with a penchant for roasted pork, opt for a serving which highlights a combination of crisped crackling top, and layers of fatty and lean meat. The meat delights with crunchy textural contrast.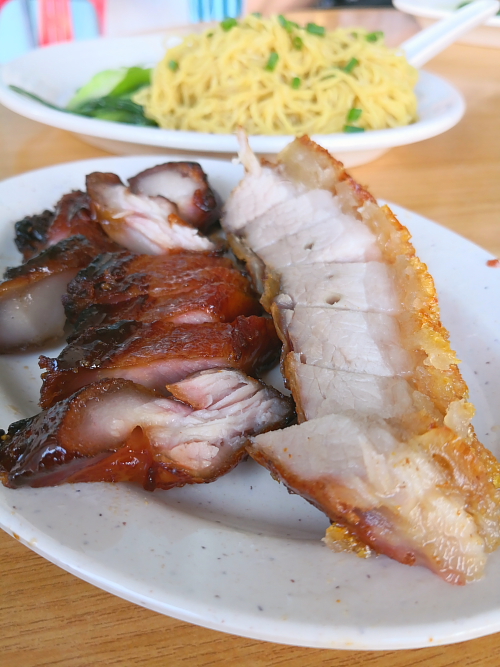 Barbeque pork and roasted pork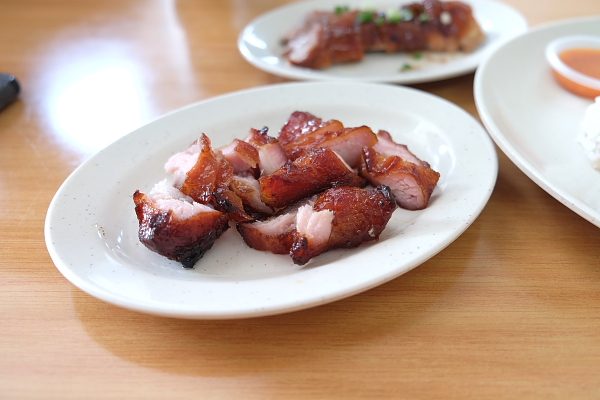 Barbeque Pork
Roasted Duck
Barbeque Pork & White Chicken
Weng Kei Roasted Meat 荣记烧腊 is a haven for meat lovers and it lets customers enjoy the food be it for breakfast or lunch. The stall opens from 7.30am till 2.30pm, with closing day on Wednesday.
Owner busy cutting and plating the food
Weng Kei Roasted Meat 荣记烧腊
167A Lebuh Carnavon
10100 Georgetown
Penang
Tel: 016-3157009