Holy Guacamole Mexican Restaurant & Bar @ Love Lane, Penang
Happy New Year from all of us at What2seeonline.com! We wish you nothing but the best of gastronomical delights and a satisfying food journey in 2019.
***
If you're craving for some Mexican cuisine in Penang, Holy Guacamole Mexican Restaurant & Bar is definitely the place to drop by. Housed in a shop house along Love Lane, the restaurant cum bar is trendy with detail given to lighting while colorful splashes adorn the walls.
As with most outlets along the bustling Love Lane at night, there is an option to dine outdoors as the road is closed off to traffic.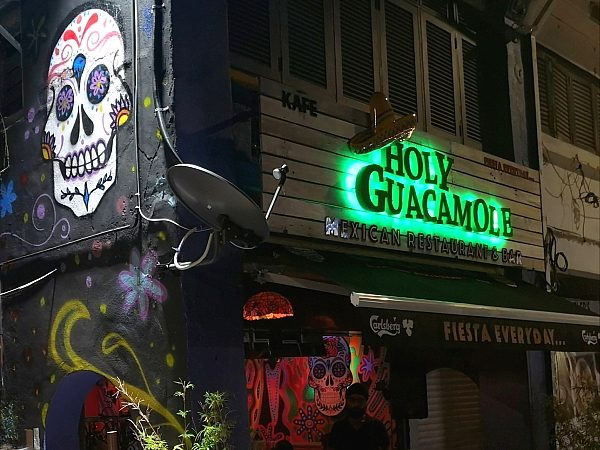 The menu offers a taste for casual and no-fuss Mexican meals; featuring ensalada, tacos, fajitas, quesadillas, burritos, and tortillas.
The Mexican feast kicked off with a serving of the Tomato & Roasted Red Pepper Soup, with a thick and rich base. This was followed by the Mex-Bim-Bap, a colorful flavorful salad with fresh guacamole, frijoles, spiced roasted pumpkin, corn salsa, pico de gallo and pickled cabbage.
Those who prefer a light bite can choose to have a taco, with white soft or crispy yellow corn tortilla filled with a selection of beef, chicken or beans. The Taco Al Pastor comes with pulled chicken topped with pineapple salsa on lettuce and cabbage.
Tomato & Roasted Red Pepper Soup RM16
Mex-Bim-Bap RM20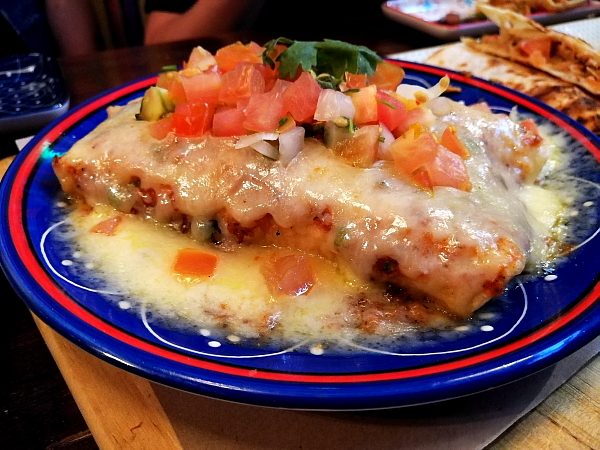 Another Mexican staple is the Quesadillas, which is essentially a grilled 10 inch flour tortilla with choice of filling, cheese, jalapenos and pico de gallo. Diners can satisfy their palate with a choice of fillings; ranging from beef, tuna, chicken or mushroom. Enjoy each bite with the accompanying salsa roja for that tangy kick!
    Quesadillas – Carne RM24
Moving on to what we consider the star of the night would be the Fajitas! It really set our tongue wagging, with the choice of meat laid on a sizzling bed of onions and bell peppers. It comes with sides of guacamole, sour cream, and pico de gallo together with flour tortilla. The guacamole with avocado pieces and purée and a hint of citrus tang is lip-shockingly creamy!
For this dish, diners can choose within a selection of chicken, beef, mushroom, and prawn.
Carne (beef) Fajita RM34
The food at Holy Guacamole is all served with a free flow of sauces, namely smoky chipotle for authentic taste and tangy spicy habanero verde for fans of spiciness.
Free flow of sauces – tangy spicy habanero verde and smoky chipotle
Mexican cuisine evoked a sense of great times and fun food, and it is no different from their selection of drinks. Kick back and drink the night away with the great selection of tequila, margarita, sangria, beer, whisky, wine, soft drinks and fresh juices. This restaurant is open daily, with no off-days recorded as of the time of writing.
Holy Guacamole Mexican Restaurant & Bar
65 Love Lane
10200 Georgetown
Penang
Tel: 04 – 2616057
Business Hours: 12noon – 2.30am