Quay Pot Fish Head Seafood Claypot @Vantage, Tanjung Tokong, Penang
Quay Pot Fish Head Seafood Claypot at Vantage Desiran Tanjung, Penang is a dining destination of choice for those who want seafood noodles and porridge.
At the simple restaurant, one can indulge in hearty, piping hot claypot meal with sweetness seafood flavors prepared with prawns, crabs, and fish choices of grouper, threadfin, white pomfret besides homemade fishball and meatball.
Combo pot with porridge is an excellent choice
Single pax pot has prices ranging from RM12.90 to RM36.90, depending on the selection of ingredients. For soup, there are options like the Nyonya Spicy Soup, and clear soup prepared with fresh fish bones and six other ingredients.
When it comes to noodle choices, there is a wide range, from thick and thin bee hoon, instant noodle, mi sua, ramen to silky soft tau qian (made of soybean). There is also rice and porridge.
If you're looking for something light, the clear soup is the choice and is great with few shakes of white pepper. There is also the combo pot (一品煲) with fried fish, huge prawns, and homemade fishball and meatball.
Combo pot with beehoon in clear soup
The Nyonya Spicy Soup is also known as "Ah Ma Spice Soup". Be prepared for a light palate awakening with a bit of spiciness, tanginess and fragrant aroma of fresh mint.
Beehoon with deep-fried fish in clear soup and Nyonya Spicy Soup
Tau Qian (made of soy bean) and ramen with deep-fried fish in clear soup
Stir-fried noodles, on the other hand, offered choices of Fish Fillet Fried Ramen and Fish Head Fried Ramen. Both dishes are served with ramen and diners can enjoy the ramen which is firm to the bite. Generous amount of green added enough texture and flavor to the dish.
Fried Ramen with Grouper
One of the shop's highlights is its range of side dishes. For those who prefer having the meal with seafood dishes, the crispy deep-fried pomfret, zi zai, shazuan, mackerel, stir-fried lala and blanched baby octopus are some of the items on offer. The choices however changes depending on the availability of ingredients.
Deep-fried pomfret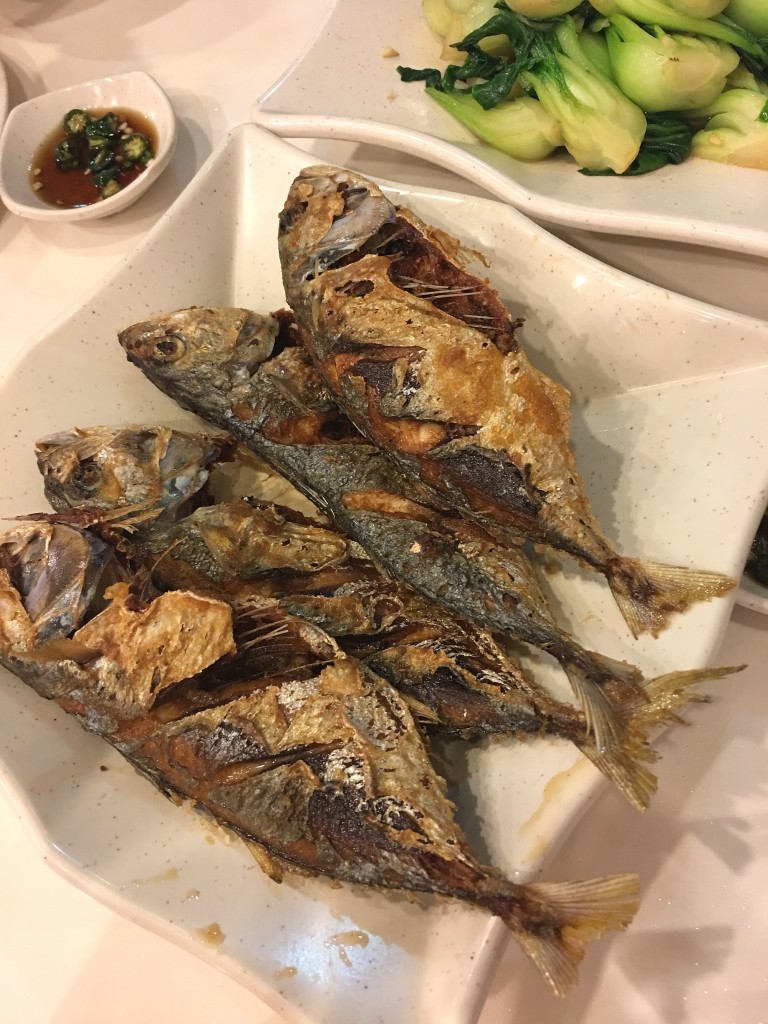 Deep-fried mackerel
Blanched baby octopus and stir-fried lala
The restaurant opens every day for lunch and dinner except for Tuesday. Business hours are from 12pm to 3pm, and from 6pm to 10.30pm.
Quay Pot
B-G-02 Vantage
Jalan Desiran Tanjung
10470 Tanjong Tokong
Penang
Tel: 04-8981688