Ah Seng Hokkien Prawn Mee @ Gat Lebuh Presgrave / Jalan C.Y. Choy, George Town, Penang
Ah Seng Hokkien Prawn Mee 三条路炭烧福建面·卤面·福建卤 better known as the night Hokkien Mee (Hae Mee) stall in George Town, Penang is an old favorite for locals and tourists alike.
The stall housed in a shoplot along Gat Lebuh Presgrave (Sa Tiau Lor 三条路)/ Jalan C.Y. Choy has been dishing up bowls of Hokkien Mee and Lor Mee with a variety of add-on ingredients for dinner and supper.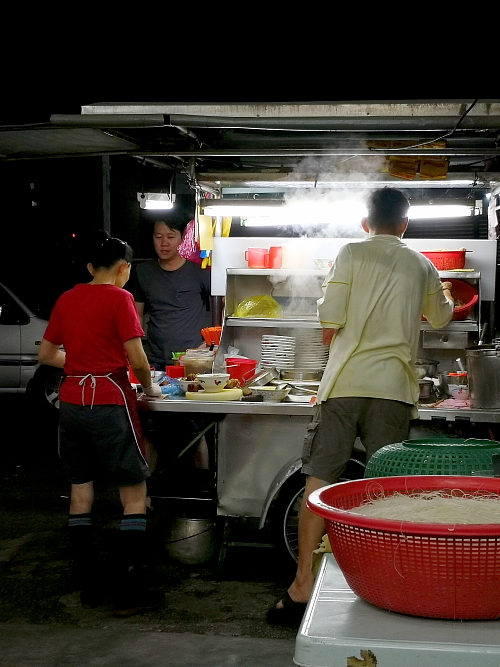 As the name suggests, the focus is on the Hokkien prawn mee! It is a reasonable and filling fare, with a basic small bowl at RM4.50 and a large one at RM5.50. The dish in a shrimp & pork-based soup has the common ingredients of braised egg, prawns, lean pork slices and bean sprouts.
As with most Penang Hokkien Mee, it is served with a spoonful of spicy chili paste and topped with deep-fried shallots. It's worth noting that the soup is kept heated over a charcoal fire.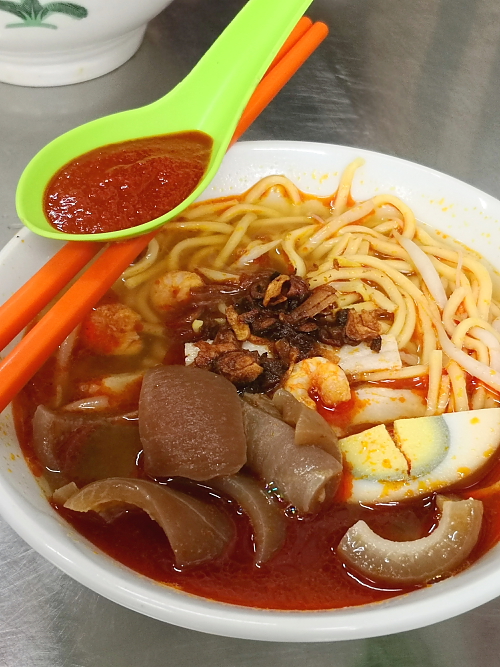 Hokkien Mee with add-on pork skin
Diners can opt for the variants of yellow noodles, vermicelli, instant noodles (cintan mee) or even a mix!
Extra ingredients are available to be add-on to your bowl of noodles. Choose from a diverse range of braised ingredients – pork ribs, pork skin and pork intestines, pork cartilage, pork belly, besides prawns, vege balls and sai toh fish balls.

Whatever you opt for, savoring a bowl of Hokkien Mee with extra ingredients is always a welcoming choice!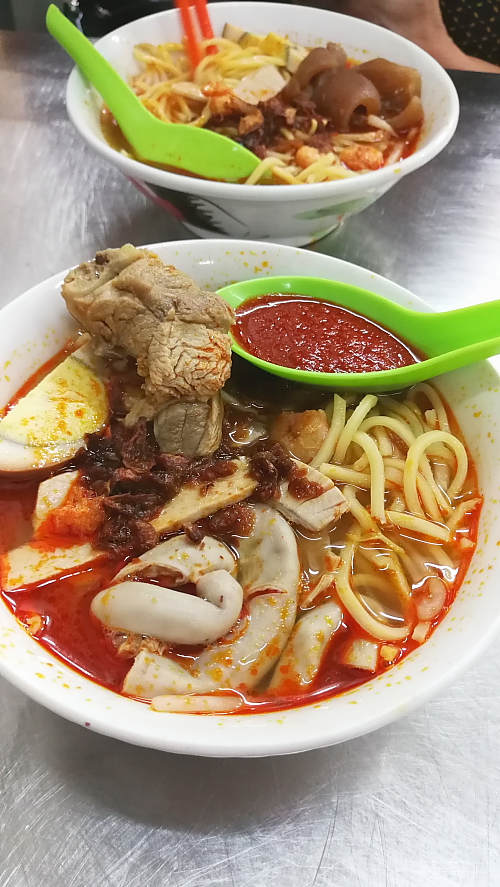 Hokkien Mee with meaty pork ribs and pork intestines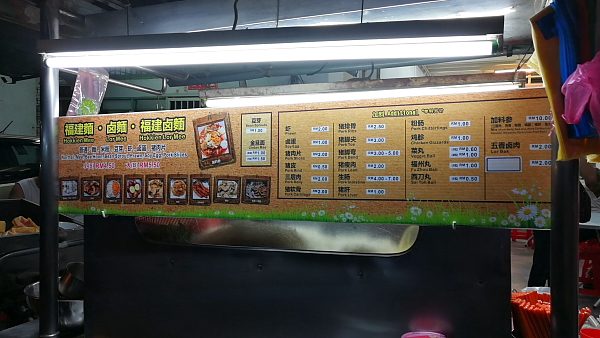 You can also treat yourself to a bowl of Lor Mee. The stall serves the noodle, with the common basic ingredients of the Hokkien Mee. The gravy base is however different as it comes in a thick starchy ngoh hiang (mix spices) flavor. A spoonful of chili paste and minced garlic is provided for extra oomph.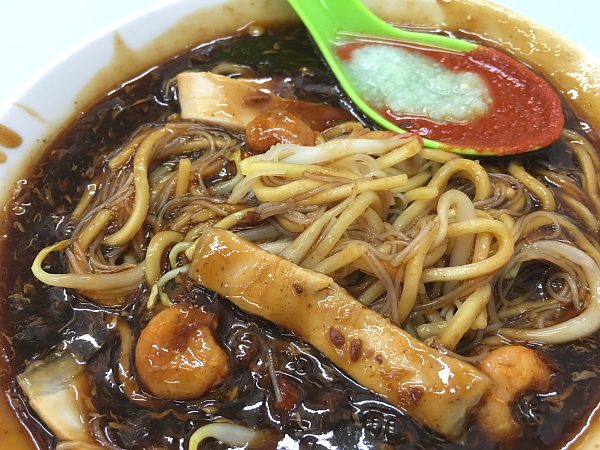 Lor Mee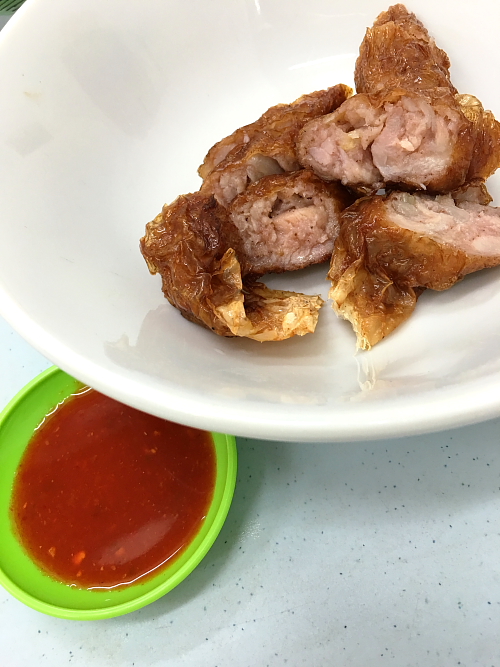 Snack – deep-fried Lor Bak
This eatery is the perfect embodiment of the greatest essence of Penang food – with its simple stall setup and diners popping by to enjoy an uncomplicated bowl of noodles. Piping hot and flavorful soup coupled with spoonfuls of noodles, it is Penang hawker food at its simple best!
Located by the sometimes bustling Gat Lebuh Pesgrave, Ah Seng Hokkien Mee provides a convenient location to sample the street food at night. This stall is open daily except for Sundays.
Ah Seng Hokkien Prawn Mee
Gat Lebuh Presgrave / Jalan C.Y. Choy
George Town
Penang