The Black Market @Chow Thye Road, Penang
Cafes continued opening around Penang despite the sprouting up of dozens of bubble tea outlets. One of the latest venue is The Black Market 黑市, located on Chow Thye Road in a whitewashed double-storey old building. This chilling pot which used to be in Hin Bus Depot has since shifted to this part of town.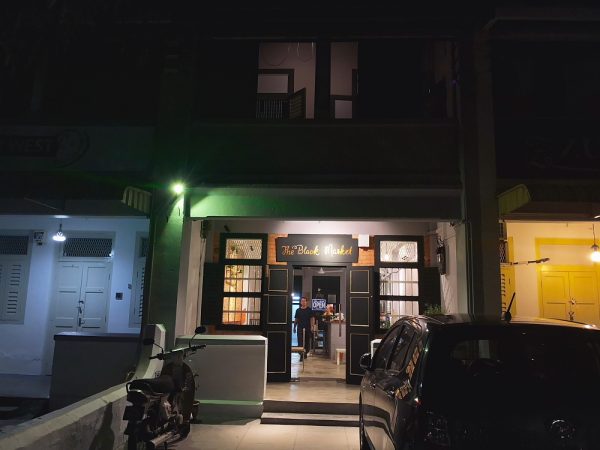 In this small cozy cafe, diners can have meals and desserts to go with beverages. The broader menu of beverages includes tipsy drinks like their signature snow beer besides coffee, tea, and specialties of fresh cold-pressed juice.
It is worth checking out the snow beer that The Black Market offers, with a selection of Tiger, Cider, or Guinness Stout. The chilled beer is poured into a frozen mug, resulting in the beer freezing up like a beer slushie.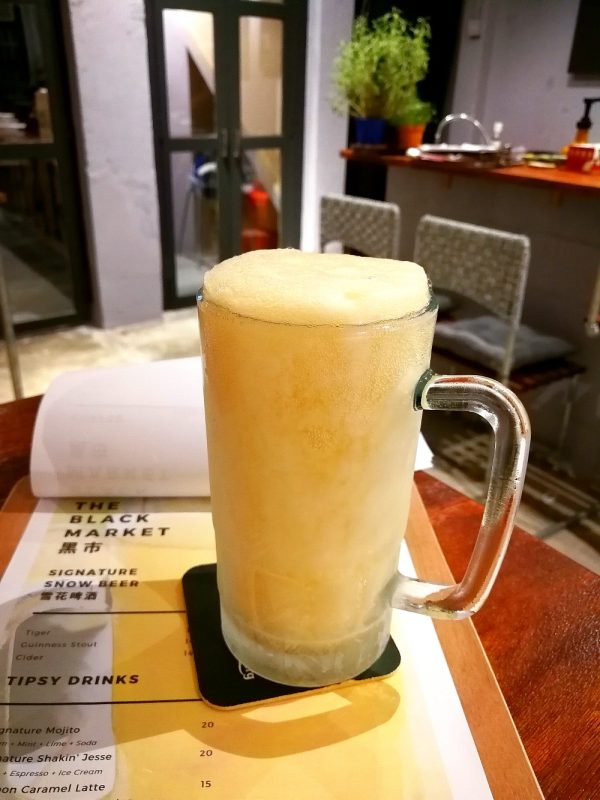 There are many coffee beverages! House specialty are the cold Dark & Stormy which includes a mix of homemade ginger beer and espresso, and the Latte Bomb which calls for cold-brewed coffee with fresh milk.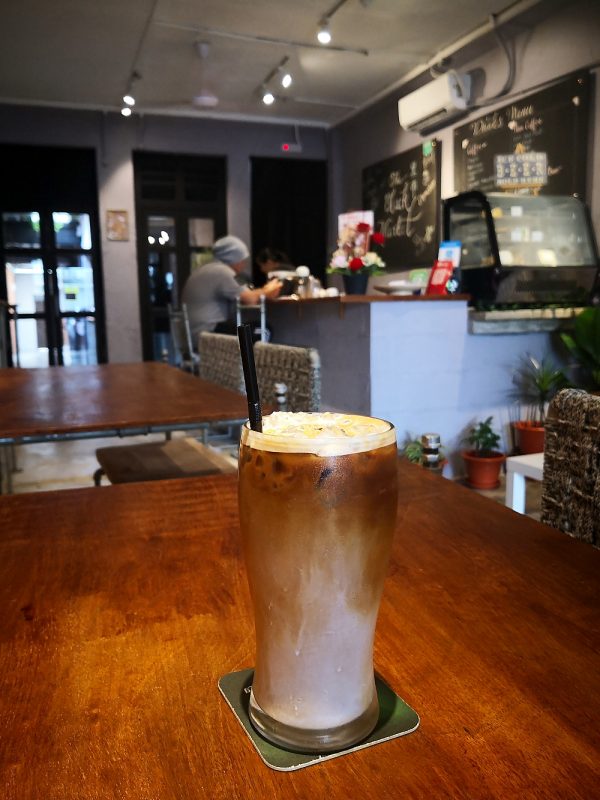 Then, there is the Cafe Bombon – it's a strong coffee meeting up with thick condensed milk. So watch out, this is one cup of joe with super sweetness.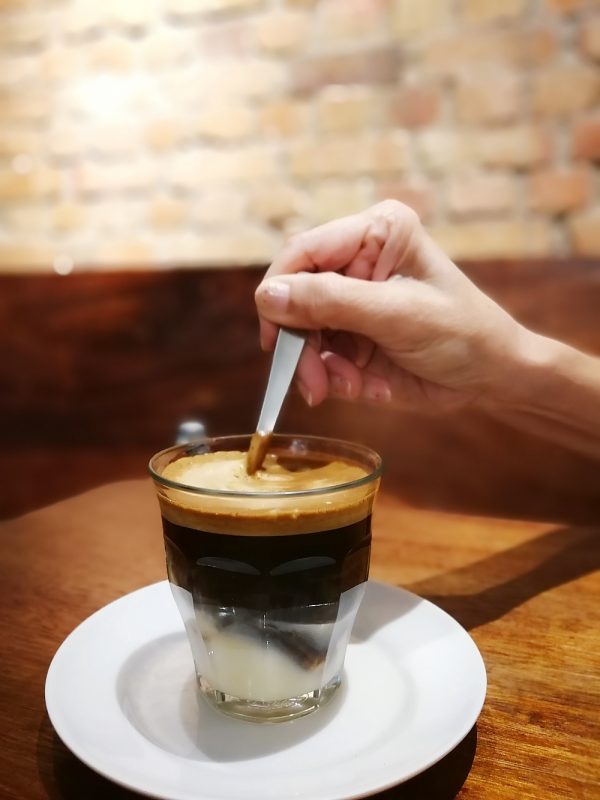 For those craving for a salad with roasted chicken, the Lemon Herb Mediterranean Chicken Salad is pretty enough to impress. The combination of oven-roasted chicken breast, diced Japanese cucumber, romaine lettuce, juicy beef steak tomatoes, sliced onion, and black olives is drizzled with extra virgin olive oil and finished with Italian herbs seasoning.
Diners can also order some light bites for sharing – buffalo chicken wings, Italian bruschetta, and grilled British prawn cocktail are excellent choices.
There is even a "build your own pasta" menu for those who are a bit adventurous. This unique concept allows you to customize your pasta (regular price RM10) with your choice of sauce, ingredients, and toppings. You can choose to have it light with several ingredients or have it turned into a complete meal.
A plate of spaghetti with toppings of garlic & oil, bell peppers, mushroom, tomatoes, Spanish onion, and beef meatballs (made from scratch) cost just RM15. The price is fairly reasonable by Penang standards.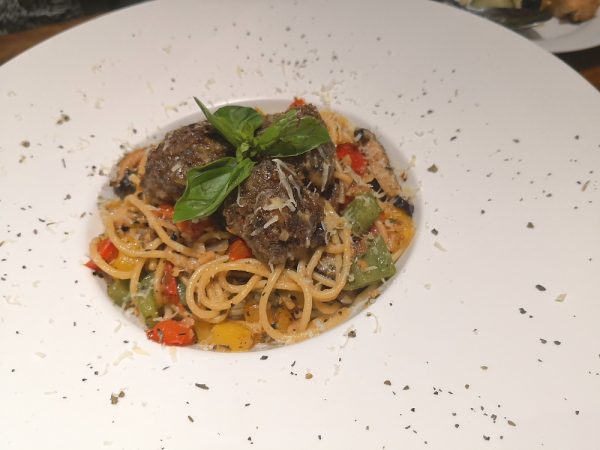 Should you feel like having a main course, check out the Basic Burger which has oven-roasted oregano Parmesan baguette sandwiching a thick and juicy beef patty, along with fresh romaine lettuce, pickles, cheese, onion, and tomato sauce.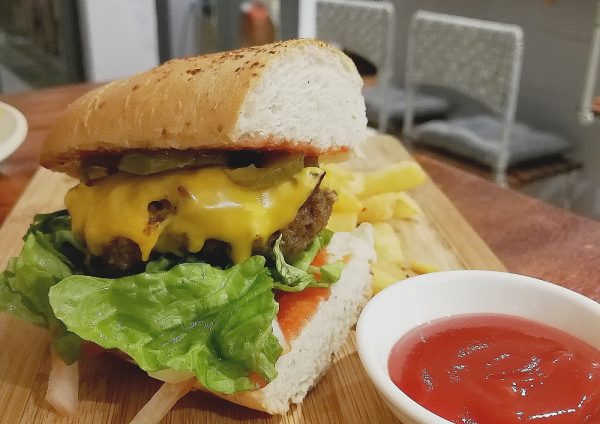 An assortment of cakes makes for a wonderful dessert. However for those who want to grab some sweet specialty, one can go for the affogato trifles, burnt cheesecake or the signature apple fries with ice cream.
For coffee and ice cream lovers, there is nothing to complain about the affogato trifles with coarsely crushed digestive biscuits layered in a glass along with scoops of vanilla ice cream. A shot of espresso is poured over before consuming.
Affogato Trifles RM11
As for the signature apple fries with ice cream – a combination of deep-fried cooking method and fragrant ground cinnamon powder brings to life this simple dish of granny smith apple. The dish is made a little more exciting along with a scoop of vanilla ice cream. With every bite, you get a little soft bite of apple that has a bit of tang.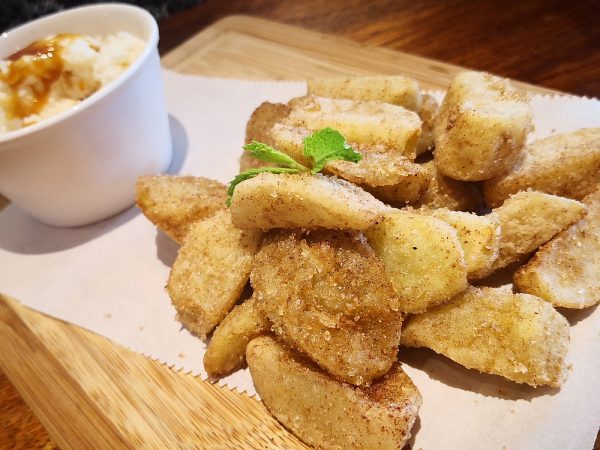 The round disc of burnt cheesecake by The Black Market is simply enticing! With the right cheesy goodness, the creamy cake is what you'll want to accompany your cup of Americano. For those looking for a larger portion, do make your pre-orders at the counter!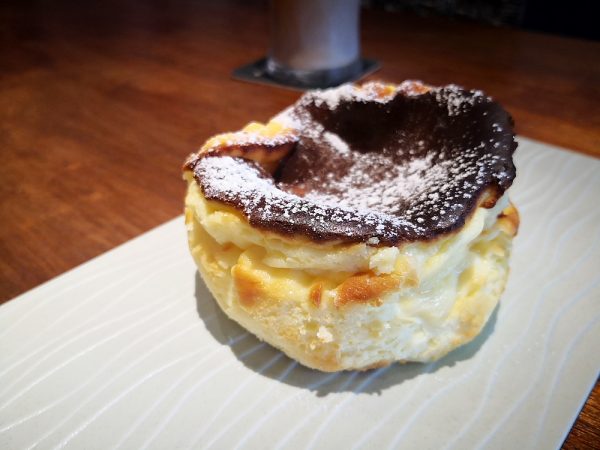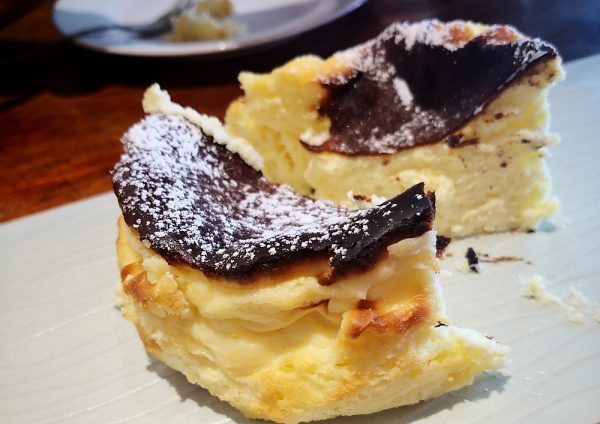 As The Black Market isn't open for breakfast, it is a good option for lunch, teatime and dinner with its business hours from 12noon – 10pm (Tuesday to Sunday).
The Black Market
36A Jalan Chow Thye
George Town
Penang

Mobile: +6019 560 8355