SAMBAL Asian Fusion Restaurant at Beach Street, Penang
If you are looking for Asian Fusion dining in Penang, you might want to consider making a visit to Sambal 三佰. With an outlet on the bustling Beach Street in George Town, Sambal surprises your tastebuds with non-halal fusion cuisine drawing inspirations from Oriental and European culinary.
The restaurant in a casual atmosphere is open daily from 12 noon till 10 pm except for Mondays. In the meantime, the downstairs space has only a handful of tables and the owner already has plans to open up the upstairs dining area.
The vibrant menu showcases both local and international cuisines. There are snacks & specials section, and every dish is cheeky by name and with indication of creativity. Look out for dishes like 3 Girls w A Dirty Guy, You Just Skinned a Fish, BIP Snack, Japanese in Malaysia, Drowning Squid, Udang Entangled, and more.
Enjoy the food with their cold beer (Heineken and Tiger) besides craft cocktails and mocktails enhanced with spices and herbs such as mint, lemongrass, nutmeg, and torch ginger flower. Red and white wines are also available as well.
One popular light and easy snack to munch on is the spiced BIP Snack a.k.a. bak iu phoek (deep-fried pork lard). The crunchy deep-fried pork lard is the key component of the dish, and it is backed up with roasted peanuts and dried chilies. It is a simple and interesting combination and it evokes childhood memories.
Another snack is the S&P Chicken Wings, deep-fried and comes crispy hot with a delicious dash of salt and pepper. For those who need a spicy kick, the Flaming Chicken Wings of Redemption with stinging-spicy sauce is one that brings numbing sensation in the mouth.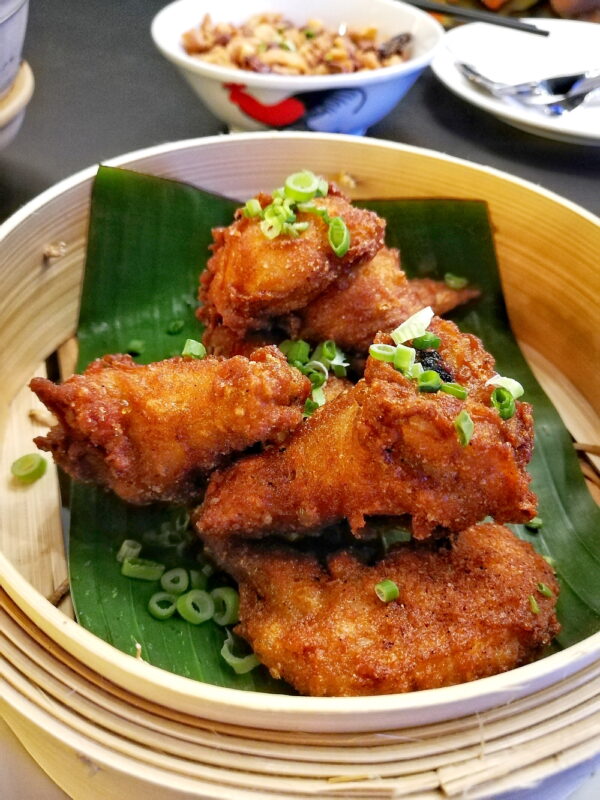 From the specials, there are meat and seafood dishes you can order. Seafood lovers can try the warm claypot of Udang Entangled, a chowder-like soup base noodle prepared with a tinge of alcohol. In the pot of bright orangy yellow colour soup, there is pronounced Chinese wine flavor and light depth of spice, and the owner uses vermicelli (glass noodles) and two huge prawns. Priced at RM38, the portion makes it a good dish for sharing between two.
For a hearty dish, the Lap Mei Fun is the choice to go for. Sambal's version is a take on the beloved classic Chinese New Year preserved meat rice dish. Just picture savoring white rice with Cantonese Lap Cheong (sausages) along with bbq pork, deep-fried bak iu phoek, and condiment of homemade sambal. You can enjoy the dish on its own but I would recommend going with the pounded sambal – the spiciness adds an addicting blast of heat to every spoonful of rice you take.
The meal is made more pleasurable by their melt-in-the-mouth fusion desserts (two to choose from). Take an order of the Taro Puree, a twist on the well-known creamy Teochew yam dessert done with a hint of bak iu (pork lard oil). Then there is the interesting Le Lait Goreng (Lait is French for milk and Goreng in Malay translates to fried). Can you imagine the taste of this fried milk dessert?
Sambal is fast becoming known to the public as crowds are present on our visit on a Sunday night. So if you want a taste of SAMBAL, do make a reservation.
SAMBAL 三佰
300 Lebuh Pantai
10300 George Town
Pulau Pinang
Mobile: 017-5674778