The Butcher's Table Penang at Bukit Mertajam, Penang
For pork lovers, a visit to The Butcher's Table Penang is a must. Located in Taman Seri Impian in Bukit Mertajam, Penang (walking distance to Jusco Aeon Shopping Mall), the outlet has charmed diners for years with its many succulent porky delights.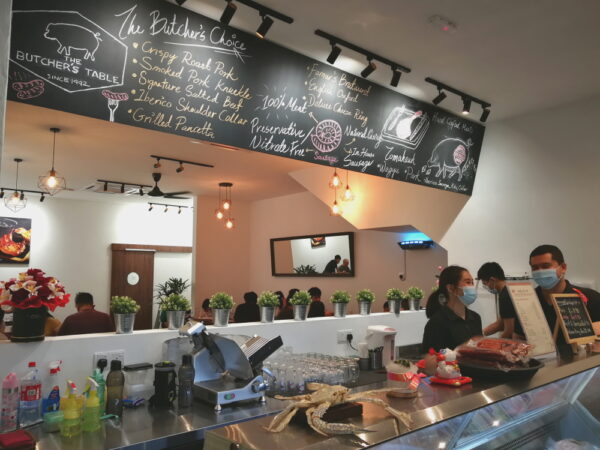 The chalkboard on the wall and the many products on the display cases upfront are enough to reassure you that this is a one-stop center for all your porky needs.
Occupying two shops the restaurant is a lovely place to drop in for a casual lunch in the day or dine in the evening with a glass of beer with its daily opening hours from 12noon till 3pm and 6pm till 10pm. Its interior features a huge seating capacity and minimalist decor.
The menu boasts some share plate items and mains. The many popular offerings include the famed crispy roast pork, signature salted beef, Iberico ribs, and plump gourmet sausages. One can have the meal complemented by side dishes such as mashed potato, gherkins, fries, potato salad, garlic rice, coleslaw, and more.
The starting dish came in a riot of flavors: a culmination of all sausage fantasies from the variants of house-made sausages and Johnsonville Sausages imported from U.S. The owner cranks up the grinder to make a selection of sausages which include Longganisa, Cumberland, Nuernberger Ring, Cheese Ring, Flaming Hot, Lamb, Beef, Iberico Pork, and Farmers Bratwurst. The nitrate and preservative-free sausages are made with a higher percentage of lean meat and natural casing.
For fans of English parsley, the Farmers Bratwurst is the choice for you and if you want porky flavors with hint of spiciness, go for the Flaming Hot Sausage with bird's eye chili. In the restaurant, the sausages are served with mustard.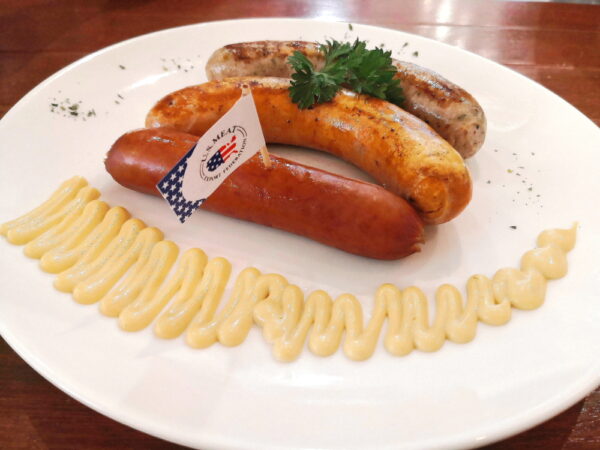 As for mains, there are a number of choices to try – German Smoked Kassler, Iberico Shoulder Collar, and the Iberico Ribs. The German Smoked Kassler is a specialty here, with pieces of smoked salt-cured pork loin served topped with pineapple rings and a side of Sauerkraut, a salad made from fermented cabbage.
Then there is the Iberico Shoulder Collar, delightfully tasty and retains the meat's tenderness. We had it served with our favorite side of mashed potatoes.

We ended our meaty experience with the much-awaited Iberico Ribs that require 35 minutes of waiting time. Oven-roasted, the Iberico ribs arrived with coleslaw and fries. Prepared with a light seasoning the meaty juicy ribs come with a lot of pork flavors.
You will also find a selection of fried rice on the menu, namely roast pork fried rice with pancetta and the bacon fried rice with sausage. These rice dishes made a hearty addition to the meal.
If you are looking for something a little meaty, you're going to want to give The Butcher's Table Penang a visit! The good food and attractive prices will satisfy any meat craving.
*However, due to the on-going COVID-19 pandemic, indoor dining has been temporarily halted. Do contact the restaurant at 04 – 5522348 for more info on the takeaway and delivery services (from 12pm till 9pm). Free delivery is provided within 10km on orders over RM150!
The Butcher's Table Penang
19G & 21G Lorong Seri Impian 2
Taman Seri Impian
14000 Bukit Mertajam
Penang