Kia Lai Cake Pastry at Lebuh Melayu, George Town, Penang
Many would have noticed the opening of Kia Lai Cake Pastry 加 来 饼 铺 sited on Lebuh Melayu in George Town, Penang. With a green facade and a bright red door, this dessert place is where the sweet-toothed go to satisfy their craving for mini tarts.
The cafe with a simple interior is a small space with a handful of tables on the lower floor. On the upper floor is another dining space for larger groups.
The freshly made tarts sell out fast and while we were there, many were catching up over tarts with drinks besides many waiting for their takeaways. The menu offers sweet tarts like the Fatty Cream Puff, Coconut Gula Melaka Cheese Tart, Strawberry Tart, Chocolate Dirt Tart, and many more. The tarts come with a small serving size that ensures diners can try even more choices.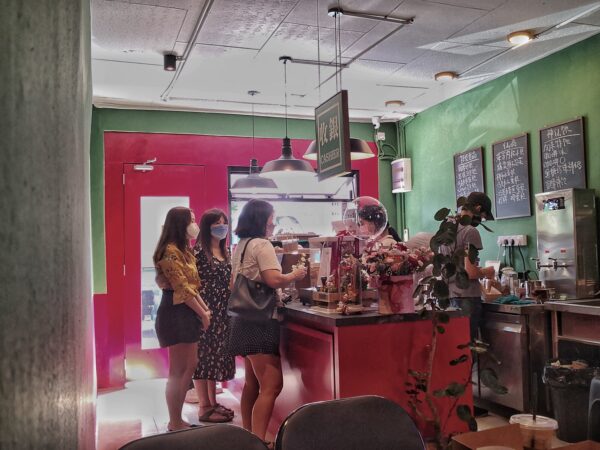 Chocolate Dirt Tart RM5.90
Mango Milk Tart RM6.90
The Signature Milk Tart (RM4.90) is one not to be missed. It is so comforting eating the warm tart that is just out of the oven. The baked tart comes with a pastry crust and a golden colour topping. The filling has a nice consistency – creamy and very wobbly, and with a flavor that matched.
Besides its baked tarts, the outlet also has its unbaked version. One that won't disappoint is the Mango Milk Tart (RM6.90). Crowned with pieces of mango and nuts, the tart is not only more attractive but utterly delicious with the cool creamy filling paired with sweetness of mango.
If you are not a sweet-tooth fan then check out the Chicken Mushroom Tart, and the Seaweed Chicken Floss Cake (RM6.90) which has the combined meaty taste of chicken floss and seaweed.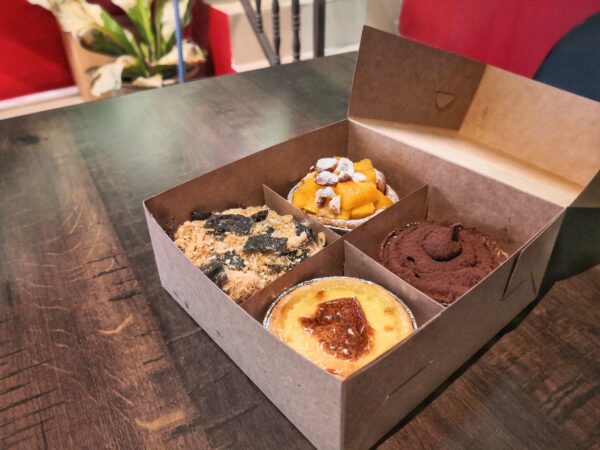 Seaweed Chicken Floss, Mango Milk Tart,  Chocolate Dirt Tart & Signature Milk Tart
Kia Lai Signature Drink RM7.90 & Dark Chocolate RM7.90
Kia Lai Cake Pastry business hours are from 10.30am till 8pm. With its official opening this Friday 23rd March 2022, the outlet is welcoming all tart-lovers with some extra goodies – Buy 5 get 1 free.
Kia Lai Cake Pastry 加 来 饼 铺
2C Lebuh Melayu
George Town
Penang
Mobile: 016 – 2078955