Firewood Restaurant at Jalan Masjid Kapitan Keling (Pitt Street), Penang
Newly opened Firewood Restaurant situated on Jalan Masjid Kapitan Keling (Pitt Street) in Penang is a new spacious space that has become hugely popular for its charcoal flame grilled fare.
Housed in a historic building within George Town's UNESCO area, the open flame dining restaurant strikes an imposing presence with white washed facade, and striking black grills.
Walk through the door with the FIREWOOD sign and be greeted with a warm welcome and an impressive sight. A custom-made fiery hot griller takes pride of place at the rear of the elegantly furnished restaurant, and a bar right beside offering specially crafted cocktails, mocktails, and wines.
Custom-made fiery hot griller
The menu currently comprises appetizers, mains and desserts. For steak, a list of what's best for the day is presented on the chalk board – Japan A5 Wagyu Miyazaki Sirloin, Australia Angus Sirloin, Australia Angus Ribeye, and the Australia Angus Beef T-Bone.
We started off with the Charcoal Burnt Caesar. As the name suggested, the lettuce was grilled on charcoal fire and together with soft boiled eggs, and anchovies, the flavors were amplified with freshly grated parmesan cheese. Next was the Charcoal Miso Eggplant. A sprinkle of spring onion, coriander and lime juice, gave the dish a delightful Asian twist.

Charcoal Burnt Caesar RM29
Charcoal Miso Eggplant RM21
The plate of Crabmeat Tagiatelle Pasta arrived with thick tagliatelle pasta prepared with a white wine butter emulsion and slight spiciness. At RM52, the dish topped with ikura may seem pricey, but its portion can be shared by two.
Crabmeat Tagiatelle Pasta RM52
Seafood lovers can revel in the Traditional Beer Battered Fish & Chips, a pretty standard fare served with fries and a creamy housemade tartar sauce.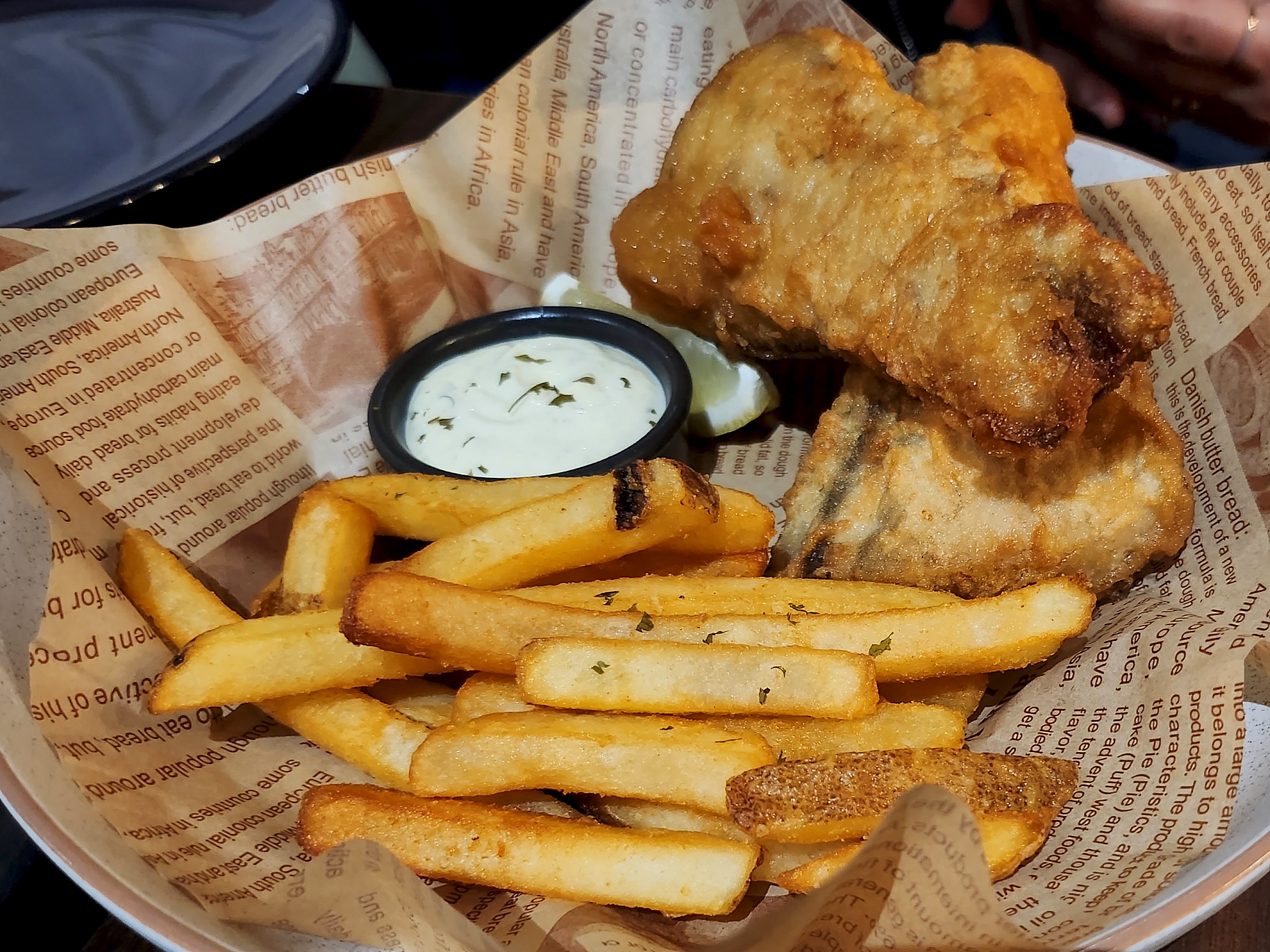 Traditional Beer Battered Fish & Chips RM42
For steak, we had the grain-fed Australia Angus Sirloin served with grilled corn, and tomatoes. Priced at RM65 per 100g, the cut of meat done medium rare was tender and holds amounts of flavor balanced with smokiness.
The steak was further enhanced with our choice of Chimichurri sauce. Made with garlic, parsley, and olive oil, the bright taste was perfect with the heaviness of the meat. We enjoyed the dish paired with the Masi 2018 Campofiorin, a very versatile full-bodied red wine.
Medium Rare Australia Angus Sirloin 300g with chimichurri sauce RM195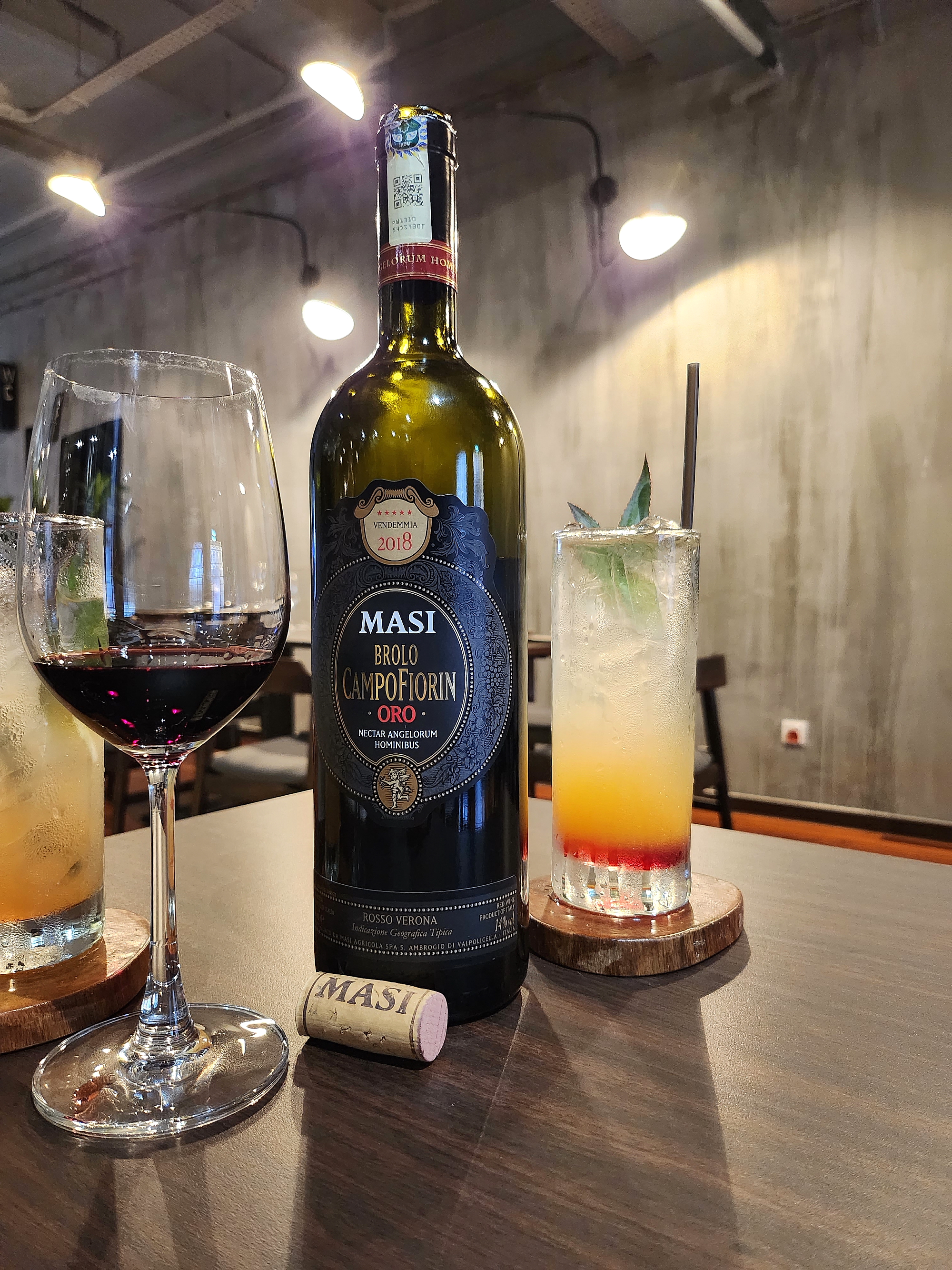 A well recommended bottle of red along with the Cinderella mocktail
Open for lunch and dinner (except Mondays), the restaurant business hours are from 12 noon till 2.30pm, and 5.30pm till 10pm. With the choice of music playing in the background (tracks by the group Earth, Wind, and Fire), all of us recommends as a really good mix of soulful food and music. Reservations can be made at 017 – 9899246.
Firewood Restaurant
15 Jalan Masjid Kapitan Keling
10200 George Town
Penang