A sweet and spicy road trip to Ipoh
Went down to Ipoh last Sunday. This time around we had hawker food – the Ipoh famous curry mee at Xin Quan Fang coffee shop which is along Hugh Low Street, near to the central police station. This stall's curry mee is totally different from those sold in Penang.
You have to wait for your turn to have your orders taken as they will come around to take it. After having our orders taken, we waited for half an hour before the food was serve.
We order three bowls of plain curry mee and a side dish consisting roast pork, stew meat, white chicken, prawns, pig skin( chu pei) and chicken innards. A bowl of curry mee cost RM3.50 and RM10 for the side dish. Each of us were given a bowl of their 'special' sambal sauce which is use to dip the meat with. My hubby found that the yellow mee itself is more springy and finer as those in Penang.
The curry soup itself has more spices added and very much less coconut milk (santan). This gives it a very fragrant aroma, and indeed much more tasteful. You can taste the strong curry herbs used, instead of the coconut soup style in Penang which I despise.
Xin Quan Fang
174 Jalan Sultan Iskandar Shah
30300 Ipoh
Tel : 016 5314193
Business Hour : 7.30 am – 12.30pm
From Xin Quan Fang coffee shop (photo above), we proceed to Funny Mountain to grab some soya bean and tau fu fah. The cold soya bean was indeed creamy and refreshing. We even bought one of the ready packed bottle of soya bean to drink along the way back. This soya bean shop is located diagonally from Restaurant Foh San.
Funny Mountain Soya Bean
Jalan Tahwil Azar (Osbourne Street)
30300 Ipoh
Final pit stop was the sought after kaya puff from Sin Eng Heong which is just around the corner of Funny Mountain. We did not know we have to book before hand and luckily the lady was kind enough to allocate us two boxes. Book your orders before hand at 05- 2439659.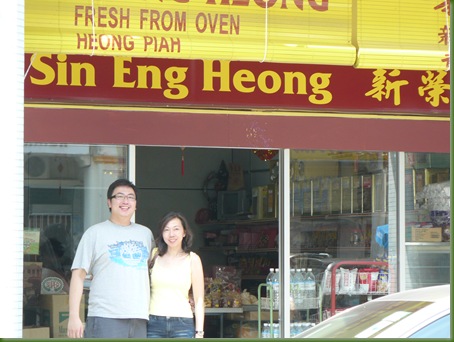 The kaya filling is indeed very flavorful and tasty, the layered pastry still remains flaky and puffy even after the two hours journey back home to Penang.
Indeed it was a fantastic afternoon for me and my family. Ipoh is really packed with wonderful eateries, and I'll definitely be dropping by again for another round of culinary delights.