Japanese Restaurant – Isaribi Tei in Penang
If there was ever a time when you had Japanese food to the point you leave the shop beaming from ear to ear, tonight had to be it. The venue? Isaribi Tei Japanese Restaurant which serves authentic Japanese Cuisine of course! This Penang based Japanese Restaurant is located at Burmah Square on Jalan Chow Thye, on the row of shoplots nearby Him Heang.
The night was pouring heavily, and with our stomachs growling, this seems to be the perfect place. The garden which leads to the restaurant was beautifully decorated, and even though it was dark, it gave the place a very cozy feeling.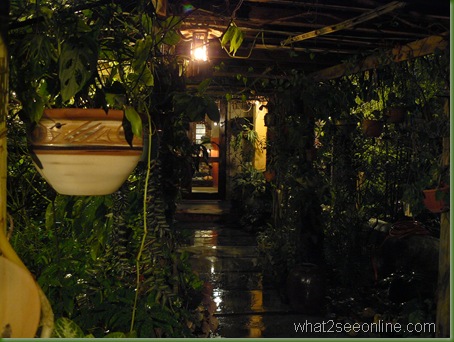 Upon entering the place, we were greeted by their friendly waiters and shown to our table. Looking around, we can see that the spacious restaurant is decorated with a tapestry of cultures. Wooden panels decorated the walls, while memorabilia of all sorts were donning the sides. We don't feel that we are actually in an old pre-war shoplot.
Flick flick flick, the menu was vast and varieties were aplenty. Our family decided to settle for some mini dishes instead of going for a "big" one. I manage just in time to capture the chefs in action preparing our food.
The first dish to arrive was the was the Rainbow Maki. I have to say that the sushi here is unlike those found elsewhere. Plenty of ingredients with less amount of rice. You can really taste the freshness of the fish and hence minimal amount of soy sauce is required. The sashimi rolls are laid with varieties of fish which gives it a very colourful look indeed. This plate of Rainbow Maki cost RM25.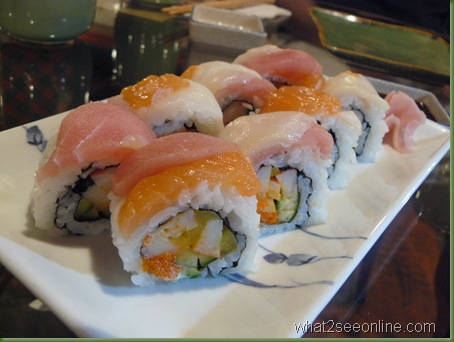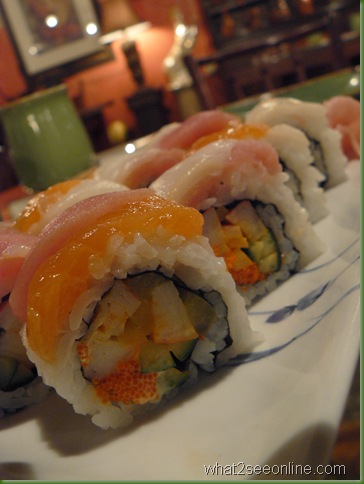 My son could not resist himself to the Unagi Temaki which cost RM7 each. The  fresh hand roll comes with balanced ratio of rice to the Unagi. The seaweed texture was good. For the price it was offered, it is a STEAL.
Hubby choose the Beef Tataki (semi grilled beef slices) @RM25 which comes with a bowl of rice, miso soup and tako pickle. This partially uncooked beef was well seared, without blood oozing out!!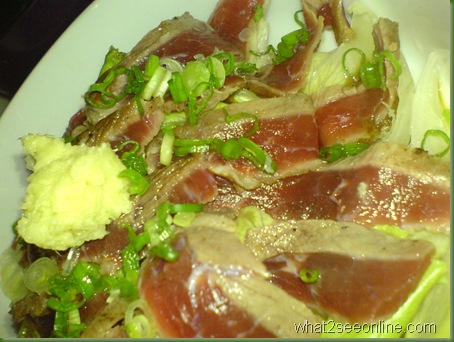 The Seafood Teppanyaki set @RM32 comes with a bowl of rice and miso soup. One can find two big prawns, squid, salmon and a scallop with some mixed vegetable in this hot plate.
Next came the little delights of Yakitory, from the five choices of squid, chicken, liver, chicken skin and shitake. Each of this stick is priced at RM3. The chicken and liver are exceptionally flavorful. We added on a bowl of Garlic Fried Rice too.
Dessert on the house is mocha ice cream and watermelon. Besides these flavours, they also have many more to offer and rest assure, all of them are homemade. Definitely gonna try the rest of the flavours on my next trip here. There is even Tempura Ice Cream! Made me curious, anyone have any ideas?
The food is very fresh and delicious. Beside the two set dinner that we had, set lunch is also available. They also have a selection of imported wines. This restaurant opens daily except public holidays. Reservations can be made at 04 2298684.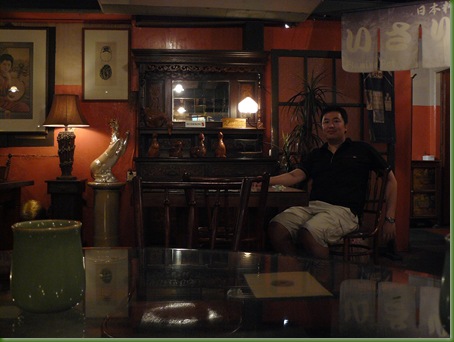 There are plenty of parking spaces available on Jalan Chow Thye itself and also behind the restaurant.