Mini Desserts at TGIF, Queensbay Mall Penang
TGIF at Queensbay Mall, Penang serves great food and happens to be the place that we went to last weekend. As we already had a late breakfast, we went in for a light snack and a drink instead. This unique miniature cable car caught my eye on my way in.
We were glad to see them having a new menu. While glancing through, I noticed that a few new items has been added to the appetizer, main course, desserts and juices.
My eyes suddenly sparkle when I saw this cute Mini Desserts. These desserts are served in mini glasses. There are a total of five mini delights to choose from. We had  three out of the five. The prices varies depending on the the number of glasses that you choose. For one mini delight @RM 3.90,  three @RM 9.90 and five @ RM 15.90. The more you order, the cheaper it gets per glass.
Mocha Latte – Luscious mocha custard topped with fresh whipped cream and dusted with cocoa powder.
Snickers' Treat – Decadent, sweet chocolate custard covered with chunks of chewy Snickers bar. Personally, Snickers has never tasted this good!
Strawberry Parfait – Delectable creamy-rich vanilla custard crowned with juicy fresh strawberry. Slurp!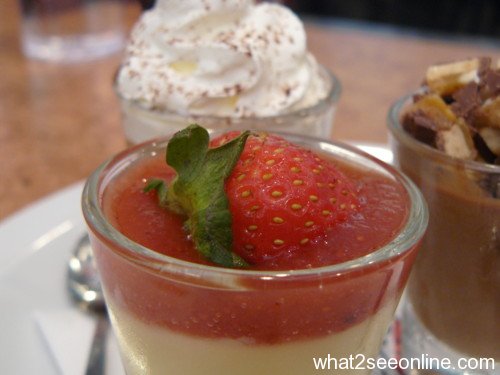 One can easily consume two glasses as you can see the size is relatively small, as scaled to a 20 cent coin shown below. Among the three, my favorite was the Mocha Latte.
There are two more yummy flavours that we would love to try on the next visit. There is the refreshing Tropical Delight and the Chocolate Oreo. So remember, make some room for this dessert when dropping by TGIF! It is highly recommended, and the best thing? You can have it any time of the day!
***
Just for fun!
I was recently tagged by Elinluv … seven facts about myself.  Well, here we go…
1. This food blog http://www.what2seeonline.com is my second blog, which is derived from the previous one. The first blog, www.tmytmz.blogspot.com which was created in June 2007 was meant to be shared with my two sons who were away from home at that time.
2. My whole family loves eating and we have been eating out since the earlier years, unfortunately we only started blogging lately. We still do eat out frequently nowadays and have many food outlets to be shared with all of my readers. Do continue dropping by for updates.
3. Before getting involved with blogging, I am just another housewife busy with the usual household routine, and raising my two sons.
4. I only 'seriously' learn how to use the computer when I started blogging which was just one and a half years ago.
5. I started off blogging with one camera and has since been using it till now…the faithful Panasonic Lumix DMC – FZ8.
6. I do read novels, but I'm reading more of books and magazine on deco and live style. I'm also into cross stitching, beads sewing and embroidery.
7. One of the happiest moment is seeing my food blog being featured in the Guang Ming newspaper. Furthermore, I have made plenty of friends through this blog, and I really appreciate all of you.
***
I am tagging my seven blogger friends. I hope they also have some fun with this too…
1. Foong – http://thefoodsite.net
2. Food Diary of Pickyeater – http://yumyumbites.blogspot.com/

3. Life Loves The Curious – http://pixieate.blogspot.com/

4. After Giovanni – http://aftergiovanni.blogspot.com/

5. Sweet Jasmine – http://mohlee56.blogspot.com/

6. Cariso – http://www.cariso-food.blogspot.com/
7. Lingzie – http://www.lingzie.com/

Here are the rules for tagging:
Link to my blog (tagger) on your blog.
Give seven facts about yourself.
Tag another seven bloggers by leaving a comment on their blogs and letting them know they were tagged and listing them (and their blogs) on your blog.
***
Happy enjoying all the sweets!