Penang Hawker Food – Tanjung Bungah
Medan Selera Mutiara is another popular hawker center in Tanjung Bunga, Penang with many tasty hawker food. The stalls are managed by various races of hawkers, each renowned for its specialty. The food court is surrounded by a row of shop houses where Ingolf German Restaurant and Vintage Bulgaria Restaurant is located.
This is plate of Char Koay Teow from Rudy's with several average size prawns and cockles. The taste is unlike the Chinese version, indeed a lip smacking plate of noodles with a very delightful twist.
We had some Chinese food… a bowl of beehoon soup with fish slices and a plate of Hokkien Char beehoon. The stall offers a variety of seafood to go with the beehoon soup.
This bowl of Tom yum with maggi mee is not too sourish and I could easily taste the pungent smell of the herbs and ingredients. It is available from a 'chu char' stall which is run by two Malay ladies. They do cook many varieties of dishes to go with white rice too.
This is the popular nasi ayam stall which is managed by three young men. The chicken is fresh and tasty as it is roasted on the spot. You can choose to have it with fried rice or white rice.
Besides the usual beverages, you could easily enjoy the cool ice cream from Tony's Ice Kacang stall. We had the delightful mixed fruit cocktail with ice cream and crushed peanuts.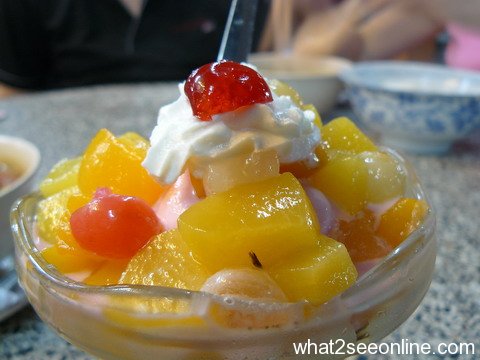 This food court mainly operates at night, however there are a few stalls open during the day as well. Its location is slightly out of the town area, however the abundance of choice may tempt you to make a trip up here. It also offers Western Food, Satay and Burger, with prices of food averaging around RM4 to RM5.
Click here for the map location of this food court.