Sek Yuen Restaurant, Jalan Pudu – Kuala Lumpur
I've always made it a point to visit Kuala Lumpur several times a year, as the cuisines are different from what we get in Penang. The  taste and ways of cooking are unique as well. We made our way down to Sek Yuen Chinese Restaurant just down Jalan Pudu during Chinese New Year. We started off with the traditional Yee Sang, and indeed it is different from those served in Penang.
The raw fish is marinated in ginger strips and their own blend of powder mixed and subsequently added into the yee sang. We also find the vegetables for the yee sang to be very fresh.
First came the Roast Duck, which is better known as the Pei Par Arp. It is delicious, a totally different style from Penang's version. The sour plum that came together with the duck is a perfect compliment. This is one of their signature dishes.
Next is the prawns stir-fried with chili and tau cheong. Only one word to describe this. Fantastic and very tasteful indeed. The rice comes steaming hot in individual aluminium bowls (seen on the background).
No meal is complete without ordering the fish. We had steamed fish in ginger blend. The servings of the ginger on top of the fish is indeed generous. The fish is taken out of the steamer at the right moment, very nicely done. Excellent dish to go with rice.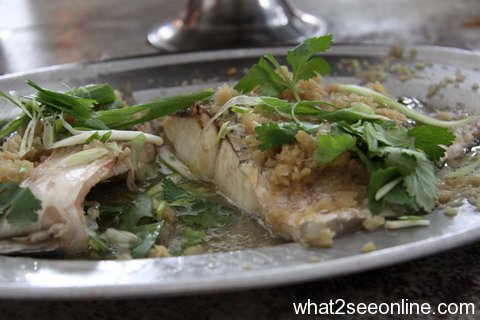 Our last dish is the Sweet & Sour Pork prepared with cucumber, tomatoes, onions and pineapples. The gravy is not too overpowering, but with just the right  balance of sweet and sour.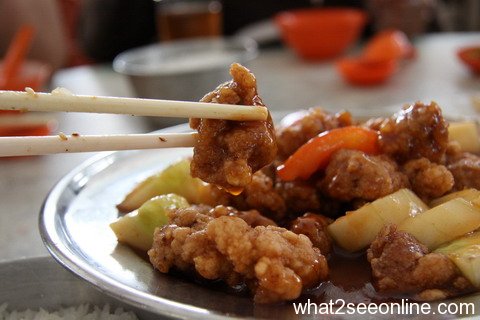 The bill came up to approximately RM 168, very reasonable for such delicious food. Hubby managed to take a shot of the naked sun-bathing ducks being prepared for roast at the back of the shop.
If you are ever in Kuala Lumpur, make yourself down to this place for a blast into the past. The food there is never a let down on any day. Check out the other air-conditioned outlet just beside the building. Parking spaces are limited by the sides but you can try finding some parking spots at the back lane.
Sek Yuen Restaurant
No.313-1 Jalan Pudu
55100 Kuala Lumpur
Tel : 03 92229457
GPS Coordinates: N 3 08′ 08.7″  E 101 42′ 44.6″
Check out this other reviews :