Jawa Mutton Satay @Chowrasta Market Penang
Satay, originally a Malay cuisine, has been fusioned and adapted by many races, as the idea of meat on the stick has been appealing since the early days. In Malaysia, the more popular type of skewered meat would be the chicken and beef. We came across this satay stall specializing in Satay Kambing (mutton satay) during my revisit for the cooling glass of Ais Tingkap.
The stall is located in one the shoplots along Tamil Street in Chowrasta Market. We ordered twenty sticks with each costing RM0.55 cents. The mutton satays were grilled over charcoal right in front of the shop, filling the air with irresistible flavors all down the road.
The owner still uses the traditional method of fanning the charcoal fire with a hand held bamboo fan!
Once the satay are ready, freshly cut cucumber and onions are added in follow by the mixing of the gravy.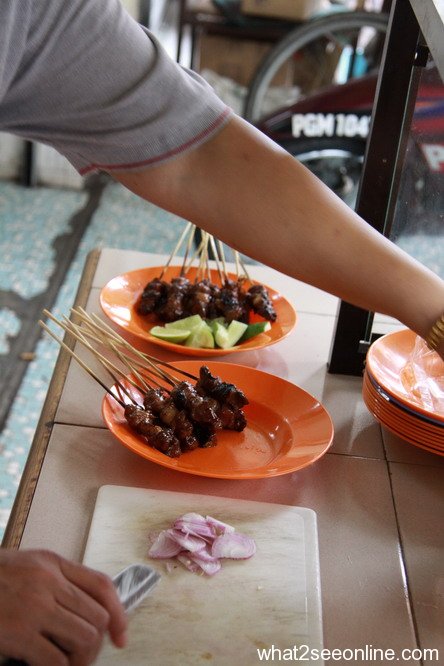 What adds to the uniqueness of this Satay is the gravy! The gravy is mixed on the spot using black sauce, palm sugar, chili and peanut. Since it is prepared on the spot, the spiciness can be adjusted according to your taste as well. The thick satay sauce is very different from what we usually get around town; as it has a unique taste and with more crunchy coarse pieces of peanut.
Mouth watering mutton satay but do not expect to get the best cut of meat to be served. Certain part of it can be slightly tough but still very flavorful. A generous amount of the sauce is applied onto it. I like  to squeeze some lime juice onto it which gives a nice tang.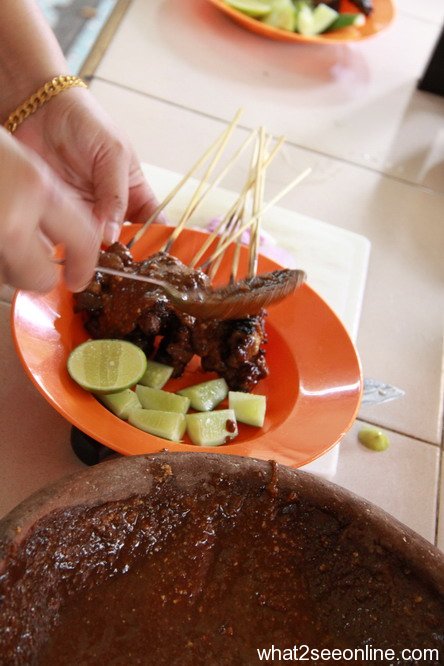 While eating these delicious grilled satays, what better way to wash them down with a glass of cooling Ais Tingkap!
If you could make your way to Chowrasta Market in the heart of Georgetown, you could definitely find this stall as it is right beside the market. The stall is housed inside Restaurant SW Srimanis, located in Tamil Street, closer to Penang Road. Click here for the Map Location.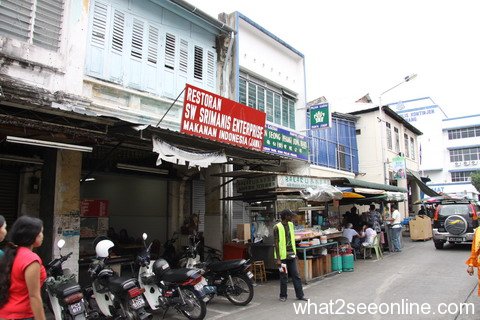 Restoran SW Srimanis
Jalan Tamil
Penang
Business Hour : Early lunch till late evening (Daily)
GPS Coordinates : N05 2504.3   E100 1953.6