Sushi Night @ Enju Japanese Restaurant Prince Hotel & Residence
It's all about sushi at Enju Japanese Restaurant, located inside the Prince Hotel, Kuala Lumpur. They have recently launched their new set meal known as the 'Ladies' Set Lunch' which is available from 1st July and currently on going till 31st July. Besides the Ladies Set Lunch, there is also the Unlimited Ordering Sushi Menu (Kinyobi) which is available on every Friday at RM 65++ per person. The meal consists of miso soup or clear bonito soup, a choice of main course and dessert with unlimited ordering of selected Nigiri, Maki and Temaki sushi (rice rolls and hand rolls).
From the main courses there is a selection of Shake Garlic Fried Rice, Tempura Moriawase, Tori Katsudon and Sake Shioyaki or teriyaki. For dessert lovers, there is a choice of Macha (Green Tea) Ice Cream,  Kudamono Moriawase Goma Tare (tropical fruits tossed with sesame peanut butter dressing) or Sorbet. As for Nigiri, Maki and Temaki sushi, it is unlimited ordering from the menu!!!
I liked everything on the plates of the Ladies Set Lunch, which comprise of Chawan Mushi, Sushi Moriawase, Gindara Teriyaki, Hiyashi Somen, Yasai Takiawase, Oshinko Moriawase and Miso Soup with tofu and seaweed. Before these, we had the appetizer of Deep Fried Potato too. Enju offer this set at RM35++.
Sushi Moriawase – Assorted handmade sushi with sushi rolls
A very tastefully done Gindara Teriyaki that is grilled with teriyaki sauce and served with fresh salad. The Alaskan Black Cod is very smooth with an oily texture.
Hiyashi Somen is very refreshing with the shoyu dipping sauce. This chilled white thin noodle comes with cucumber strips, mushroom, nori and tempura flakes.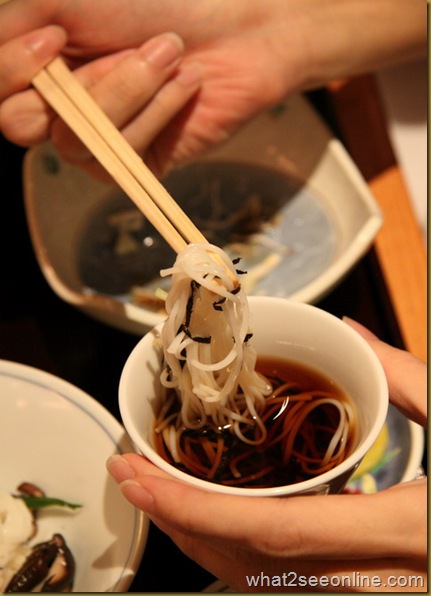 Simple and without oil
Appetizing Yasai Takewase – Seasonal vegetables and mushrooms simmered in soy sauce.
Oshinko Moriawase – Assorted pickled vegetables.
A cup of Chawan Mushi… fresh out of the steamer!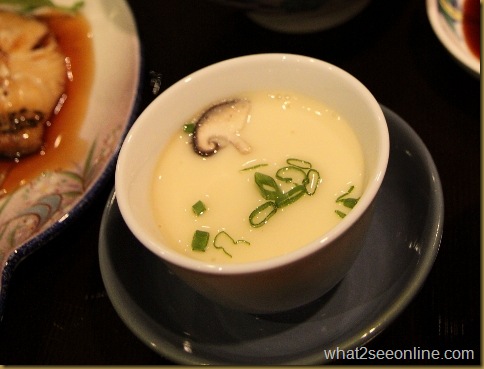 Besides that we also had some Garlic Fried Rice which I find to be very tasteful and delicious.
For desserts, we were presented with the refreshing Apple, Orange and Lemon fruit sorbets which are served on a bowl of ice. Thumbs up for this new taste of fruit sorbets.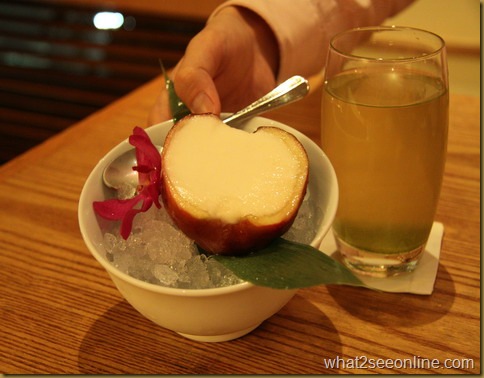 It was good and tasty to the last spoon

Click below for the more delicious hand rolls…