75 Celcius Restaurant and Bar, Gurney Drive
Updated on October 2010 : The restaurant has stopped operation.
The restaurant 75 Celcius Restaurant & Bar located right beside Coffee Island along the stretch of Gurney Drive was opened recently. Many of the food bloggers were invited there to try out their variety of delicacies and a wide selection of wines, cocktails and coffee.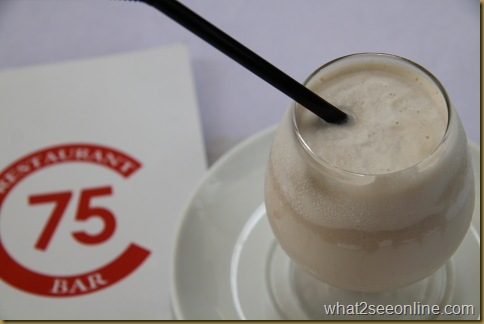 Michael Jackson cocktail – RM10
75 offers a menu for those that would like something light and quick and also for those who wants to have a full meal. We had a fine start with the light snack which was deep fried chunky Tempura Calamari & Prawn. They're delicious.
Tempura Calamari – RM8.50 & Tempura Prawn – RM9.90
The other snacks were the Cheezy Garlic Bread and the Fish Cocktail together with two servings of Brushetta with the lamb being my preferred choice.
Cheezy Garlic Bread @ RM6.90 & Fish Cocktail @ RM8.50
Mushroom Brushetta @ RM7.90 & Lamb Brushetta @ RM8.90
The next bite after the few plates of snack was the refreshing salads. The first being the Chef's Salad – RM11.90 and the Crispy Chicken Salad – RM12.90. Very freshly prepared, I thoroughly enjoyed it.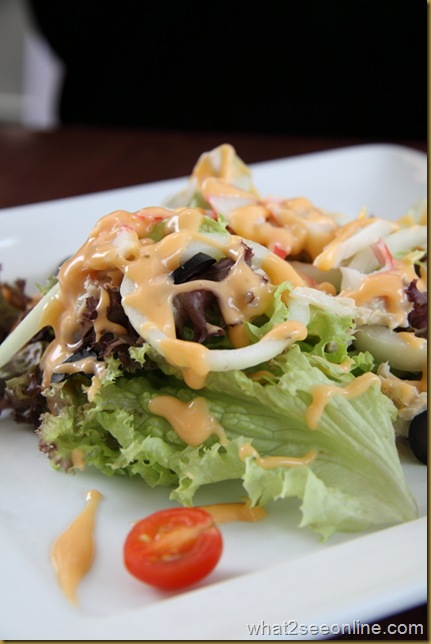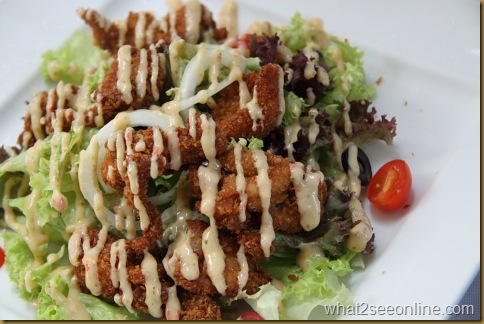 Deep fried chicken in mix garden green served with oriental dressing
Next up were the soups, and the first on the list was the Roast Oxtail Soup – RM8.50 served with spring onion and fried shallot.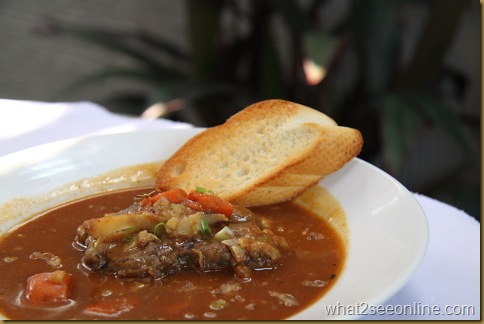 The following soup was the Creamy Mushroom Soup – RM6.90 which has a combination of three types of mushroom and served with garlic bread.
Finally, the Creamy Tomato & Bacon RM6.90 – Sauté Crispy Beef Bacon mix into tomato soup served with garlic bread. A few spoons of this soup with the bacon flavor linger in the mouth for a while.
This post has 4 pages, click below to go to the next page…