Bee Won Korean Traditional Restaurant, Hotel Royal Penang
Besides the main dishes and as with all Korean cuisines, there were many varieties of complimentary banchan (side dishes) which ranged from the mandatory kimchi to fried anchovies. We truly enjoyed all the different flavor.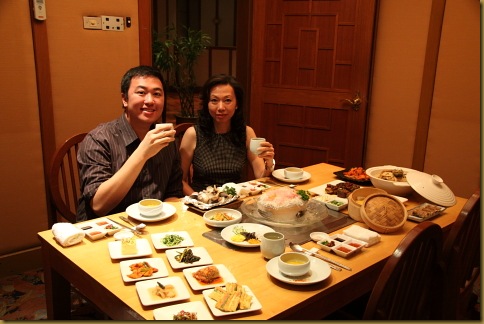 The table was piled with so many delightful little dishes – all replenished for you!
Miss Choi also shared with us another type of kimchi – the Muk Enji Kimchi! It was a well preserved cabbage which was highly flavorful. The texture is softer and sweet without much of the green smell of vegetable.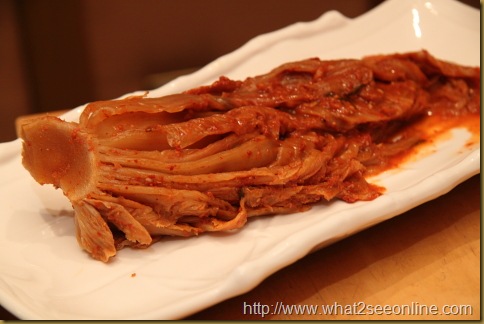 We were also introduced to the addictive jeotgal which is basically raw seafood preserved by salting and fermenting. We tried the jeotgal made with fish stomach and different type of squid. It was packed with a lot of flavor – spicy, salty, and slightly sweet. It's the perfect accompaniment with rice which I personally find quite similar to our local sambal belacan.
There were a few other dishes that we tried out that night. First off was the Jo Gae Gu i (grilled clams) and the Enoki Mushroom Beef Roll. The clams were very succulent and fresh. Both of these dishes were complimentary with the Sashimi.
Do take note that the dishes which compliment the Sashimi changes on a daily basis!
Jo Gae Gu i (grilled clams in an aluminum foil bag)
The sweet and sour taste of the Tang Soo Yuk is quite similar to our local 'ku lou yoke'
Kal Bi Jjim – tangy sweet and spicy braised beef ribs with chestnut – RM60
The next-best thing on the table was the pot of traditional Korean dish, Sam Kye Tang (ginseng soup). I love this comfort food boiled with herbs with sweet taste from the dates, chicken stuffed with rice, shell abalone, garlic, chestnut and pungent taste from the ginseng. Customers can pre-order this pot of Special Sam Kye Tang at RM120 whereas the price for the standard Sam Kye Tang is RM35.
The ginseng soup with many herbs including ginseng, dang gui and deer horn