Miraku Japanese Restaurant, G-Hotel Penang
The final dish was the Nigiri which was presented in a spectacular display of color. This dish has delicate slices of fish – yellow tail, snapper, blue fin tuna, yellow eye red snapper, mackerel, yellow tail belly, octopus, seasoned squid, sea urchin and anago on top of a small ball of rice. An interesting assortment of flavor to go with the pickled ginger.

Nigiri sea urchin &  anago (salt-water eel)
The chefs and Mr Mr Akihiko Hijioka shared many techniques in eating Japanese cuisine with me. The correct way is holding up the piece of nigiri – anago (salt-water eel) with the fingers instead of the chopsticks. Dip  only the topping side in the soy sauce, carefully avoiding dipping the rice. I took a bite into the anago and it brings out the soft and fine texture of the eel which is not as oily as the usual unagi.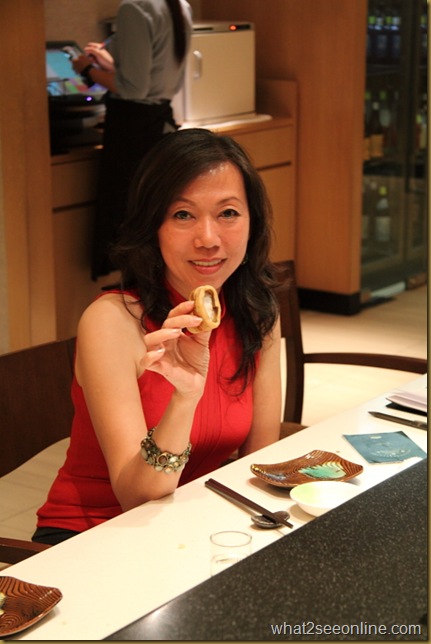 Miraku also has a well-chosen selection of Japanese Sake which is a perfect accompaniment to the Japanese cuisine. This bottle of sake was hand-picked by Mr Akihiko Hijioka. The chilled sake was an ideal choice. I took a glass of it which was very smooth flowing and matches perfectly with the food.
Mr Akihiko Hijioka enjoyed the food, together with his choice of sake for the night

The dinner ended with desserts of Ice-cream, with servings of  Black Sesame, Green tea and deep fried Tempura Ice-cream in a coating, topped with red bean paste.
I would like to say thank you to both the chefs for the superbly assembled dinner and to Mr Akihiko Hijioka for the exclusive dinner invite. I really got to understand Japanese Cuisine even more deeply after this dinner.
The great Japanese men, together with myself
The decor of this fine dining restaurant is soothing with classy modern designs and plenty choices of seating's, many different dining rooms and private corners.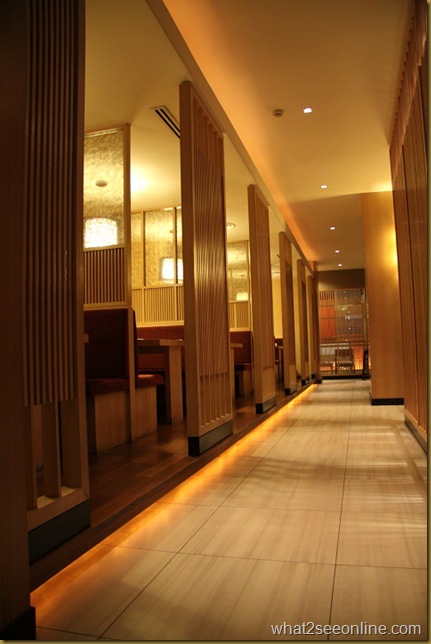 Its location inside the G Hotel and beside Gurney Plaza shopping center gives its guests and shoppers especially fine food lovers a place for a great Japanese meal. The local Chinese makes up 60% of their customers with the other 30% Japanese and the remaining 10% are foreigners.
Miraku really stands up to its name in Japanese language as the great place for customers to enjoy good food.
Miraku Japanese Restaurant
1st Floor  G Hotel
168A Persiaran Gurney
10250 Penang
Tel: 04 2298702
Business Hours:
Monday to Sunday
Lunch 12.00pm to 2.30pm
Dinner 6.00pm to 10.30pm