Miraku Japanese Restaurant – Salmon & Bonito Tuna September Promotion
Last week I met up with Mr Akihiko Hijioka, Deputy Managing Director of Sushi Kin Sdn Bhd , member of the Texchem group again at Miraku Japanese Restaurant in G Hotel to try out their newly launched September Autumn promotion of Salmon & Bonito Tuna. Also present was their Chief Executive Chef /Director Susumu Sakamaki.
This time around I get to discover the various preparations of the Bonito Tuna and the Salmon. The Bonito (also known as skipjack tuna) is a seawater fish belonging to the mackerel family with a rich red color and firm texture. We began our dinner with the delightful SP Sashimi Moriawase consisting of an assortment of both fish which was sliced to just the right thickness.
The sliced raw fish and the roe go well with the edible shiso/perilla leaf 'aoba' which has serrate edges. I particularly enjoyed its unique and refreshing flavor.
SP Sashimi Moriawase @ RM35
Katsuo Nokkemori  – Miraku has this dish with Bonito tuna served with seaweed and delicately flavored with the classic Ponzu sauce. The refreshing sweet and sour citrus sauce provides extra flavor to this raw fish dish.
Beautifully decorated plate of Katsuo Nokkemori  @ RM19.90
The taste of the garlic slices goes well with the fresh bonito
Katsuo Salad is the huge bowl of fresh mixed greens laid with thick pieces of Bonito and topped with delicate bonito flakes. The flakes provide some salty taste to this salad, and overall the combined ingredients drizzled with the accompaniment sauce makes a sumptuous salad.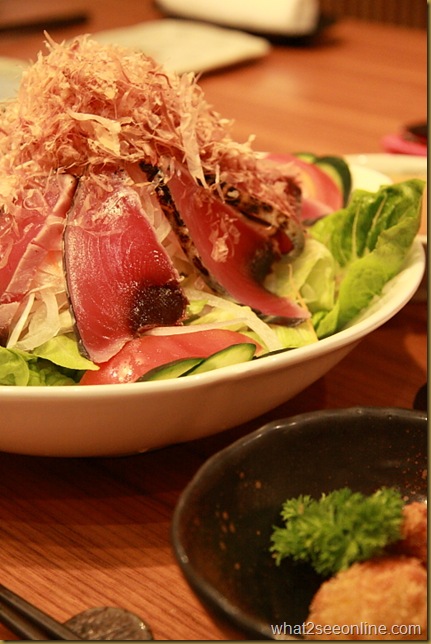 Katsuo Salad @ RM18.90
This time around the three of us were seated in one of their private tatami room instead of sitting in front of the sushi bar on my first visit.
My Japanese hosts
A table in the Tatami room with plenty of privacy
Click on the next page for the Salmon dishes…