Khunthai Restaurant – Thai Food in Butterworth, Penang
After all that we had, we added-on this plate of lala steamed with lemon RM12. We couldn't get enough of the earlier dish of steamed squid and lala!
The meal was topped off with a delightful Belacan Fried Rice RM8. This fried rice dish comes with fresh cucumber, mango, chicken pieces, egg and lots of chili padi. The chicken served in this dish was absolutely tasty.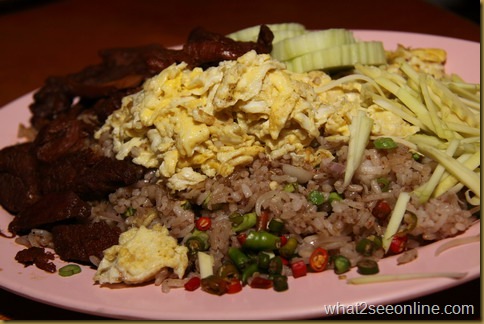 Together with the food, we had a cooled jug of sugar cane juice RM12 and also dessert of Thai Bubur Ca Ca. This sweet dessert at RM3 per bowl comes with plenty of ingredients, which topped off our entire meal at Khunthai nicely!
If you are a fan of Thai food, then you should check out this casual place of Khunthai Restaurant. It serves up delicious Thai food, and it is reasonably priced as well. Service was efficient too despite the large crowd.
I definitely will be returning to this restaurant to try out Khoo's (my reader) recommendation which was forwarded to me as I was drafting this post. I am looking forward to try the Seafood Tomyam, Kerabu Chicken Feet, Baked Cockles, Fried Omelette and Green Curry.
The menu serves many kind of seafood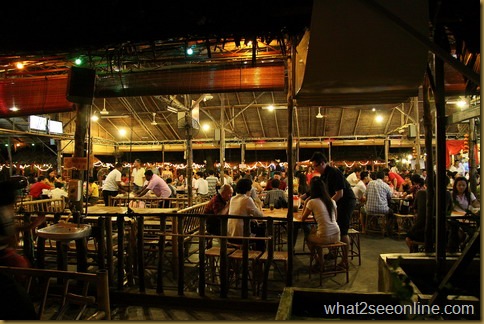 Restaurant setting & atap roof huts with bamboo chairs and tables
Parking spaces is ample with many in front and beside the restaurant. Click here for the Map Location. It is separated from the nearby Ah Keat Seafood Restaurant in Jalan Raja Uda by the Butterworth Outer Ring Road (BORR).
Khunthai Restaurant
MK 9-914 Permatang Tenggah
13000 Butterworth
Tel : 604 3327523
Business Hour:  11am – 12Midnight
Pork Free
GPS Coordinates : N05 26.725   E100 23.243
Website : http://www.khunthai.com/intro.php