2010 Chinese New Year Feast at Tai Zi Heen in Prince Hotel & Residence Kuala Lumpur
Once again, I celebrated the upcoming 'Year of the Tiger' with another Chinese New Year dinner and this time at Tai Zi Heen Chinese Restaurant in Prince Hotel & Residence Kuala Lumpur. The eight course menu created by Master Chef Ricky has many dishes with auspicious meaning contributing to longevity, reunion, perfection, good luck, promotion and health.
The classic dish and auspicious salad – Yee Sang
The hearty dinner started with the auspicious salad, Yee Sang which is a first dish in most  Chinese New Year reunion menus. We had the Ying-Yang Yee Sang (Tuna and Salmon Roulade). This Chinese raw fish salad which symbolizes abundance and prosperity is tossed with salmon, tuna, mixed vegetables salad, traditional condiments and plum sauce.
I was pleasantly surprised with the effort of Chef Ricky in creating this beautiful raw fish dish of Tuna and Salmon Roulade.
The delicious Yee Sang dish was soon followed by the Braised pearl shark's fin with fish maw in supreme golden broth – This amazingly delicious soup with soft and tender fish maw and superior shark's fin was my favorite dish of the night.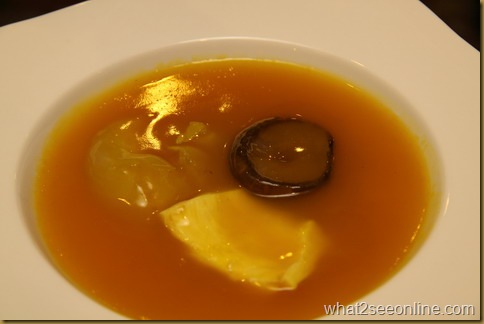 A big favorite in the menu
Braised dried oysters with fatt choy, Mexican soy clams, sea cucumber and wok-fried greens – This dish filled with sea-cucumber, dried oysters, sea moss and soy clams was robust with flavor.