2010 Chinese New Year Feast at Tai Zi Heen in Prince Hotel & Residence Kuala Lumpur
Steamed cod fish with pickled radish and garlic in supreme soy sauce – The Cod Fish came out steaming hot in the sauce made rich from the radish, chili and soy sauce. The fish was very fresh and was awesome to my taste particularly my piece with the gelatinous skin.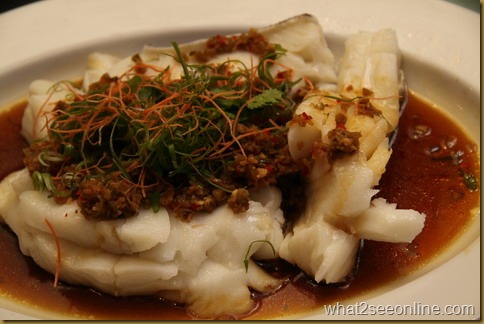 Gelatinous skin of the cod fish
Chef Ricky had the Deep-fried batter prawns tossed with fresh lime dressing artfully presented. The succulent light battered prawns tossed with the refreshing zesty lime sauce were laid beside the skillfully shaped tree with flowers.
A delicious sight to behold!
Shortly after the seafood dish, the Braised duck with dried fish maw and dried scallops followed through. The braised duck served with broccoli was topped with generous serving of scallops. The starchiness of the gravy set in well in this dish and was pretty appetizing.
Fried rice with seafood and baby abalone – The seafood ingredients and the tender baby abalone give a nice flavor to this comfort food. The entire dish turns out delicious indeed!
The dinner was rounded up with the warm Double-boiled hasma with red dates and glutinous rice dumplings. The dumplings (Tang Yuan) have fillings of black sesame paste.
There is also a range of three other Chinese New Year Set Menus. All three set menus consist of nine courses for a table of ten persons. Reservations can be made at Tel: 03 21703259.
Prosperity Set at RM988.00++
Fortune Set at RM1,188.00++
Wealth Set at RM1,388.00++
Prince Hotel & Residence Kuala Lumpur
No.4 Jalan Conlay
50450 Kuala Lumpur
Tel: +603 2170 8888
Website: www.princehotelkl.com