Chin's Stylish Chinese Cuisine for a Fine Dining Experience
* This article was published in the New Straits Times (Life & Times) on 24th April 2010.
Enjoy pleasant service, inviting ambiance and quality fine Hunan and Sichuan cuisine from Chin's Stylish Chinese Cuisine. This latest Penang fine dining restaurant has its prime seaside location in Church Street Pier overlooking the calm waters of the harbor and George Town behind it.
Elegant detailing in the interior of the restaurant
Chin's which was opened a few months ago was everything of a fine dining restaurant, casual and elegant dining with delicate and delicious food, wine and a sense of pampering.
The ambience was welcoming as I step inside the waiting area of the restaurant passing through its striking red glass door – there to greet me is owner Dave Chin.
Priceless antique chairs displayed in the waiting area leading into the restaurant
The restaurant was tastefully decorated with modern Chinese contemporary artwork, dangling chandeliers and plush chairs.  The whole effect was breath-taking.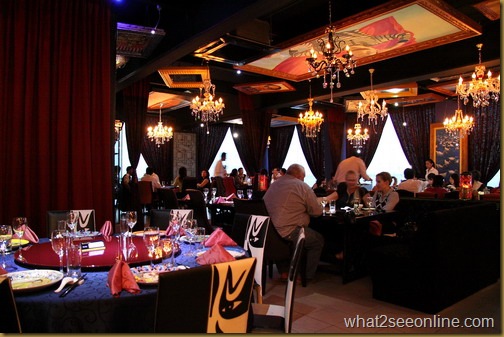 The glass-enclosed dining hall room can seat around 90 people comfortably. Its tall glass frontage provides diners with a sweeping view of the sea while indulging in their meal.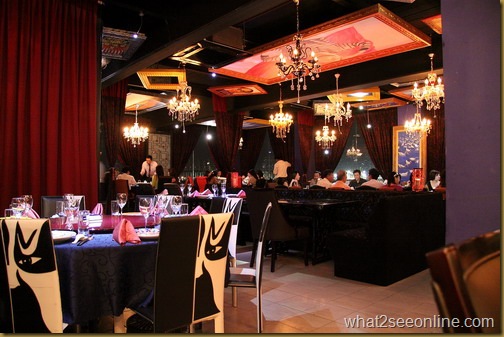 Crisp table settings added to the finesse, including the gorgeous hand painted dining plates with various designs which are for sale exclusively at Chin's.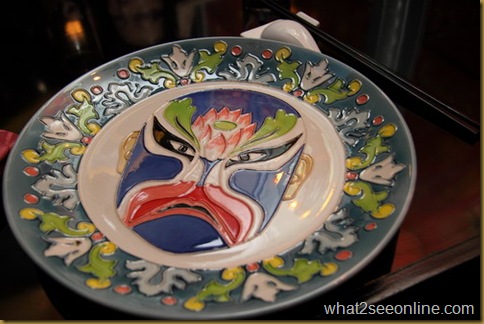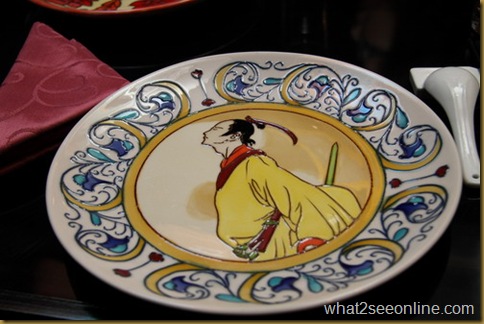 In the dining area is a bar with a glass top featuring an impressive piece of Chinese calligraphy done by the owner himself! The turning of the lights below has the words appearing in many different colors.
Top shelf liquors and wide selection of red and white wines are well stocked in this restaurant for diners to choose from.
The flavor of the food at Chin's open up a new experience in fine dining that begs to be savored. Its menu features the best of Hunan and Sichuan cuisines with appetizers, specialties, meat, poultry and seafood. All the food in the fine gastronomic tasting menu are prepared by a creative culinary team from China headed by Executive Chef Wang ZhiZhong. Varied spices are used in the preparation of wholesome goodness traditional Chinese recipes with unique flavors and aromas.
The meal started off with a selection of light appetizers accompanied with a South African red wine Malan. The wine was light and fruity with a hint of wood. The waitress kept our glasses at the right level through out the whole evening.
The cold appetizers were Garlic Cucumber (Pai Suan Huang Gua), Hunan Shredded Seaweed (Liang Ban Hai Dai Si) and Seaweed Cashew (Gan Shao Er Song). The century egg was presented with a modern twist, topped with a flavorsome sauce accompanied with grilled red peppers.
Juicy crunch of sourish and spicy Garlic Cucumber (Pai Suan Huang Gua)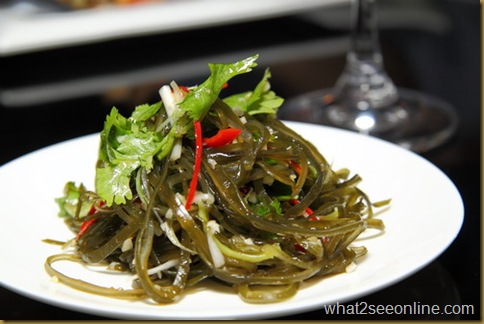 Hunan Shredded Seaweed (Liang Ban Hai Dai Si)…dressed with a vinegary sauce
Seaweed Cashew (Gan Shao Er Song) – delightfully addictive bites, best with some wine
Century Egg in Grilled Red Pepper (Shao Jiao Pi Dan)
The hot appetizers started with the Heavenly Blessed Joysticks (Shang Shang Qian). Everyone was admiring the beauty of the skewers. The presentation was rather unique with the skewers of seashell meat, baby abalone and sea fungus soaked in spicy and pungent chili oil in a bamboo holder. Each morsel was delicate with its own distinctive texture.
The pieces of Sesame Prawns On Toast (Xia Duo Shi) were delicious bite. Coated with sesame seeds with a crispy outer layer, the toast has a good mix of flavors and went very well with a touch of spiciness from the accompanying chili sauce.
The Smoked Chicken (Xun Ji Si) is a glorious medley of tender chicken pieces with garlic, red and green chilies. The chicken is enchantingly fragrant pepped with slight spiciness.
After both the appetizers, we were served with Chin's Specialties – Chin's Aromatic Crispy Duck. (Chin's Zhao Pai Xiang Su Ya). The Aromatic Crispy Duck recipe has remained the same as it was introduced back in London in the earlier years. The duck is prized for its crispy skin and fragrant and tender meat.
Quarter serving of the Aromatic Crispy Duck
The Aromatic Crispy Duck was shredded at-the-table and I had my hands-on in assembling the meat on a homemade pancake with a light stroke of Hoisin sauce and accompaniments of scallion and cucumber.
I've had many variations of this crispy duck dish and my favorite remains to be the kind where the pancakes are of a delicate texture and made without any coloring or essence – exactly as they should be. I was glad to see such authenticity at Chin's for it really enhanced the meat. Dave suggested adding some chili padi into my pancake and surprisingly the roll tasted fabulous!
The Aromatic Crispy Duck was followed by a fish dish. The Double Flavored Wild Fresh Water Fish (Shuang Jiao Ye Sheng Dan Shui Yu) had Patin fish steamed topped with a blend of garlic and chili peppers in delicate gravy. Surprisingly, despite the generous amount of ingredients covering the fish, it was not overpowering. The sweetness of garlic and hint of chili heat paired well with the juicy fish flesh hidden underneath.
At Chin's I get to savor a dish with an exciting combination of cod fish, prawns and egg.  The fine balance of the three ingredients in this Crab 'N' Yoke (Sai Pang Xie) made up a complete healthy dish, light with plenty of sweet flavors of the fish and prawns. A remarkable combination of flavors!
The Cumin Mutton Skewers (Chuan Shao Zi Ran Yang Rou) marinated with cumin and a blend of other fragrant spices were served topped with onions, spring onions and fresh chilies.
The cumin-infused mutton was perfectly tender with a fragrant aroma. It was indeed mesmerizing enveloped by a tongue-tingling sauce.
The meal was kept balanced with the Sauteed Vegetable in Red Rice Yeast (Hong Qu Fu Ru Chao Shi Shu). There are not many restaurants which use red rice yeast in their culinary dishes and it was great seeing the dish in Chin's.
The water convolvulus although commonly found, was absurdly delicious with the flavors of the red rice yeast, characterized by its red color.
Desserts were presented with the deep fried Pumpkin Cake with Sweetened Bean Paste (Nan Gua Dou Sha Bing). This hot sweet treat has pumpkin and red bean paste filling. A delightful combination of flavors.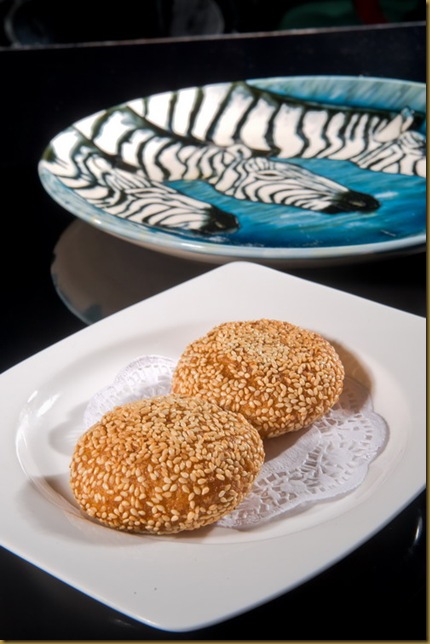 The Man behind Chin's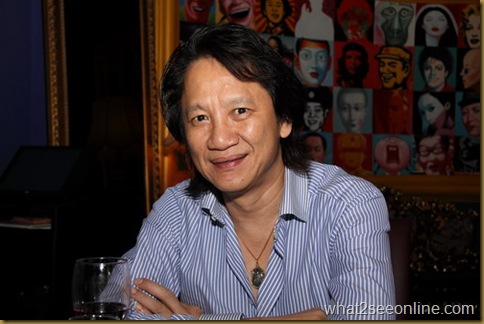 Dave Chin is a UK-trained graphic designer and a lover of fine wine and good food. This successful restaurateur has many great years of experience when it comes to the world of food, cooking, and eating. He was involved in the food industry for around 25 years with his first restaurant Chin's opened in London way back in 1987. The classy establishment took England's restaurant scene by storm, winning two highly coveted and prestigious awards in quick succession –
"Best Restaurant of The Year" by What's On In London Magazine
"The Best Chinese Restaurant in London" by Stores Magazine, New York
"Remember the name, for it's destined to become one of those legendary restaurants" by Nine To Five Magazine
On this blazing trail of collective accolades, CHIN'S Restaurant was recognized as "Best of the Best" by Good Life Magazine
At present, Dave owns a few restaurants, including QEII, SOHO Country House in Auto City and SOHO Free House in Penang Road and has expanded his expertise to Chin's.

Striking entrance to Chin's
Glad to see this type of cuisine made it in Penang which in turn shows that Penangites taste buds are getting more sophisticated and abreast with the global food trends. The atmosphere and service were fantastic and the flavoring of the food is remarkable, I am tempted to return…!
Currently this Pork Free restaurant is enjoying brisk business although it is not officially open to the public. Dinner is only available with private bookings. There are plans to open for lunch after its official launch which is most probably happening in early June.
Updates as at 29th April 2010 :
There is a choice of seven Set Meals with prices ranging from RM 78++ per person  to RM 218++ per person

Chin's Stylish Chinese Cuisine
Tanjong City Marina
Church St Pier (Next to QE II)
8A Pengkalan Weld
Georgetown
Penang
Tel: 04 261 2611
Fax: 04 261 3128
Mobile: Dave Chin 012 4781262
Business Hour : 6pm till 11.30pm daily
GPS Coordinates : N05°24'56.7″   E100°20'36.7″