Chapati is a very tasty and filling flatbread, especially when paired with vegetable or meat curries. Although this Penang hawker food is a staple in the Indian diet, this savory food is hugely popular with other races too.
The eateries in Penang churn out chapatis with different textures, ranging from the soft to the chewy ones. Among the many eateries in George Town, there are two favorite places for me to get great chapati.  One of them is located in Queen Street with the other in Ah Quee Street. The chapati is made fresh daily in these two eateries with the same concept of rolling and enlarging the dough.
The chapati from the stall in front of Restaurant Sulltania in Queen Street is available from the evening and is slightly different with its own method of cooking.
The chapati made on the spot is cooked on wire gauze directly over heat from a charcoal grill.  Cooked quickly on high heat with the continuous flipping of the wire gauze, it ensures even cooking on both sides.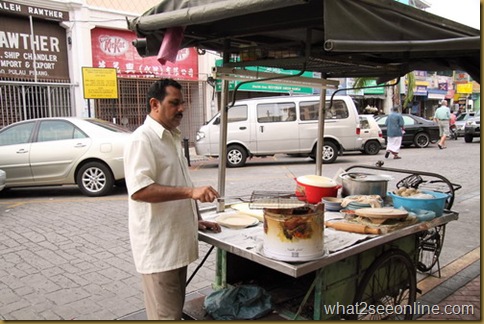 The chapati with both sides slightly charred has a lighter texture with a pungent charred aroma. This chapati is one of the best I have eaten so far.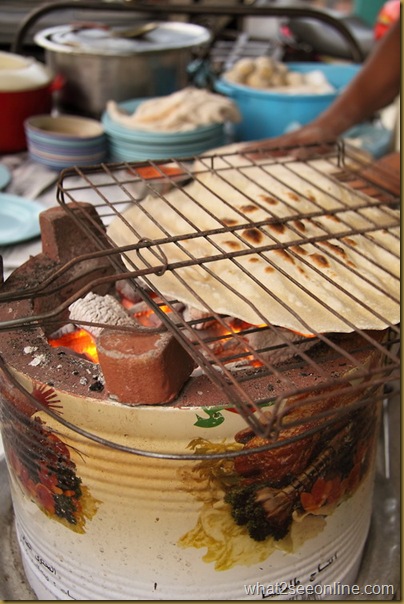 Waiting for the chapati to rise
The flat disc of chapati is best eaten with the vegetable curry. The curry is on the lighter side, with beans in it. The best way is to tear of a small piece of the chapati and dip it in the curry.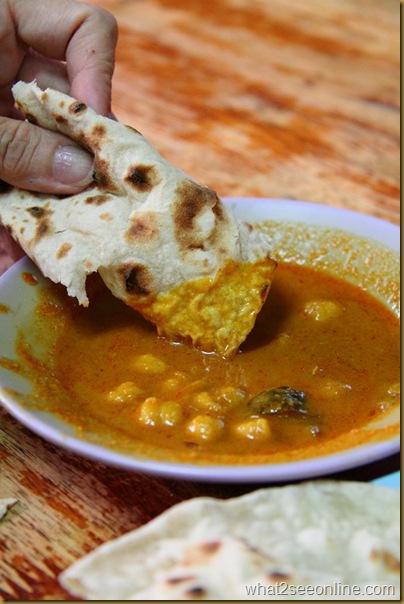 Restaurant Sulltania
57 Queen Street
10200 Penang
Tel : 04 2636744
GPS Coordinates : N 05 41725   E100 33862
*****
Maj, is located in Ah Quee Street, further up from the Lor Mee stall that I have tried several months ago. It serves freshly made chapati in a tiny little shack. This stall is doing roaring business serving chapatis for the early morning crowd of office workers to start the day. This stall incorporates grilling the chapati using a griddle over a gas stove.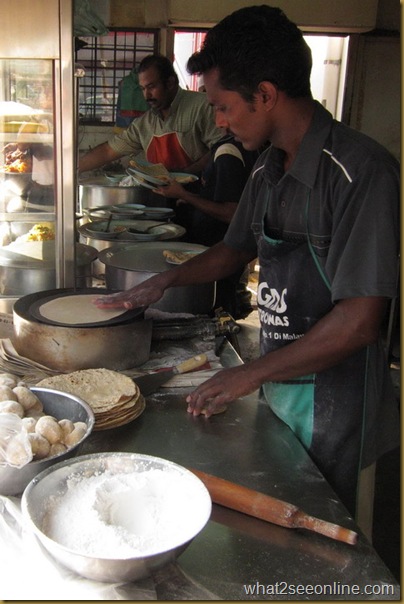 The worker has his way of making the dish look so simple. He rolls the ball of dough on a light floured board in a circular shape. The rolled out chapati is cooked on the griddle plate for about one minute and turned over to cook the other side for another minute. The edges are pressed lightly to encourage forming of bubbles (puff) which makes the chapati light.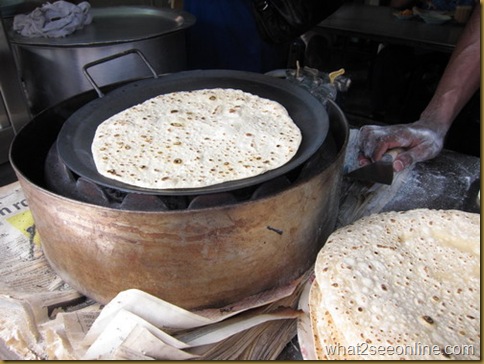 Gorgeous chapatis ready to go
The fluffy chapati comes with a delightful chewy texture with wheaty flavor. Maj has good curries for their chapati, with a choice of Sardine or Curry Kambing.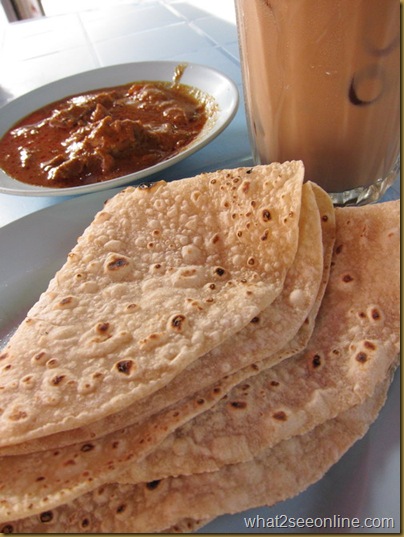 The pieces of kambing was tender and I personally love the combination of this meat curry with my chapati. Head over to these two places to try out the chapati as both is unique in its own way and best of all, they are tasty and affordable.
Gerai Makanan Dan Minuman Maj
Next to No. 47 Ah Quee Street
Penang
Business Hour:  7am till 6pm
Closed Sunday
GPS Coordinates : N 05 41579   E100 33828