Penang Hawker Food at Kedai Kopi Wah Meng, Air Itam
Over the weekend together with my blogger friends and photographers, we went around Air Itam to sample-fest some hawker food. We made our way to Kedai Kopi Wah Meng. The coffee shop located across the Sisters Curry Mee is a stone throw away from the Air Itam morning wet market, which itself is full of interesting local flavor.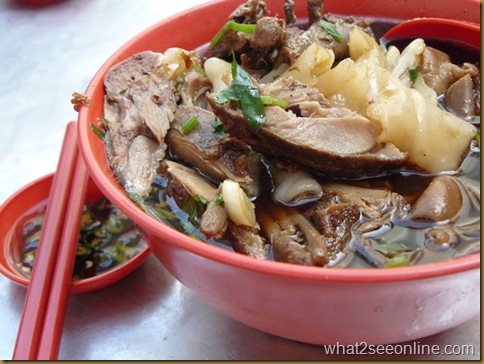 How about a delicious bowl of Koay Chiap for starters?
This coffee shop offers a variety of hawker food. We chose to start with the Loh Duck Koay Chap (flat broad rice sheets) with some meaty toppings. A bowl at RM 4.00 comes with plenty of ingredients, braised duck meat, bean curd, congealed blood, hard-boiled egg and innards of intestines and liver. Many customers liked the soup for its clearer and lighter flavor, indeed different compared to the Kimberley Street Duck Koay Chiap.
The bowl of Koay Chap was accompanied with cut chilies in soy sauce instead of the common garlic chili sauce.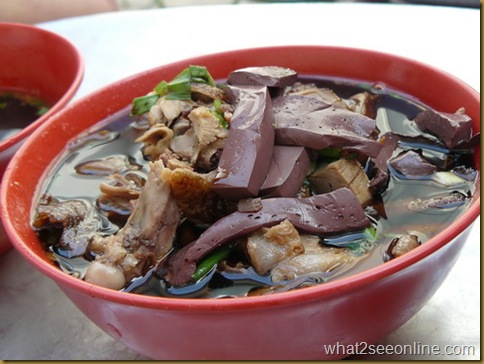 This bowl of Koay Chiap loaded with add-on!
Served with cuttlefish, cockles, congealed blood, prawns, bean sprouts and tau pok (fried beancurd), this bowl of curry mee has a very light broth.
We bought a Roti Planta from this cheerful hawker. Looking similar to the Roti Canai, this version is made with margarine and served with curry. We chose to eat it on its own.  Its chewy texture and sweet taste makes it enjoyable for the few of us who have a sweet tooth. In fact we even had a second helping of this roti!
The porridge was savory sweet with the flavor of the minced meat and oyster. This type of porridge comes with pieces of Yu Char Koay, and sprinkled with shallot crisps and chopped spring onions.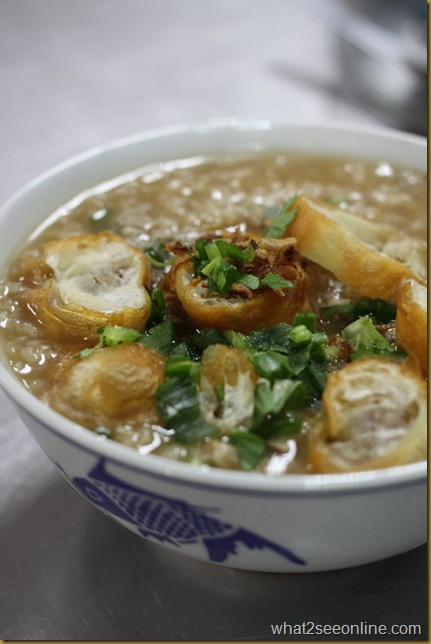 Last but not least, we savored Char Koay Teow! What I love about Char Koay Teow is that it is found in most places in Penang. This Char Koay Teow has crunchy bean sprouts and reasonably sized prawns.
Apong Manis anyone? I had a couple of these pancakes  –  hot off the miniature kuali, crispy at the edges and with a soft texture in the middle. Smells good and tasty too!
Nice snack with coffee
It was an enjoyable breakfast outing sharing ideas on photography and food with Ken, Lingzie, LC and the many photographers.
This coffee shop is located just after the bridge (on the right hand side) on the way to Paya Terubong. Parking can be a bit difficult as the surrounding place is a bit crowded especially on the weekends.
Click here for the Map Location.
Kedai Kopi Wah Meng
612 Jalan Air Itam
11500 Air Itam
Penang
Business Hour : 7am – Noon
GPS Coordinates : N5 24.010   E100 16.682