Yee Heong Restaurant, Campbell Street Penang
BY CK Lam
Yee Heong Restaurant is a great place for a Chinese meal. It is one of the Chinese restaurants in Campbell Street, Georgetown that not only serves dim sum for breakfast but also Chu Char dishes for lunch and dinner.
Over a period of time, we have been patronizing this Chinese restaurant which is located right opposite the morning wet market. The menu is expansive, with plenty of Chinese dishes!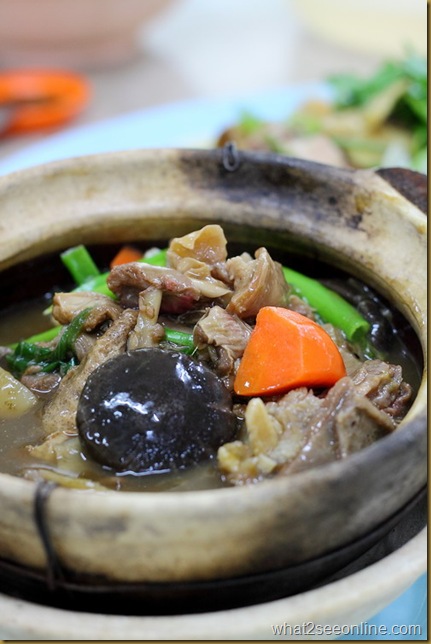 One of their signature dishes, Braised Lamb!
Yee Heong's version of Herbal Chicken has a pleasing herbal aroma from the usage of much Chinese herbal medicine. The dish is popular for its nutrients, and is incredibly mouth watering as well!
We also savor many of their vegetable dishes. There was a lot of wok heatiness in the Sambal Brinjal dish. The flavor of the sambal was enchantingly fragrant, and delicious with white rice.
Another vegetable dish we ordered was the Bitter Gourd! The bitter gourd cooked just right with a bitter aftertaste came with generous amount of half-cooked egg.
During our conversation with the shop owner, we were recommended to try their Braised Lamb! It came in a claypot with pieces of lamb cooked with radish, carrot and black mushroom. Absolutely warming and bursting with flavor!
Besides that, we tried two fish dishes. The first was Steam Fish Teochew style. The fish was cooked just right and the accompanying salted vegetables (kiam chye), chilies and sour plum added tinge of saltiness, spiciness and sourish to the dish.
The second fish dish is Yee Heong's signature dish, and remained our favorite as well! The Hoong Siew Yue Tau (braised fish head with roast pork) was delicious and the sauce has a hint of the smoky roast pork. The bean curd and the bean curd sheet soaked in the gravy added texture to the dish.
Next up was the simple stir-fried vegetable dish, Kailan flower with garlic. The crunchy stem was a delicious bite.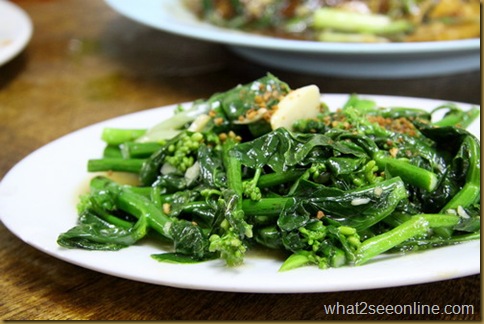 We never miss out on their 'quick boil' soup. The Spinach Soup with a combination of century egg, carrot and tofu was simply delicious!
On the last visit, we had an interesting 'quick boil' soup prepared with a combination of fish skin, fresh mint leaves and egg. The soup with an acquired taste got working for only a few of us.
With the staggering varieties of breakfast and Chu Char dishes, one is bound to find something to eat from Yee Heong. Click here for the Map Location. There are several other old school style eateries nearby, with TekSen and Aik Hoe Restaurant just around the corner.
Kedai Makanan Yee Heong
12-14 Campbell Street
10100 Penang
Tel: 04 2616990
Business Hour : 8am till 10pm
Closed on Sunday