Loh Bak at BB Food Court, Bayan Baru Penang
Loh Bak, with its multitude of choices, is a favorite snack any time of the day. Most of the Loh Bak stalls have more or less the usual items of prawn fritters, pork roll, deep-fried bean curd, century egg, fish fillet and deep fried spring roll.
Whenever I'm in the area of Bayan Baru, I frequently visit the Loh Bak stall at BB Food Court. The stall has a few delicious twist in addition to the usual items!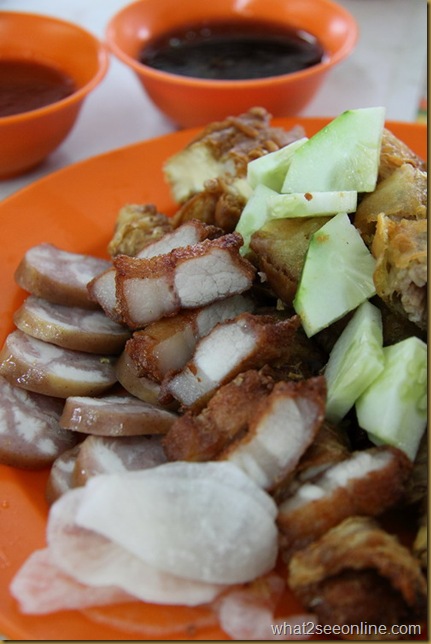 Plate stacked high with plenty of variety…!
So what makes this Loh Bak so special?
Firstly, the special Loh Bak items they serve!
Two of the things that I really enjoyed and recommend is the deep-fried meat and the other distinguished boiled pork roll (guang chang 罐肠). The pork roll is home made, using pork and fats mixed with some seasonings with an interesting mild flavor. The sliced pork roll is served as cold cuts and is less oily. Having it together with the pickled white radish was just heavenly.
The deep-fried piece of pork meat in a strip form is made well with a good layer of lean and fat meat. The meat was well seasoned and pre-fried with a browned outer crisp, delicious eaten with or without the sauce.
Evenly sliced pork roll and the deep-fried meat
Secondly, their appetizing pickled white radish!
The Loh Bak is served with its usual condiments of chili sauce, starchy "lor" sauce… but on top of that there is also the great accompaniment of pickled white radish (white carrot)! Most of the Loh Bak stalls that I had patronized around town do not serve this seasoned radish.
The pickle radish has a crunchy texture and is pleasantly addictive! I love its flavor and the taste, lending a sour yet sweet sensation to the Loh Bak.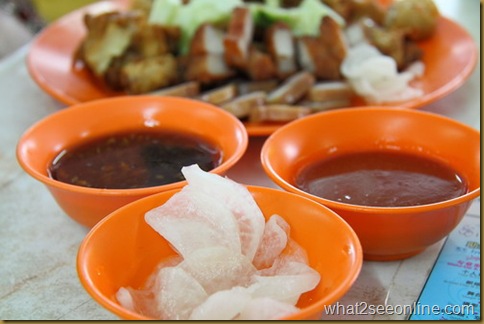 Thirdly, their delicious dipping sauces!
My personal choice is to always mix the two sauces together, creating an effect similar to yin and yang! Dipping the piping hot Loh Bak into this sauce is absolutely scrumptious! It has a slight hint of five spice powder.
I have been frequently visiting this Loh Bak stall besides my other favorite one in Kafe Kheng Pin. Do share your opinions about your favorite Loh Bak stalls with me as well!
BB Food Court, the corner coffee shop is located behind Sunshine Square Bayan Baru and the Suntech building. Click here for the Map Location. There are many parking spaces on the street around the coffee shop.