US Food Journalists discovering Malaysian Cuisines in Penang
I recently had the pleasure of having dinner with a group of US food journalists who were all flown in by MATRADE to discover Malaysia cuisine and promote them back in America.
The food journalists were none other than the well known Bret Thorn – food editor of Nation's Restaurant News, Bob Lape – food reporter for WCBS-AM New York and his charming wife, Joanna Pruess – columnist for Specialty Food Magazine and contributor for Food Arts Magazine.
They were accompanied by Ms Atalanta Rafferty – representative from RF Binder, Malaysia Kitchen's US PR agency, and Mdm A'dzimah Ahmad Ghazali – senior manager of MATRADE.
They were treated to a buffet dinner with a scrumptious spread of local and international favorites at Spice Market Cafe in Rasa Sayang Resort and Spa.
Before the meal, there was a cooking demo of the 'roti jala' (lacy pancakes), one of the unique Malay dishes. It was an experience for them watching the chef making the roti jala and the chicken curry.
After the demonstration, each of them had a go in making the roti jala. Bret led the way pouring the batter into the roti jala dispenser and subsequently onto the flat griddle. Joanna followed the advice of the chef in making the roti as thin and wide in diameter, creating a beautiful "lacy pattern".
Atalanta had her roti just as lacy with many continuous circular motions while A'dzimah had hers folded perfectly into a roll, ready for serving. All in all everyone had fun learning making the roti jala and they did pretty well considering this is their first time making it.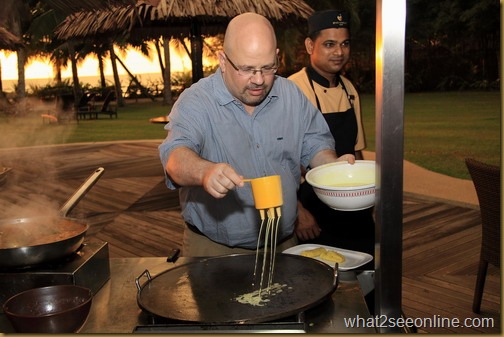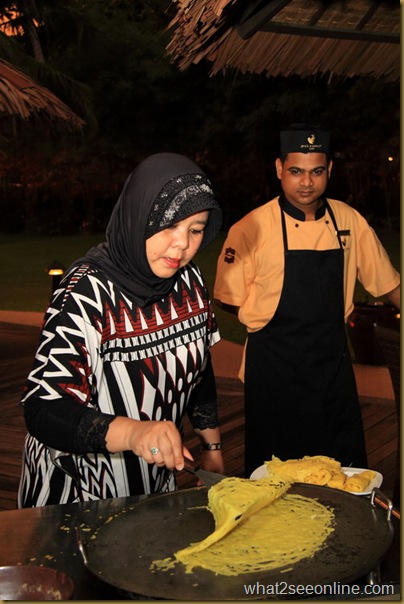 The spongy roti jala was an ideal accompaniment to the boneless chicken curry. Everyone of them took back with them the recipe and the making experience of this traditional Malaysian cuisine that they really enjoyed.
On the other hand, I enjoyed the evening introducing some of our local cuisines to them and at the same time getting to hear and learn much from their years of experiences as a food journalist.