Ramadan Dinner With A View @ Bayview Hotel Georgetown, Penang
* This article was also published in the New Straits Times (Life & Times) on 14th August 2010.
Bayview Hotel Georgetown is one of the many hotels in Penang offering Ramadan buffets in the holy month of Ramadhan. The Buka Puasa buffet or breaking fast at this hotel offers a spread of mouth watering and sumptuous selection of traditional local cuisines and international favorites.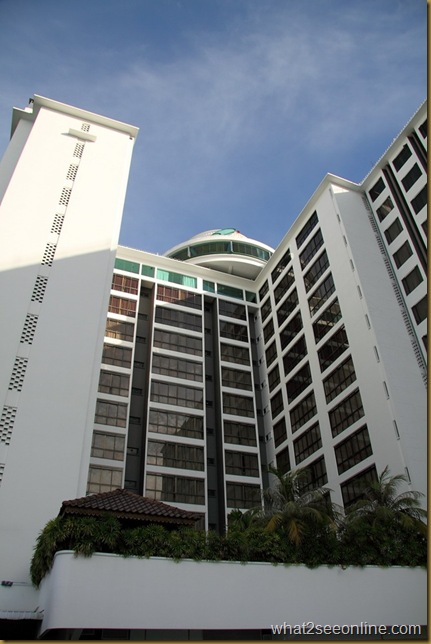 Revolving Restaurant sitting on top of the hotel
Bayview Hotel Georgetown is offering their Buka Puasa buffet dinner in the Revolving Restaurant, the one and only revolving restaurant in the North that can accommodate around 250 people. Slowly revolving 360 degrees over George Town, guests enjoy a panoramic bird's- eye view of Penang as the sun begin to set down the hills.
The rotating menu designed by Executive chef Billy V. Boudville feature several stations, each with interesting selections of starters, specialties and desserts.
Guests can enjoy many different types of appetizers and salads including the kerabu daging merah, acar buah and papadum, ulam-ulam with sambal belacan and Jelatah. The raw vegetable of ulam-ulam is refreshing to go along with the food.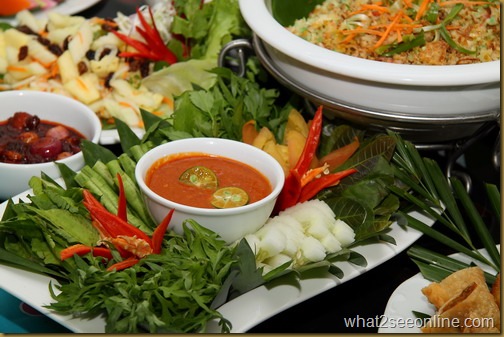 Ulam Ulam dengan Sambal Belacan
Acar Buah and the appetizing Jelatah
Bayview Hotel Georgetown Ramandan Buffet serves a plethora of curries including the traditional ayam masak merah, sotong goreng berempah, kari ikan, kurma daging with potatoes and mutton. There are also international dishes of venison with zurichoise sauce, grilled fillet fish of florentine with hollaindaise sauce and boneless chicken with tomato and onion sauce.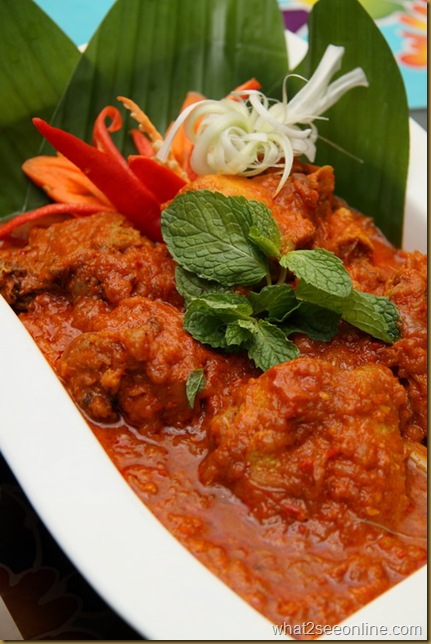 Ayam Masak Merah
Dalca Sayur
All the curries delivers everything a curry should be made off – flavourful, details in spices and herbs, spicy, pungent and most of all strong in taste.
The sotong goreng berempah was absolutely a delicacy for the palate. It has a lovely turmeric flavour and the slice garlic was delightful to chew on.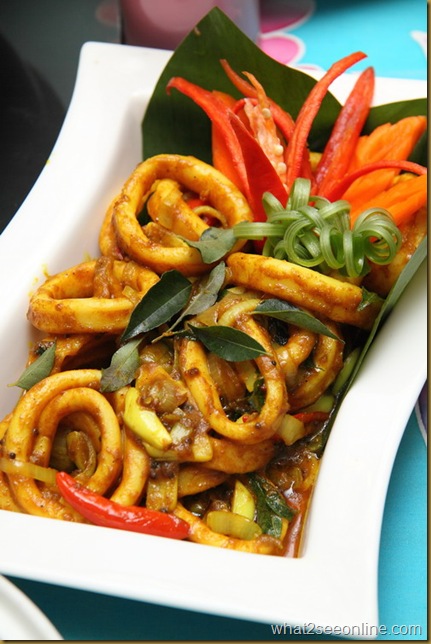 Sotong Goreng Berempah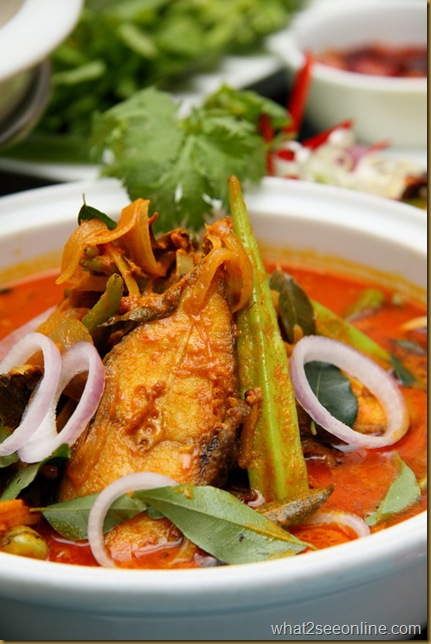 Kari Ikan with bendi
The rendang is well spiced, deliciously rich in coconut and balanced. The meat was cut to mouth size and tender. To keep it more authentic the kitchen sprinkle on shredded kaffir leaves which made the curry flavour truly stand out.
Daging Rendang
Kurma Kambing
Enjoy yourself with a variety of rice dishes like nasi briyani, nasi hujan panas besides steamed fragrant rice to complement the many dishes. Papadams are suitable to enjoy with the curries too.
Nasi Hujan Panas
Fresh fruits and traditional delights of local kuih muih to French pastries and choices of ice cream with toppings are offered to sweeten one's palate. An array of local kuih muih includes the kuih lapis, kari puff and also sweet bubur kacang merah and bubur kacang hijau. Cakes and pastries come with offerings of chocolate devil cake, yoghurt mousse, charlotte royale, diplomat pudding and tiramisu.
Assorted sweet and savory kuih muih
To go along with the food are beverages of ais bandung, kopi tarik and teh tarik. Not forgetting the traditional dates (buah kurma) and the figs as well! The buffet also showcases action stalls that feature mouthwatering delicacies like pasta and tempura with condiments.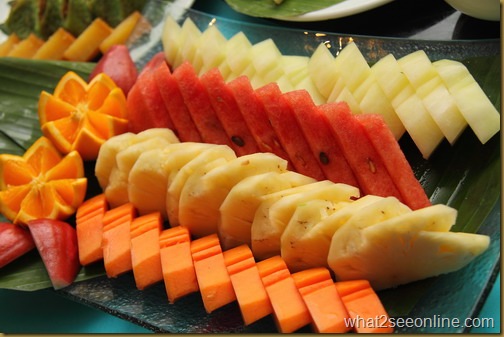 The Ramadan Buffet in the Revolving Restaurant starts from the 11th August until 9th September. It is priced at RM52++ per adult and RM35++ for children from Sundays to Thursdays and RM58++ per adult and RM35++ for children on Friday and Saturday.
Prior reservations are recommended by calling the Hotel and better still, reserve a window seat too!
Bayview Hotel Georgetown will be featuring Aidilfitri Buffet Dinner on the 10th and 11th September priced at RM58++ per adult and RM35++ for children. Part of the proceeds from the buffet will be donated to Mount Miriam Hospital and Tzu Chi Foundtaion, in the spirit of Ramadan.
Bayview Hotel Georgetown
25-A Farquhar Street
10200 Penang
Tel: 04 2633161