Penang Food – Pan Mee @ I Mum Mum Restaurant
There are only a couple of places in Penang where you can find tasty handmade Pan Mee (mee hoon kuih). I managed to scour affordable and tasty pan mee at I Mum Mum Restaurant which is located in the midst of the PDC flats in Pengkalan Weld, near the starting point of the Jelutong Expressway.
Similar to the Pan Mee stall in Macalister Road that I patronized every once in a while, the pan mee at this place also comprises of flattened broad pieces, spaghetti size and very fine ones.
Noodles waiting to be blanched in the boiling water
The ordering is self served with the provided menu on the table. We started off with the spicier dish of noodle. The Spicy Pan Mee has a combination of ingredients – minced pork, wood ear fungus, fried anchovies, meat balls, sweet leaves and plenty of dried chili flakes. It can be a bit spicy, so do request for less of the dried chili flakes. This plate of pan mee came with a small bowl of anchovy soup.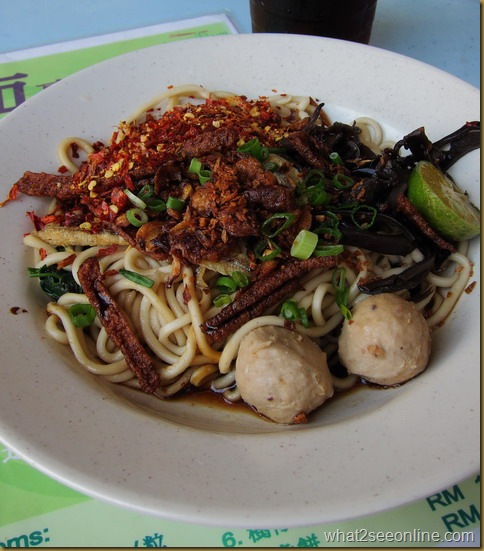 Spicy Pan Mee
There are a few dried versions which were equally good but the outstanding dish is the Pan Mee Soup. This soupy version comes with minced pork, fried anchovies, fried garlic, wood ear fungus and sweet leaves together with cut chili padi in soy sauce. The soup is sweet and flavorful from the fried anchovies.
The hand-shredded 'teared' dough has the right bite to it but the generous amount of fried shallots were a tad overpowering.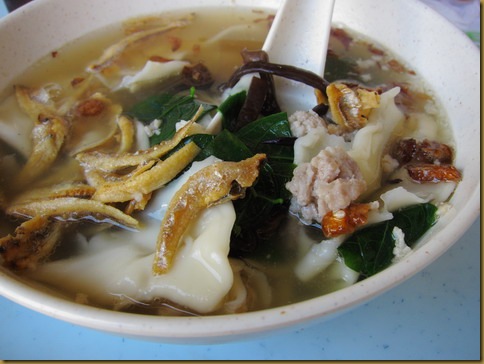 (RM2.80/RM3.30)
The prices were reasonable for a heaping bowl of noodle with generous amount of toppings.  The Crispy Pork Pan Mee (left) has pieces of pork chop with a hint of sweet and sour sauce, topped with sesame seeds.
The Minced Pork Pan Mee (right) comes with stir-fried minced pork in a pungently fermented bean paste sauce, wood ear fungus, sliced omelet and sweet leaves. This dish was accompanied with the fried chili paste.
They are open for breakfast and lunch and it is practically crowded during lunchtime.  The noodles come in five varieties and in two different serving sizes. Add-on items are charged accordingly.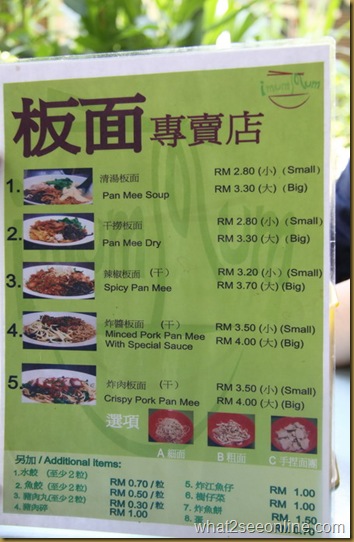 I could not resist the fried anchovies and pork dumplings. The fried anchovies were crispy crunchy eaten on its own and adds flavor when soaked in the soup. The pork dumplings on the other hand was not particularly tasty.
Extra dose of fried anchovies is a must!
Look out for the Weld Quay/Pengkalan Weld traffic lights. I MUM MUM RESTAURANT is situated  on the service road nearby the Pengkalan Weld/Gat Lebuh Macallum traffic lights. Click here for the Map Location.
The shop is located nearby my favorite Rojak stall in Gat Lebuh Cecil, which is just a short walk away.
I MUM MUM RESTAURANT
294 PDC Flats
Pengkalan Weld
10300 Penang
Tel : 012-5181827
Business Hours : 7am – 3pm
Closed Every Alternate Monday
GPS Coordinates : 5.406715, 100.332001