Bagan Bar & Restaurant, Penang – Revisited
***The place has since closed down and shifted to Macalister Mansion
* This article was published in the New Straits Times (Life & Times) on 15th January 2011.
Along the folds of Jalan Bagan Jermal lies Bagan Bar & Restaurant, a wonderful venue for indulgence. Located within the proximity of Gurney Drive, this place offers a one of a kind dining and social experience that is sure to satisfy everyone.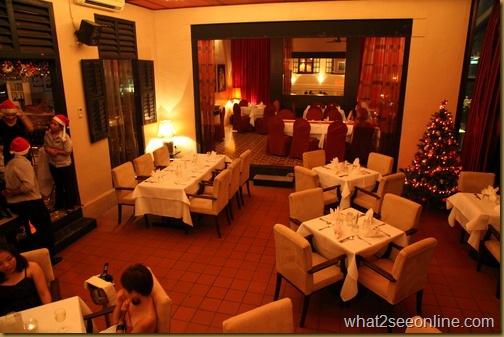 With its majestic old-world charm bungalow and preserved old flooring tiles and wooden doors, Bagan has plenty to offer in terms of ambiance. The restaurant is segregated into several large dining rooms, lounge, cigar room, bar and pool room which allows diners to relax privately before and after the meal.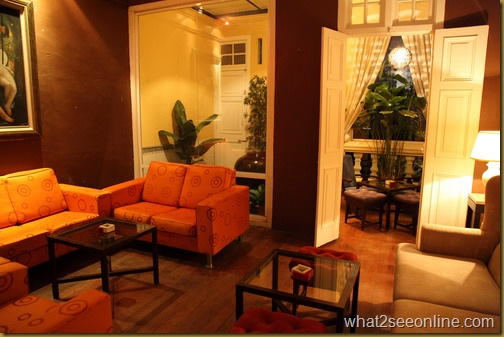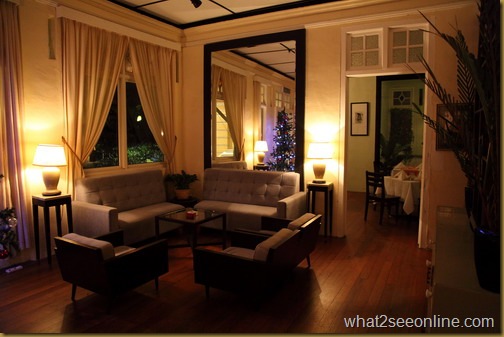 We headed to this restaurant for dinner, and it was already decked out ready for Christmas. They have a drink menu, with some pretty interesting cocktails. We started ourselves with the mocktail, Bagan 18. This non-alcoholic mocktail with twisty fruity flavor of apple, pineapple, lemon cordial and grenadine syrup is among one of Bagan's many unique concoctions.
The kitchen in Bagan is now helmed by Chef Jason Choy, an Australian. When asked about his cooking style, Chef Jason said in the typical Australian accent: "My cooking is predominantly European styling with a touch of Asian. I do not complicate things too much but rather, presenting the food with simple clean lines and reasonable size".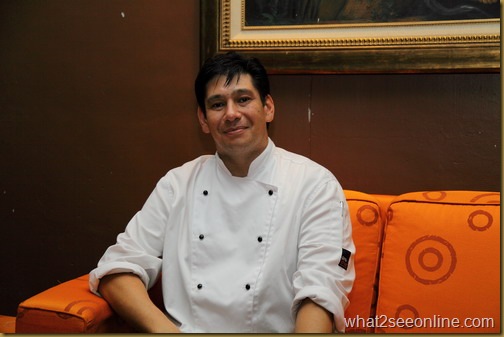 There is a vast range of selection in both the main menu and the Chef's Recommendation menu. The latter menu is especially suited for those who do not want to worry about what to order and rather leave it to the chef!
We chose the Smoked Salmon Carpaccio and the Grilled Slipper Lobster Salad to start off with. The carpaccio was absolutely delicious with its simple preparation! Chef Jason piled the toast bread on beautifully sliced smoked salmon drizzled with mayonnaise sauce.
The other starter that we enjoyed was the delightful Grilled Slipper Lobster Salad, which was flavored by a refreshing bold combination of mixed tarragon leaves and tomato dressing. It really whetted our appetite!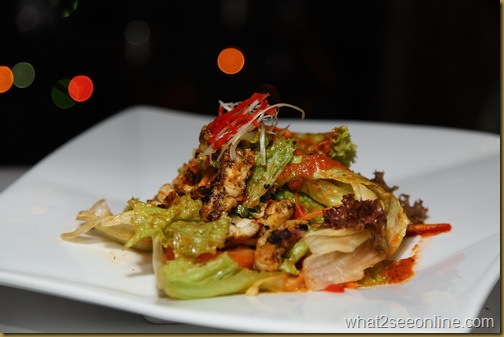 Moving on, Chef Jason whipped up two great soups for us. Decorated with a cream design, the smooth textured Broccoli soup was indeed satisfying. The taste of the broccoli was well enhanced in this creamy concoction.
The French Onion soup had the right flavor together with the melted gruyere cheese on the piece of crouton. This soup was a rather filling option. Chef Jason had perfected this soup as I remembered it being overly oily on my previous visit.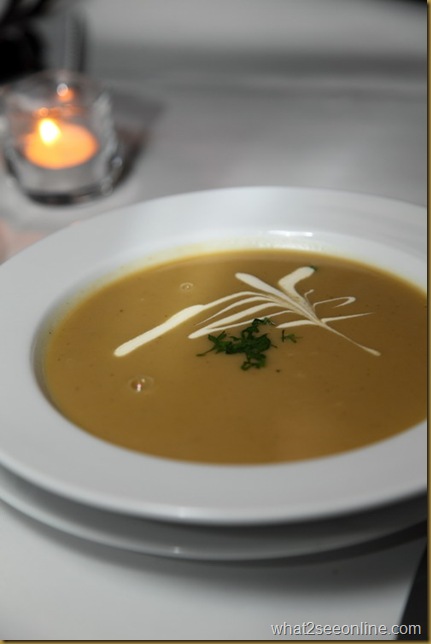 Cream of Broccoli
French Onion soup with gruyere crouton
The soups were followed up with the main course, and it was a definite joy for the sight! Chef Jason delicately prepared my choice of Duck Confit (RM54), and my huge craving for it was immediately satisfied!
The duck leg was done with two different preparation and contrast. It turned out to be fantastic, with the upper meat grilled and the lower leg done with an irresistible crispy outer skin. The meltingly tender meat paired well with the accompanied gratin potato and fig, topped with the sweetness from the sauce.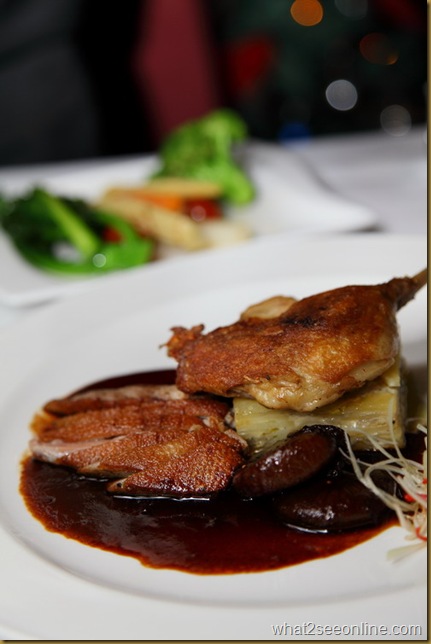 The second main of Pan Seared Seabass filet (RM42) was just as impressive as the Duck Confit. The piece of seabass sitting on a nicely browned and crisped bed of zucchini galette was served together with avocado capsicum and mustard oil salsa. The galette with grated zucchini together with potatoes, onions, egg, and seasonings was divine…absolutely a scrumptious choice!
The mains were served with standalone side of vegetables, with kailan, broccoli florets, corn, baby tomatoes and carrot.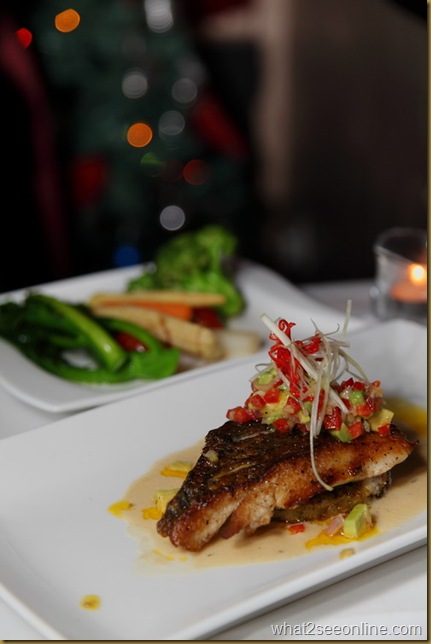 We were simply satisfied with our dinner. We sat back and enjoyed the dessert, entertained by the great jazzy tunes crooned by the resident singer.
On the whole, it was truly an enjoyable evening with good combination of food, delightful cocktail and great live music under the roof of this beautiful building. Bagan has upkept its standards and food quality over the years. Click here for the Map Location.
Thank you to owner Yeoh Kah Hock for hosting the dinner.
Bagan Bar & Restaurant
18 Jalan Bagan Jermal
10250 Georgetown
Penang
Tel: 04 2264977
Business Hour :
3pm – 1am (Monday to Thursday)
3pm – 2am (Friday to Sunday)
Drinks & Snacks
3:00pm – 6:30pm
Dinner
6:30pm – 11:00pm
Closed on Sunday
Pork Free