Chinese New Year's Eve Buffet-Style Reunion Dinner at Tamarind Brasserie, Parkroyal
* This article was published in the New Straits Times (Life & Times) on 21st January 2011.
It's that time of the year again! To usher in the Year of the Rabbit, many hotels and restaurants around town are having attractive promotions for the upcoming Chinese New Year Festivity!
I was delighted to indulge in the delightful Chinese New Year buffet spread on a recent visit to the Tamarind Brasserie in Parkroyal Penang Resort. Tamarind Brasserie presents an alternative dining experience during the Eve of the Chinese New Year; by launching their Prosperity Reunion Oriental Hot Wok and Steamboat Buffet Dinner.
The buffet spread in this breezy, open-air brasserie is relatively large, has entrees, salads, and dishes bearing special significance for the Chinese New Year celebration. Among them are the Baked Slipper Lobster, Lamb Satay, Roast Duck, Lotus Leaf Fried Rice and Steamed Assorted Dim Sum.
In line with the local tradition, diners will be enjoy a plate of Salmon Yee Sang. It is great fun mixing and tossing the condiments along with the raw fish slices all in hope of much prosperity and abundance.
Salmon Fish Yee Sang!
There are live action stations that make this dining experience all the more glorious and rousing. Tamarind Brasserie serves a range of Oriental Hot Wok dishes. Among the highlights are the Live Tiger Prawn, Wagyu Beef and the Boneless Chicken.
The dish of Live Tiger Prawn has fresh selection of prawns stir-fried with ginger and spring onion in a thick sauce. The prawns are sweet and juicy with hint of ginger.
For beef lovers, do try the Wagyu Beef stir-fried with Black Pepper sauce, a dish of tender slices of wagyu beef with a lovely depth of rich flavor.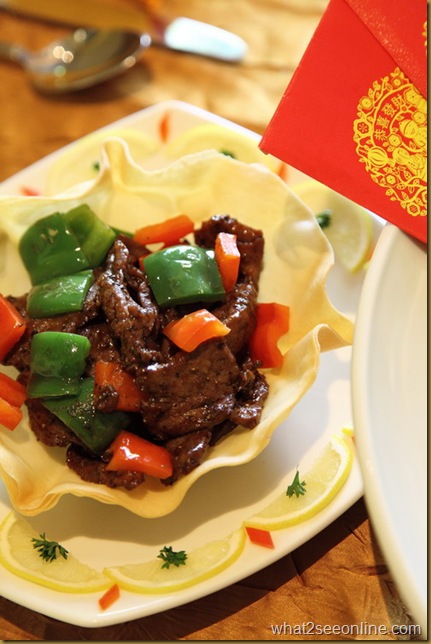 The deep-fried Boneless chicken was irresistible with the appetizing Mango Plum sauce and the strips of mango.
Tamarind Brasserie presents an attractive addition to the buffet by offering steamboat too! They are serving steamboat with a variety of seafood and meat as well as three soup bases of  chicken, tom yam and congee.
The steamboat is accompanied by an array of sauces and condiments of Thai seafood sauce, chili and ginger sauce, dry shrimp sauce and peanut sauce.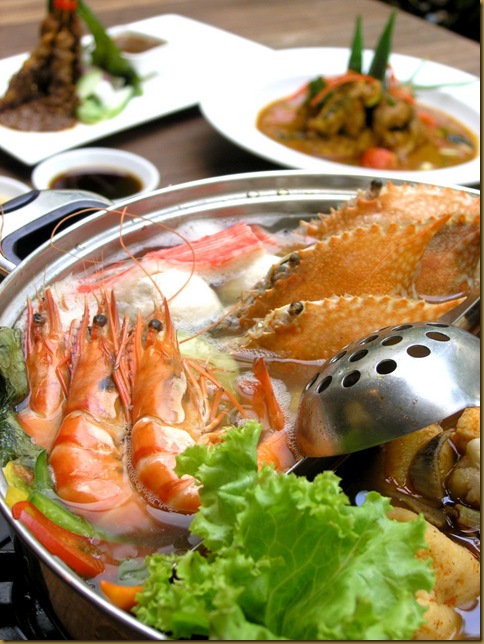 Besides the food, there are many interesting warm and cool desserts together with the light and crispy Kuih Kapit, melt-in-the-mouth Kuih Bangkit and soft and crumbly peanut cookies. Furthermore, there are warm desserts of Leng Chee Kang and Date and Walnut Pudding served with vanilla sauce.
Of course there is the usual fare of ice cream and Tamarind Brasserie offers endless scoops of Baskin Robbins ice cream. There is a good choice of flavors, such as Mint Chocolate Chip, Cookies & Cream, Very Berry Strawberry, Jamoca Almond Fudge, Vanilla & Chocolate Chip and Mango Tango.
This buffet is priced at RM155 nett for adult and RM58 nett for children on New Year's eve, 2nd February 2011. There will be special attractions of traditional lion dance, dragon and phoenix performance and drum shows.
Tamarind Brasserie
Parkroyal Penang Resort
Batu Ferringhi Beach
11100 Penang
Tel : 04 8811133  ext 8888 (for reservation)