Variety of Hawker Food in Tamil Street at Chowrasta Market, Penang
* This article was published in the New Straits Times (Life & Times) on 24th May 2011.
If you're at Chowrasta Market in George Town, Penang, stop by Tamil Street, located on one side of the market building. This street is worth exploring for its variety of street food. Look out for a stall selling Ais Tingkap (translated as window sherbet). This classic chilled drink is named such because it used to be sold through an open window.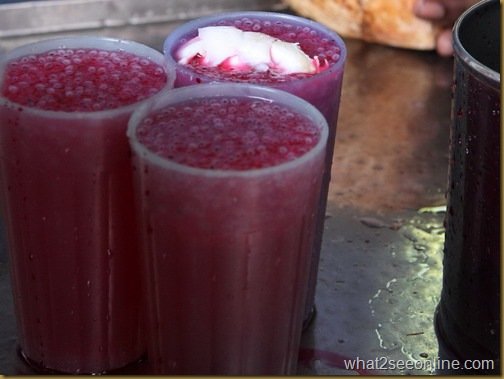 The sweet red rose syrup drink is a mixture of getah anggur (olibanum gum resin), biji selasih (basil seeds), kembang semangkuk (jelly) and fragrant herbs. It is served in a glass with shaved ice and pieces of coconut flesh.
The drink was created in the late 1920s but over the years, it has undergone some changes. It started with a mixture of 25 herbs and ingredients, but now only a few are used. It attracts a lot of attention from locals and tourists looking for a different experience. The stall is open daily except Sunday.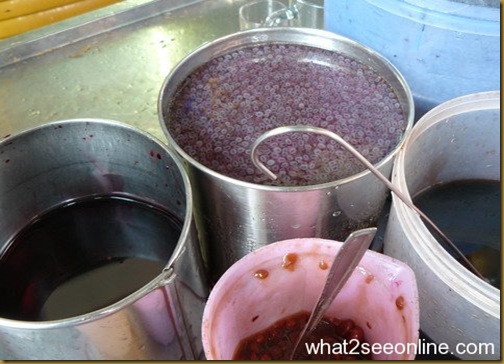 Basil seeds expand into tadpole-like eggs
Next to the Ais Tingkap stall is a stall selling cucur udang. Prepared on the spot, the deep-fried fritters have beansprout and tiny shrimp. It is definitely a satisfying snack. It pairs nicely with the spicy sauce and chopped peanuts. The simple fried tofu with sauce is appealing as well.
Preparing of the cucur udang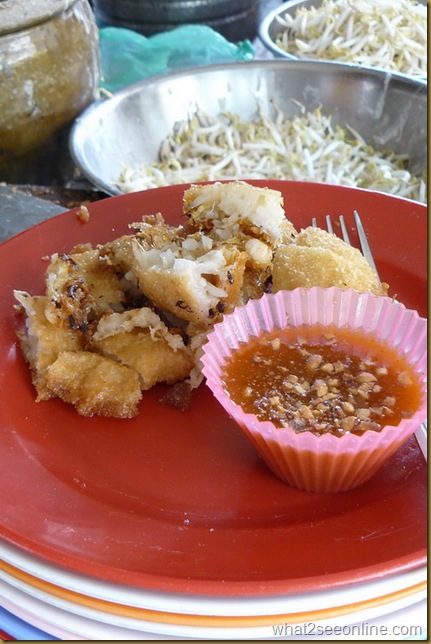 Another stall worth checking out is Java Satay Kambing at Restoran SW Srimanis. The mutton satay is grilled over charcoal fire in front of the shop. The owner still uses the traditional method of fanning the charcoal fire with a hand-held fan!
What adds to the uniqueness of the satay is the accompanying sauce. It is mixed on the spot in a wooden mortar with a pestle. It's made of black sauce, palm sugar, chilli and crunchy ground peanut. Since it is prepared on the spot, the spiciness can be tweaked to suit the individual customer's taste. Add a few drops of lime juice for a nice tang!
Besides satay, Restoran SW Srimanis also serves a plethora of Indonesian-influenced dishes, including pesto bandeng, nasi pandang, curry itik, bakso nasi or lontong, rawon and different varieties of pecel.
Satay with a glass of cooling Ais Tingkap
There are other street foods in Tamil Street. For snacks on the go, you can pick from a variety of deep-fried samosa (stuffed with sardine, chicken or potato), vadai or Indian doughnut at a stall nearer to Penang Road. These freshly made fritters are delicious with a cup of hot coffee.
Don't miss out the stall selling chicken soup. It also serves noodles, mainly Malay laksa and rice noodle soup. With the many varieties of hawker dishes, it's no surprise that Tamil Street has the customers coming back again and again. Click here for the Map Location.
The rows of hawker stalls along Tamil Street
Hawker Stalls
Lebuh Tamil
Penang
Business Hour : From noon to evening
Stalls mostly closed on Sunday
GPS Coordinates : N05 2504.3   E100 1953.6