Feringgi Grill – Delightful Taste of Australian and French Cuisine
* This article was published in the New Straits Times (Life & Times) on 19th July 2011.
BY CK Lam
Feringgi Grill in Rasa Sayang Resort & Spa Penang is a picture of elegance, both in design and culinary servings. With its minimalist earth-toned interiors and Tudor-style ambience, the restaurant exudes an old-school charm. Antiques and old photos adorn the area and serve as conversation pieces, nicely complementing the breathtaking view overlooking the resort gardens, that of rainforest trees, the Andaman Sea and beach.
Having delighted diners for a good part of three decades, Feringgi Grill is fondly recognised as among the best fine dining restaurants in Penang. Located on the mezzanine floor of Rasa Wing, it has a semi-open kitchen and a custom-built round grill.
Heading its award-winning kitchen is chef David Pooley, who has over a decade of culinary experience in modern Australian and French cuisine. His impressive interpretations of fine dining were honed while he was a sous chef at Quay and Claude's in Sydney. His mentors included Quay's celebrity chef, Peter Gilmore and Claude's Malaysian-born chef Chui Lee Luk.
Photo courtesy of Feringgi Grill
The range of starters includes angus carpaccio with pecorino, rocket pulp, peri peri and wood grilled capsicum.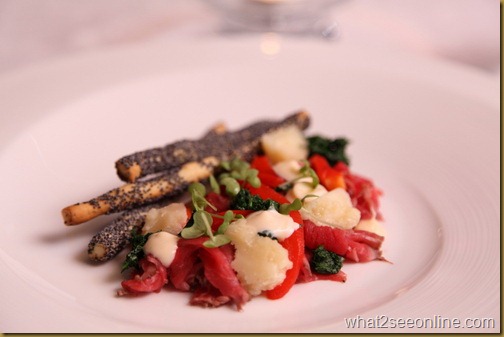 Five spice quail is a local delicacy with a twist. The aromatic mushrooms and fungi is a perfect counterpoint to the warm quail. It is prepared with garlic chives, soya mirin, cuttlefish and coriander.
The tuna is lightly torched and its firm texture and distinct flavour contrasted well with the feta puffs, egg, olive, beans, tomato powder and avocado.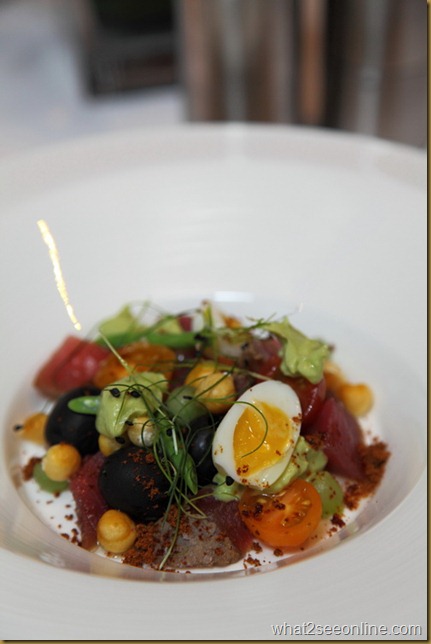 The classic tomato soup is prepared at the table! The velvety concoction is made from tomato puree, butter, mushrooms, shallots, gin and fresh tomatoes. It is served with parsley and cream.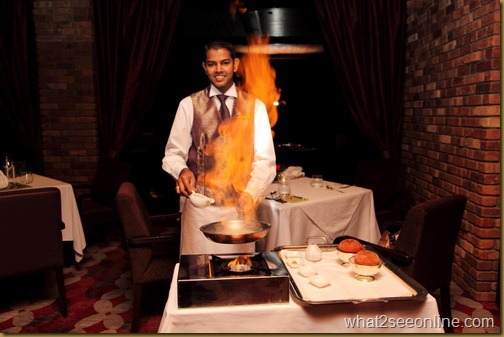 Feringgi Grill's classic tomato soup is flambéed right beside the table
Before the main course, ice popsicles are served as a palate cleanser. Made from coconut, lime and pineapple, it refreshes the taste buds and prepares diners for the main course.
The main course consists of lamb loin, done medium-rare. The lamb loin is prepared with pine nuts, spring onion and eggplant. The accompanying miso, pearl barley and radicchio induces a medley of flavours, especially the woody perfume of the pearl barley which permeates the meat, creating an earthy flavour.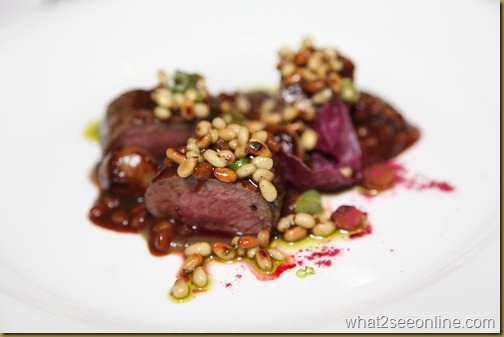 The Feringgi Grill's dessert section has a wide selection, including its signature crepe Feringgi. New additions include chocolate pannacotta and rose and strawberry granita.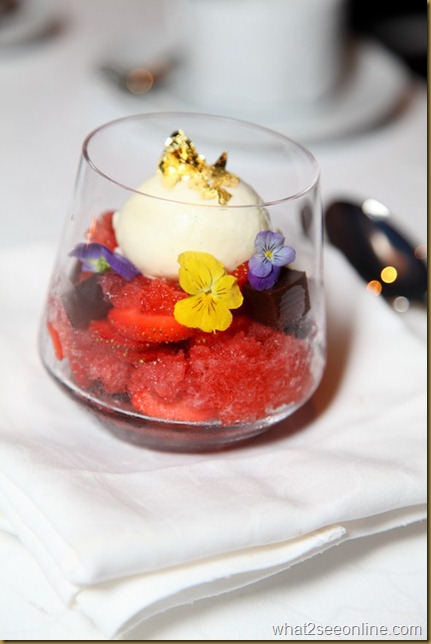 The chocolate panna cotta goes well with banana marshmallow and rosemary popcorn while the strawberry granita is refreshing.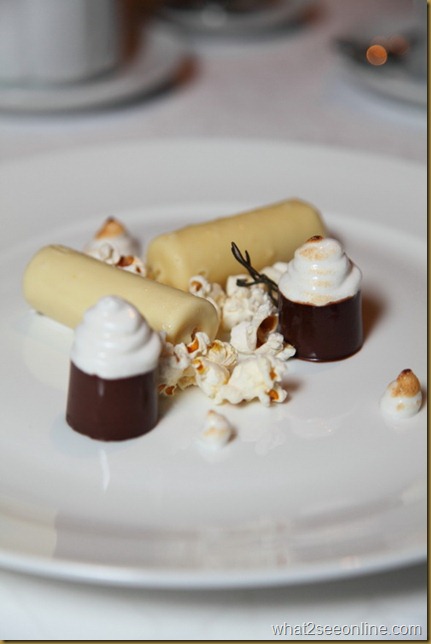 The spacious restaurant with a 124-sitting capacity and two private rooms has an extensive wine list of both new and old world wines as well as hard-to-find vintages. It opens daily from 6.30pm to 10.30pm.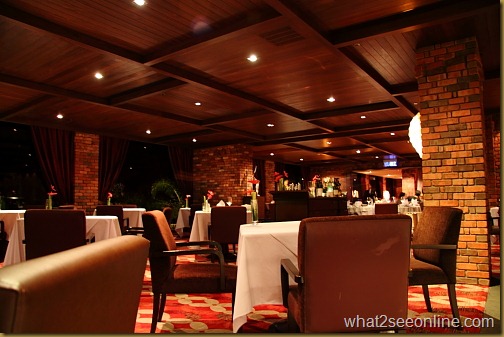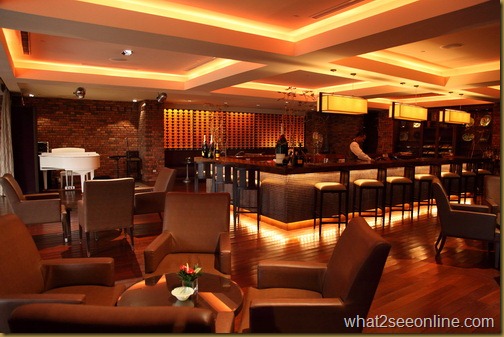 Located on the same floor is the Feringgi Bar
Feringgi Grill
Shangri-La's Rasa Sayang Resort and Spa
Batu Feringgi Beach
11100 Penang
Tel: 04 8888888
* Many thanks to Shangri-La's Rasa Sayang Resort and Spa for laying on this invitation.