Il Bacaro Venetian Restaurant at Campbell House, Penang
* This article was published in the New Straits Times (Life & Times) on 6th September 2011.
The recently launched Campbell House in George Town is home to Il Bacaro Venetian Restaurant. This slice of classic Italian dining is within walking distance of Tho Yuen and Tai Tong Dim Sum House.
The restaurant serves its cuisine the Il Bacaro way, which is based on a traditional Venetian backstreet tavern. It's where one can enjoy authentic Italian dishes served in a warm and friendly atmosphere.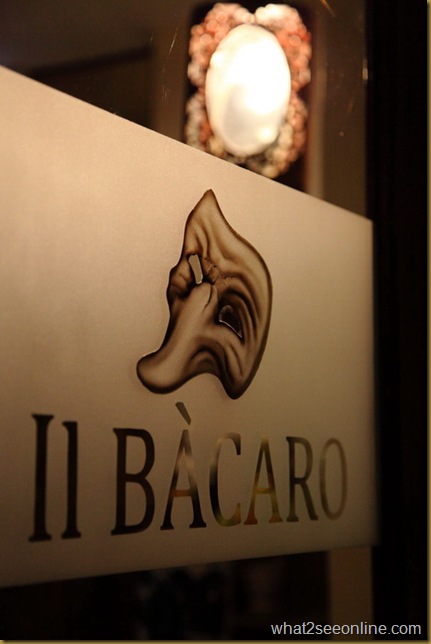 Chef-owner Roberto Dreon emphasises on the use of the freshest ingredients and prefers homemade pasta over the dried variety. In line with that, the restaurant serves homemade breads, pasta and tomato sauce. The tomato sauce tastes was slightly different from the norm. It was much lighter in colour and fresher in taste.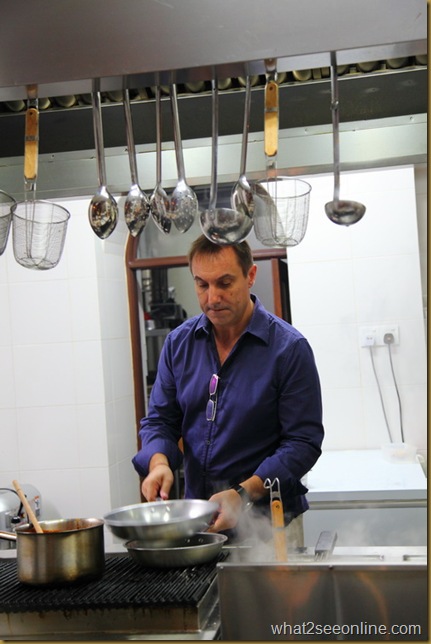 Roberto at work in the kitchen
Our meal started with warm focaccia with olive oil and balsamic vinegar. It was a delightful change, with the bread being served in a traditional Chinese bamboo steamer commonly used in dim sum restaurants. The focaccia with crisp crust and soft interior had a nice chewiness.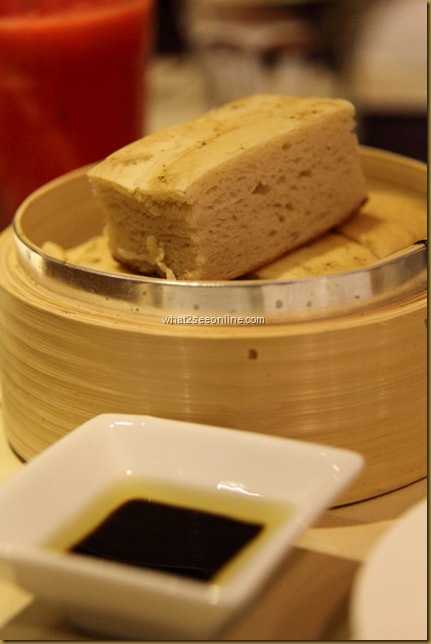 Soon, we were treated to a plate of cicchetti. It was a colourful plethora of flavours as this Italian sharing dish included servings of seafood and bread with two varieties of toppings — salmon and vegetables. All the flavours combined nicely, and everyone was chuffed to bits by the clams which had a lovely flavour of herbs and white wine.
Plate of cicchetti with a plethora of flavors
A meal in an Italian restaurant is never complete without pasta. We were recommended homemade stracci with seafood which had clams, squid and cherry tomato RM28. The sauce has an incredible amount of flavours — tomatoes, wine, herbs and seafood and they blend beautifully together with fresh pasta.
After enjoying the heavenly starters and pasta, we moved on to the first main course, the risotto. The green pea version came with grilled shrimp RM28. The green pea gave the risotto a light green colour and most importantly, a delicate flavour. The risotto was nicely cooked till soft and creamy with shrimp, and its flavour mingled well with the grilled shrimp. This filling dish is great for sharing.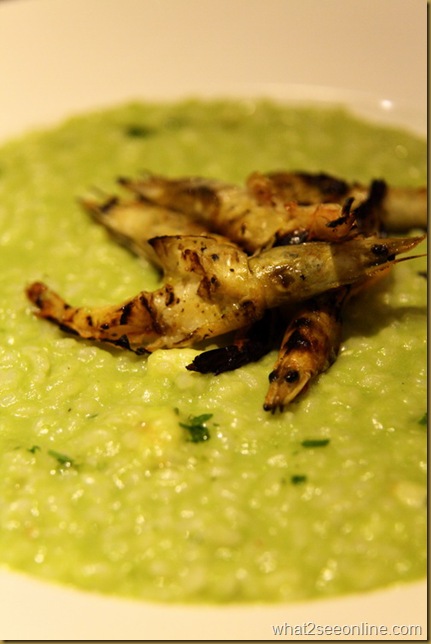 The risotto was followed by a poultry dish, chicken parmigiana RM26. The chef had the chicken prepared just right, not overcooked. It was served piping hot on a bed of mashed potato topped with a thick tomato sauce infused with seasoning.
The pan-seared catch of the day was a delightful light dish. The huge piece of snapper was lightly salted and served on a bed of caponata, done with a variety of vegetables including juicy tomato.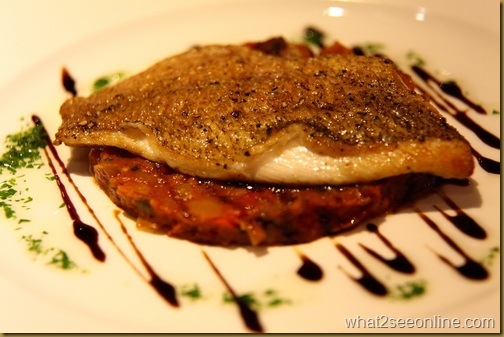 Pizza was a perfect addition to the meal. We indulged in pizza with toppings of grilled zucchini, olive, cherry tomato, prawn and squid RM27. The pizza was baked in a customised wood fire oven. II Bacaro has a selection of vegetarian pizzas as well.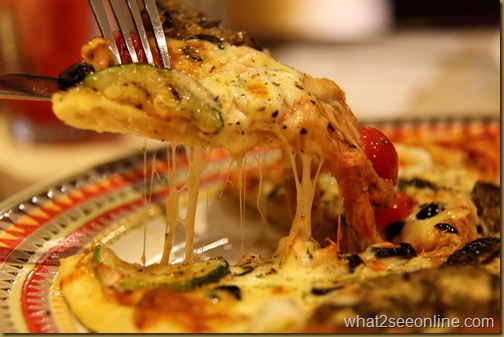 From the main course, we moved on to dessert. The restaurant serves delicious dolce along with coffee and tea. We sampled two desserts — zabaglione con fragole and the panna cotta. The crowd favourite was the zabaglione, served with fresh strawberry. With egg yolk as its main ingredient, this Italian treat has a delicate and custardy texture.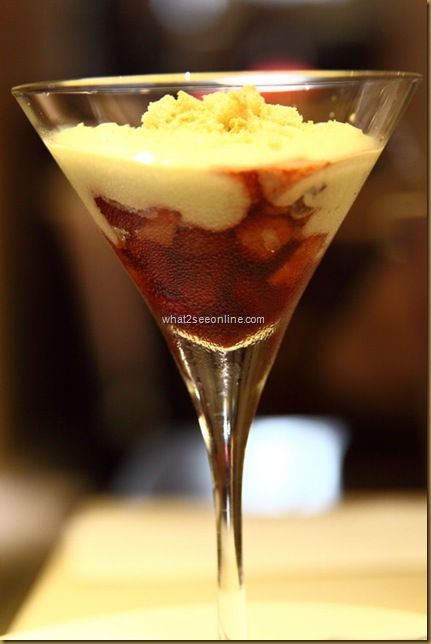 Zabaglione Con Fragole
Macchiato and espresso
Panna Cotta, cappuccino and latte
All in all, Il Bacaro is a welcome addition to the Penang food scene. With his innovative yet authentic flavours and a great wine list, Roberto Dreon has successfully maintained the Il Bacaro way in his restaurant.
With its late closing hour, this restaurant is also a great place for people who want a late night snack. The interior is simple yet tastefully done with wooden furnishing and antique touches.
Campbell House is at the intersection of Campbell and Cintra Street. The entrance to the restaurant is facing Cintra Street, opposite the iconic Woo Hing Watch Dealer.
Il Bacaro Venetian Restaurant
Campbell House
106 Lebuh Campbell
10100 Penang
Tel: 04 2618290
Business Hour: 12.30pm – 3pm & 6.30pm – 10.30pm
Close on Monday