Chez Weng Modern Grill Restaurant @Precinct 10
***This place has closed down since August 2012
BY CK Lam
Chez Weng Modern Grill Restaurant has recently opened its doors at Precinct 10, a new dining scene in Penang. The restaurant offers contemporary grilled European cuisines along with a selection of alcoholic beverages.
Owner, Chef Weng opened the restaurant with a casual and cozy ambience. Colourful curtains, large light bulbs and chandelier added charm to the huge dining area with high ceiling. Seating areas are on the ground and first floor that looks directly into the restaurant below. There are live performances on alternate nights – Tuesday, Thursday and Saturday.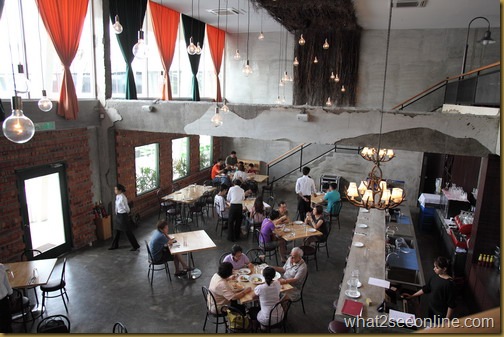 Weng's enthusiasm for fresh products and ingredients bring a vibrant menu to the restaurant. We sample many dishes including appetizers, pasta, pizza, ribs and desserts.
He presented the seared tuna (RM22) coupled with micro herbs, black olive mayo and lemon oil. The sauce enhanced the taste of the tuna which is nicely seared on the outside. Simple and flavorful!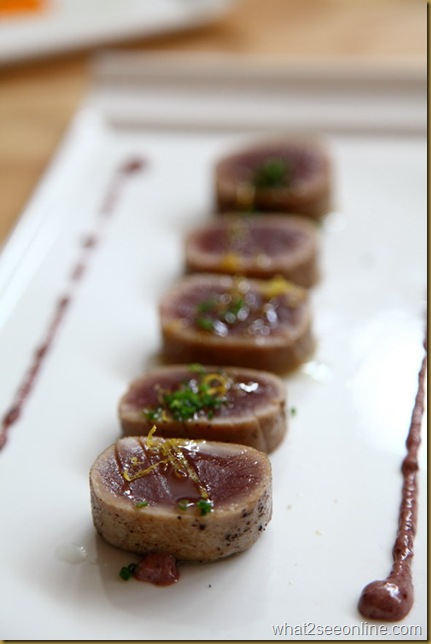 Besides the seared tuna, there is also the salmon tatare (RM18), eaten raw. The dish in a light dressing is served with alfafa, appetizing kaffir lime mayo and pieces of rye crostini.
The cucumber and orange salad comes with a mix of crunchy vegetables and delicately flavored smoked duck. The dish is refreshing with the tangy flavor of the orange against the smoky richness of the duck.
The deep-fried calamari (RM18) is fried until golden with light seasoning. The accompanying rich and smokey paprika aioli with a squeeze of lemon lends a lovely refreshing taste to the addictive calamari.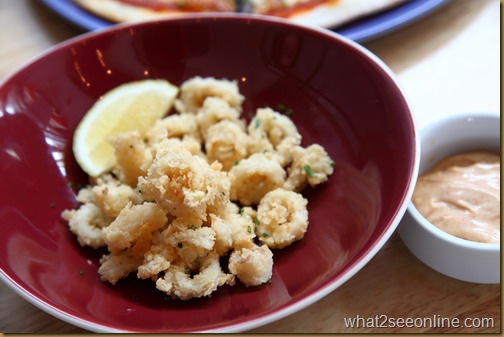 The plate of Serrano ham (RM22) is surprisingly delicious. This simple creation with servings of cured  ham with manchego, thinly sliced pear, watercress and dash of pepper certainly satisfied my cravings for an appetizer.
For those who like pizza, there are five types to choose from. There is the pepperoni and cheese, prosciutto, pear, rocket and parmesan, portabella mushroom, garlic confit and truffle oil as well as a handful of others.
Well- known crowd favourite is the seafood squid ink Aglio Olio with thick and al dente noodles. Tender squid, fresh shelled large prawns, cheese and chopped parsley are among the many ingredients that made this dish a special treat.
The next dish has three pieces of grilled chicken thigh (RM28) on a bed of chorizo, zucchini, fried potato and red capsicum sauce. The sauce is a bit overwhelming, drowning the rather well flavorful grilled chicken.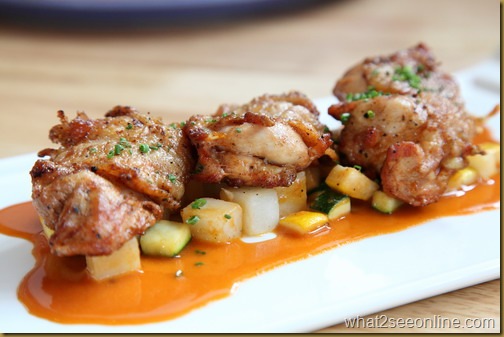 We order the restaurant's Australian rack of lamb (RM68). The tender and juicy pieces of meat are served with sides of zucchini, grated potato cake together with rosemary and anchovy jus. I took a liking to the golden brown potato cake for its softness and crisp coating.
The restaurant offers five desserts on their menu. Our selection includes panna cotta with fresh berries and chocolate sauce (RM16) and apple pie with cinnamon ice cream and caramel sauce (RM16). The thin crispy outer piece of the apple pie adds a delicate crunch.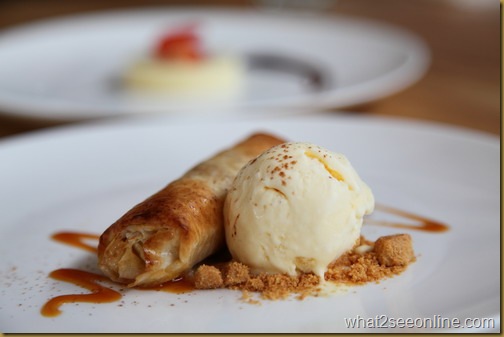 With the delicious dishes that have been sampled, it is definitely convincing that other dishes in the menu will also be a treat to the taste buds. Set lunch (RM38++ to RM58++) and set dinner (RM48++ to RM88++) is also available daily.
Precinct 10 is located next to Island Plaza along Jalan Tanjung Tokong. Click here for the Map Location.
Chez Weng Modern Grill Restaurant
Lot 10C – 18 & 19
Precinct 10
Jalan Tanjung Tokong
10470 Penang
Tel: 04-8999878
Business Hours: 11.30am – 11.00pm
Closed on Mondays
GPSCoordinates: 5.450186   100.305773
* Many thanks to Chez Weng Modern Grill Restaurant for laying on this invitation.
* This is a reproduction of my article published in New Straits Times